Events for UN international peace day 2022
We are holding two events for international peace day featuring Carnall Peace Award Winner 2022 Professor Paul Rogers.
A public event at Augustine United Church on 21 September from 6.30pm. Paul Rogers will give a public lecture: 'Global peace and security after Ukraine' followed by a panel discussion with Ukrainian pacifist activist Yurii Sheliazhenko and Indian-born social justice campaigner and academic Vijay Prashad. Find out more
Depending on the arrangements for the Queen's funeral and the re-opening of the Scottish parliament we are also hoping that the Nuclear Disarmament Cross Party Group AGM scheduled for 1.00pm on UN International Peace Day  can take place.
We planned for the meeting hosts to be Convenor Bill Kidd MSP, along with Ruth Maguire MSP, parliamentary member of Women's International League for Peace and Freedom (WILPF). The programme was to include Scottish WILPF Secretary Mhairi McClafferty's presentation on the WILPF perspective of nuclear disarmament and the TPNW and remarks from Prof Paul Roger, Bradford University Peace Studies and expert commentator and advisor on international peace and security. We will keep this page up to date as soon as we find out whether this event can go ahead.
Summer peace cranes exhibition 2022
Our second peace cranes exhibition: 'Consequences – art and activism in the nuclear age' has now finished. Find out more about what happened here
Previous events:
CODE RED: PETER KENNARD
A print installation of photomontages by one of Britain's foremost political artists Peter Kennard. Preview on 5 November 2021 6-8pm at The Out of the Blue Drill Hall, 36 Dalmeny St, Edinburgh EH6 8RG. Free entry. Open to all. Exhibition continues 6 – 26 November 2021 Monday – Saturday 10am – 5pm. Please note that Saturday 20 November 2021 the exhibition is closed and that on the last day Friday 26 November 2021 it is open 10am-2pm. FURTHER DETAILS HERE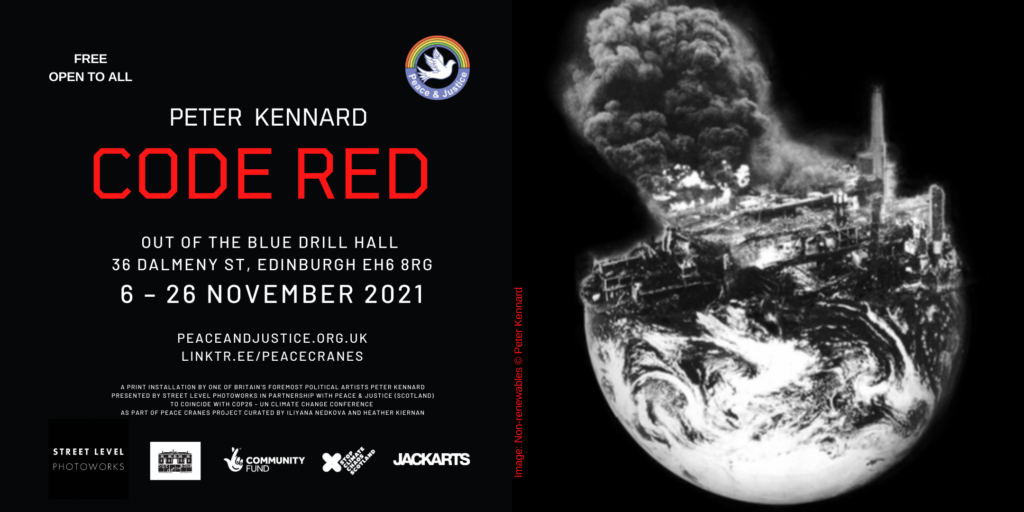 ---
PEACE CRANES EXHIBITIONS AND EVENTS
PEACE CRANES: JANIS HART
An installation by artist Janis Hart featuring 140,000 origami cranes showing 6 August – 13 November 2021 at St. John's Church, Princes St, Edinburgh, EH1 4BJ. Free entry. Open to all. Monday – Saturday 10:30am – 4pm excluding Wednesdays 11am – 11:30am FURTHER DETAILS HERE

---
---
---
---
MISTAKE: MICHAEL MEARS
A rehearsed live reading of a compelling new play about the day the world changed forever with the dropping of the first atomic bomb by award-winning actor and playwright Michael Mears. Showing on 13 November 2021 2.30-4.30pm at the The Parish Church of St Cuthbert, 5 Lothian Road, Edinburgh, EH1 2EP. FURTHER DETAILS HERE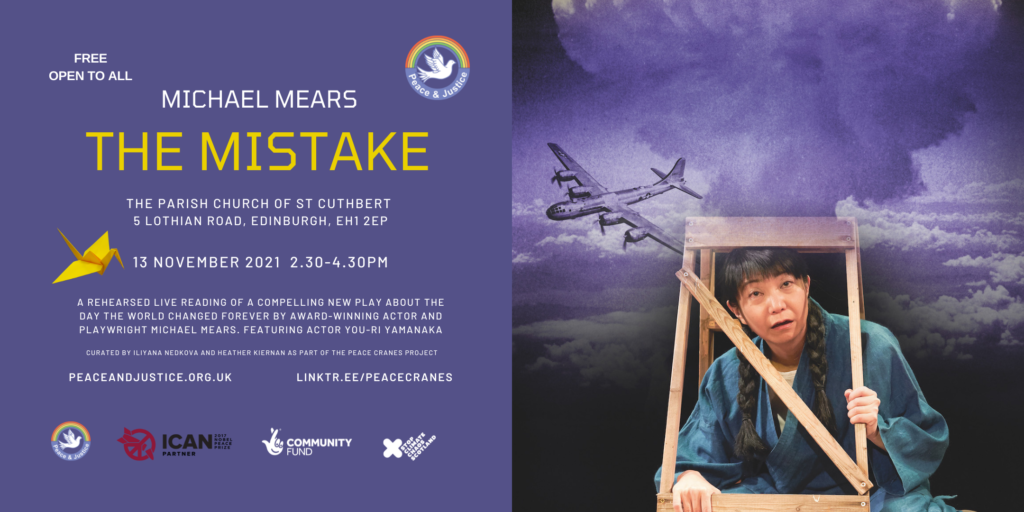 ---
ATSUKO: YOU-RI YAMANAKA AND HEATHER KIERNAN
A rehearsed reading by actor You-Ri Yamanaka of a new maverick monologue by Heather Kiernan about Atsuko Betchaku (1960-2017) who began the wave of folding 140,000 peace cranes. Presented on 20 October 2021, 7.30pm at Maverick Monologues 11 hosted by Heroica Theatre Company. FURTHER DETAILS HERE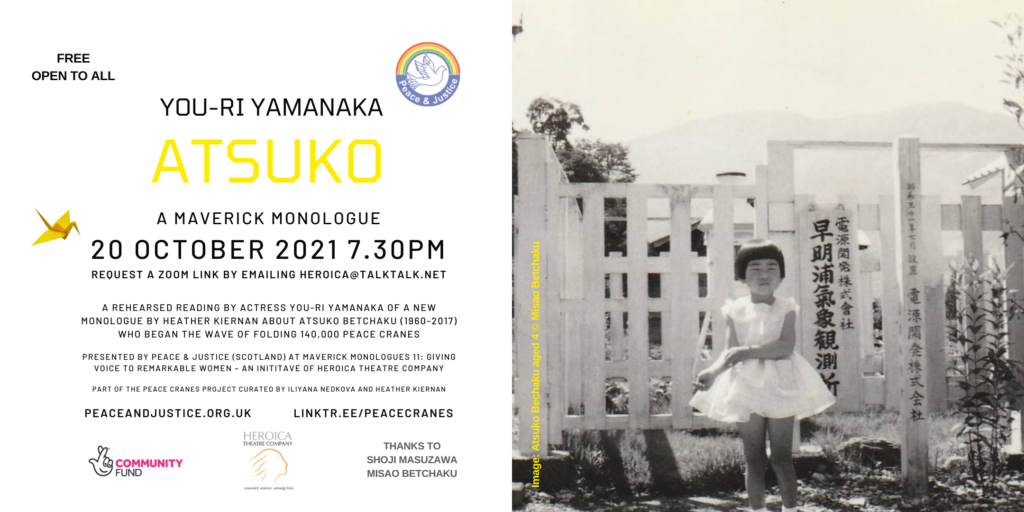 ---
PEACE CRANES COP26 PROTEST BANNERS: DONNA RIDDINGTON
A workshop about making COP26 protest banners as part of the Stiches for Survival campaign led by independent visual artist and activist Donna Riddington presented online on 16 October 2021. FURTHER DETAILS HERE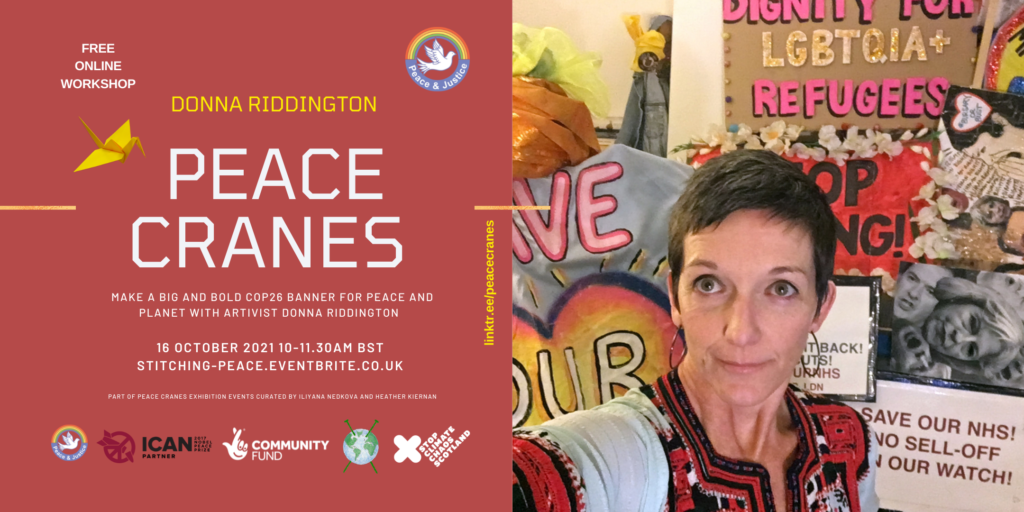 ---
CHERNOBYL MON AMOUR: PAM SKELTON
Film premiere of Chernobyl Mon Amour – a new artist's film by established British artist Pam Skelton exploring the nuclear disasters of Chernobyl 1986 and Hiroshima 1945. Presented at CHRNBL International Forum on 7 October 2021. FURTHER DETAILS HERE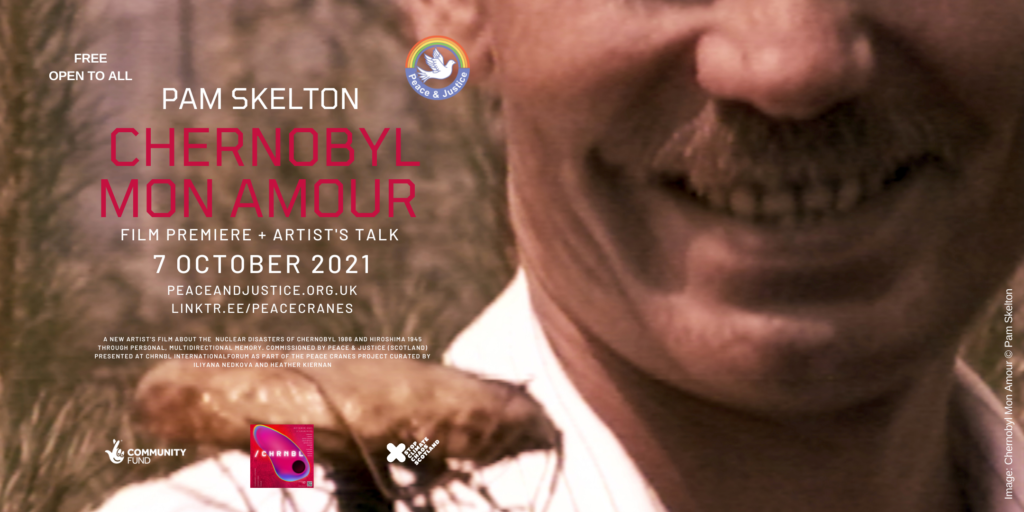 ---
VOICE OF THE RAINBOW: SHATHA ALTOWI AND SABER BAMATRAF
An evening of music, film and debate with Yemeni artists and human rights defenders exploring how art and culture contributes to peacebuilding held online on International Day of Peace, 21 September 2021 as part of the first Geoffrey and Elisabeth Carnall Peace Award. FURTHER DETAILS HERE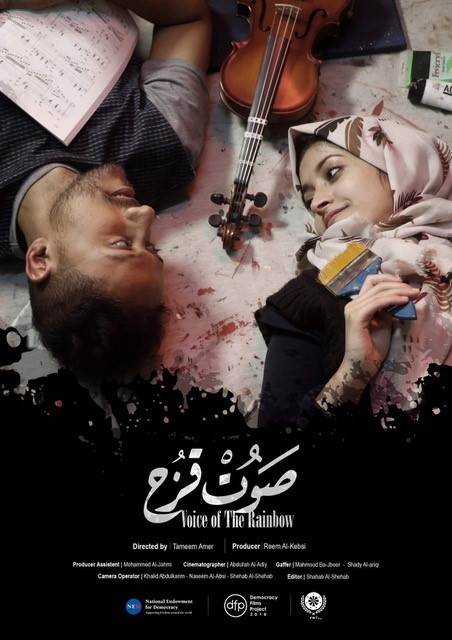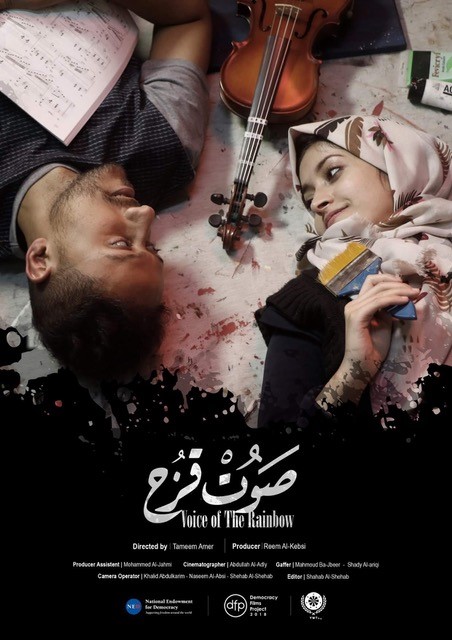 ---
PEACE CRANES: JANIS HART AND IAN DODDS
A cinematic installation by artist Janis Hart featuring carbonized trees, garlands and a circular screen projection of a creative documentary in collaboration with filmmaker Ian Dodds presented 6-27 August 2021 at St. John's Church, Princes St, Edinburgh, EH1 4BJ. FURTHER DETAILS HERE
'The film [Peace Cranes by Ian Dodds and Janis Hart] is devastating, so affecting, the circle like a lens magnifying the suffering and the white screen at the end, staring at it. Thinking of the footage and the testimonies – beyond words. So important that it gets shown wherever and whenever it can be' Peter Kennard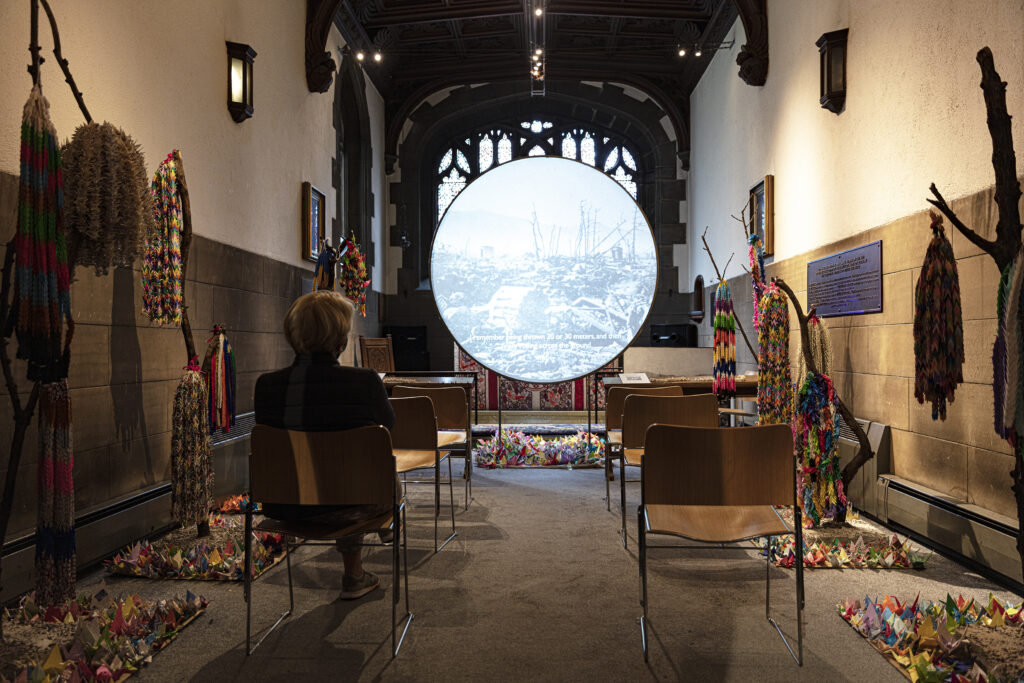 Peace Cranes cinematic installation view © Victoria Murray. Courtesy of the artist
---
PAST PEACE CRANES EXHIBITIONS AND EVENTS
Explore our past Peace Cranes project exhibitions and events here – all free and available to download, read and watch again – including a film about Atsuko Betchaku by Iliyana Nedkova, public talks with Peter Kennard, Kate Hudson, Damon Bridge and Hywel Maggs, a dance with Sara Lockwood, and a blog by Brian Larkin.
Tune in our Peace Cranes five-hour-programme of online events in 2020, including live theatre performances with Michael Mears and You-Ri Yamanaka, artist's films, storytelling sessions, curatorial talks, artists' Q&As and an origami peace crane folding masterclass with Shoji Masuzawa.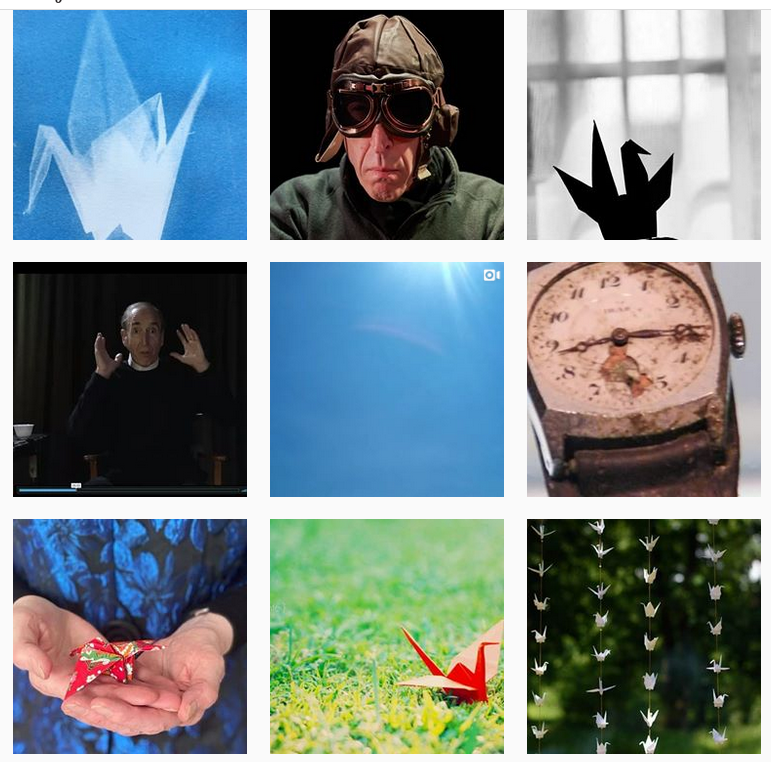 ---