CURRENT PEACE CRANES EXHIBITIONS AND EVENTS
CODE RED Peter Kennard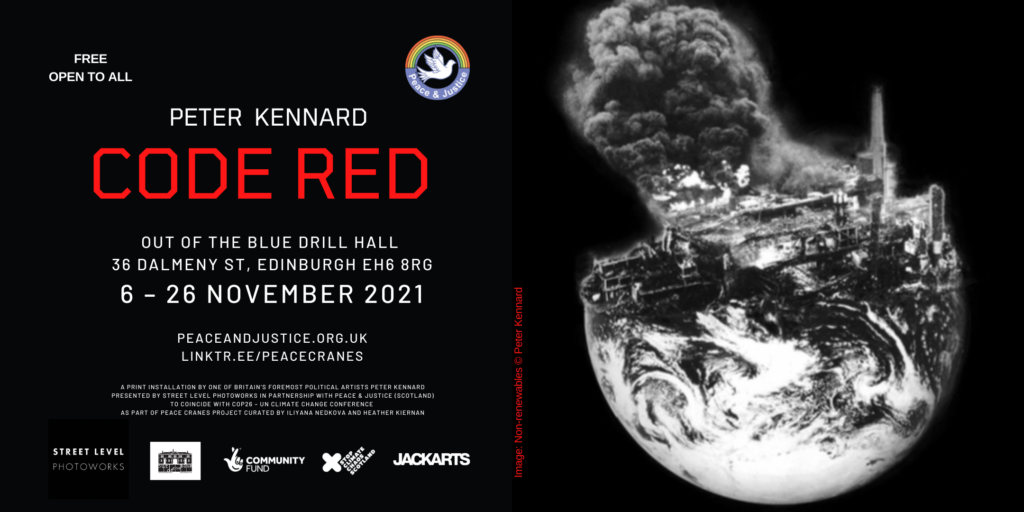 PREVIEW 5 November 2021 Friday 6pm – 8pm. Free entry. Open to all. Registration required here
EXHIBITION 6 – 26 November 2021 Monday – Saturday 10am – 5pm
Please note that on 20 November 2021 the exhibition is closed and that on the last day 26 November 2021 it is open 10am-2pm
Free entry. Open to all. Donations welcome here
The Out of the Blue Drill Hall 30 – 38 Dalmeny St, Edinburgh EH6 8RG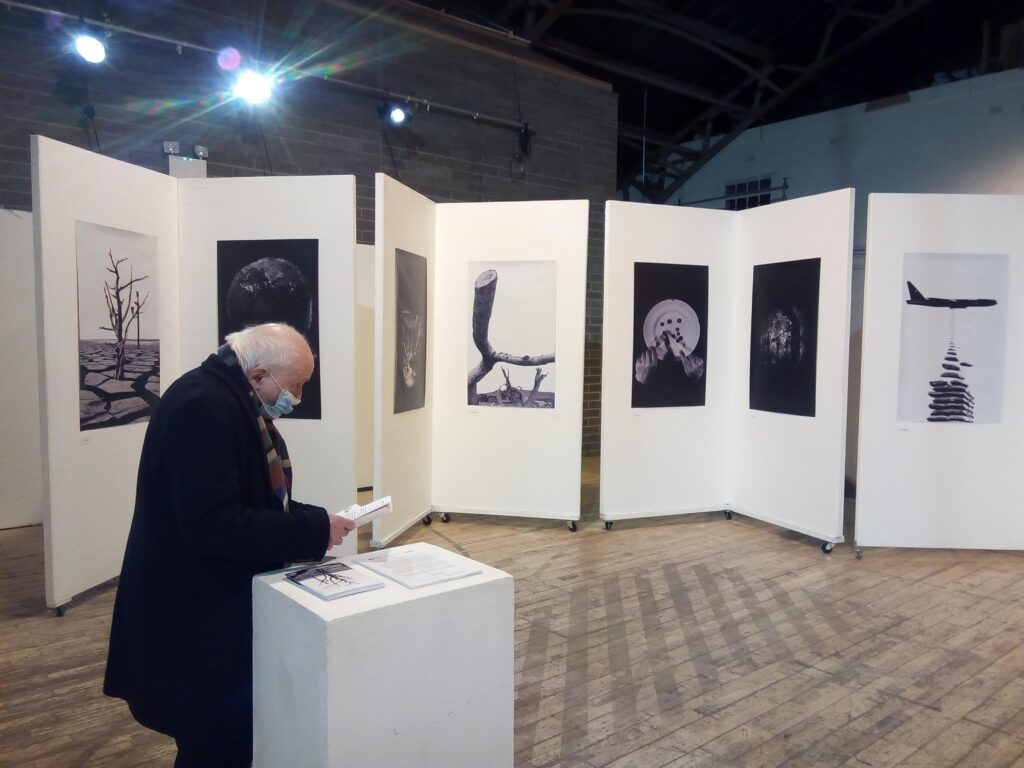 ---
ABOUT CODE RED IN THE MEDIA
'Impassioned, ambitious and furious' Adrian Burnham, Writer

'Brutal, evocative and to the point as ever'. Kristian Buus, Photographer

'Sobering 'food for thought'.' Richard Demarco, Artist and Curator
INTERVIEW Tune into Peter Kennard's interview with Janice Forsyth discussing CODE RED on BBC Radio Scotland on 25 October 2021 Starts at 2.01.10 into the programme here
ARTICLE Read In the Studio: Peter Kennard by Marigold Warner printed in the Activism & Protest issue of British Journal of Photography magazine published on 29 October 2021 Read here
REVIEW Read Susan Mansfield's review of CODE RED alongside a range of exhibitions on the subject of climate change and the environment published in the The Scotsman on 1st November 2021: Read here
ARTICLE Read Code Red: One last chance by Adrian Burnham – a feature article published on the BuildHollywood platform on 3 November 2021 Read here
COVER IMAGE See Peter Kennard's Non-Renewables – one of 28 photomontages featured in CODE RED as the cover image of Ece Temelkuran's interview Capitalism vs The World: A Guide to Surviving a World without Hope published on Double Down News on 4 November 2021. Watch here
REFLECTION Watch Brian Larkin's reflection from the perspective of a peace campaigner for climate justice recorded at the preview of CODE RED at Out of the Blue Drill Hall on 5 November 2021 Watch here
PODCAST Cameron Angus Mackay talks to Peter Kennard about art and activism as part of a daily podcast on The Big Light network from the heart of the COP26 climate change summit in Glasgow published on 6 November 2021 Listen at approx 23 min in here
TASTER Peter Kennard talks briefly to John Farrell about his signature work Past Midnight as an introduction to CODE RED published at Street Level Photoworks YouTube Channel on 10 November 2021 Watch here
3D WALKTHROUGH Take this digital walkthrough Peter Kennard's CODE RED as seen at Glasgow's 103 Trongate Gallery published on Matterport on 11 November 2021 Explore here
---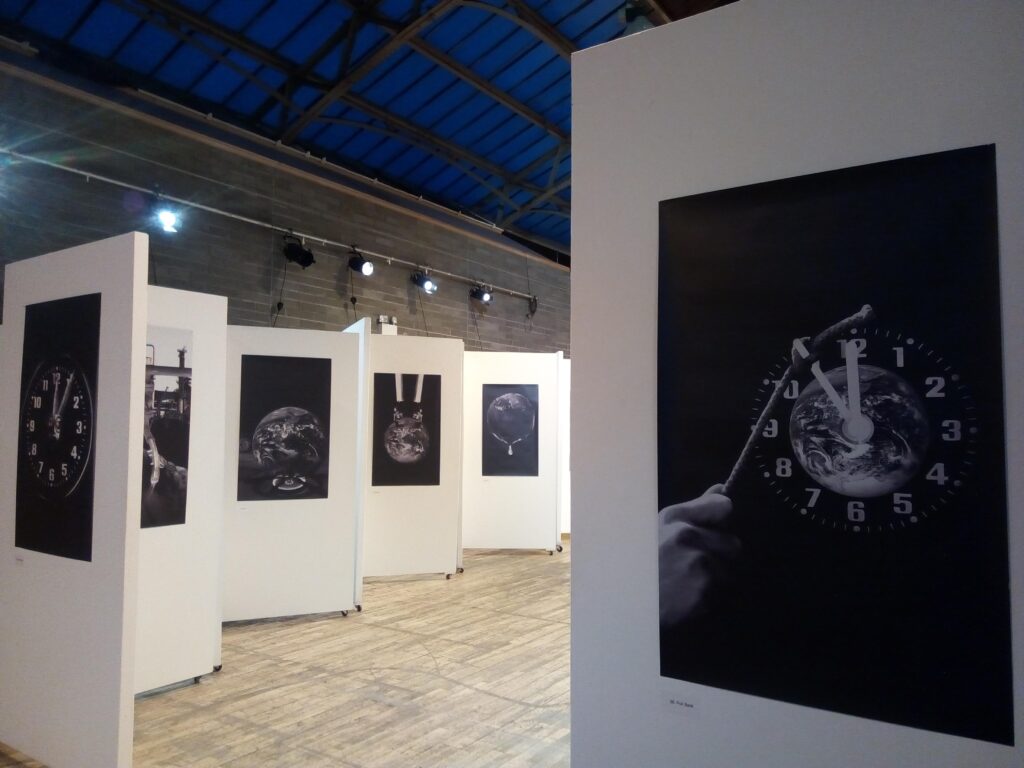 Peace & Justice (Scotland) is delighted to present CODE RED – a print installation by one of Britain's foremost political artists Peter Kennard who inaugurated our Peace Cranes exhibition on 6 August 2021 in conversation with Kate Hudson, historian and General Secretary of the Campaign for Nuclear Disarmament which you can watch again here:
Peter Kennard is one of Britain's foremost political artists and has spent over fifty years creating uncompromising and hard-hitting protest art. He is Professor of Political Art at the Royal College of Art and he is the author of Images for End of Century: Photomontage Equations (Pluto, 1999). Since then, he has published numerous art monographs, and contributed his visuals to publications, magazines and news stories in the press. The exhibition Award by Kennard and Phillipps was exhibited at Street Level Photoworks in 2004, and he launched his recent monograph Visual Dissent at Street Level Photoworks in 2019.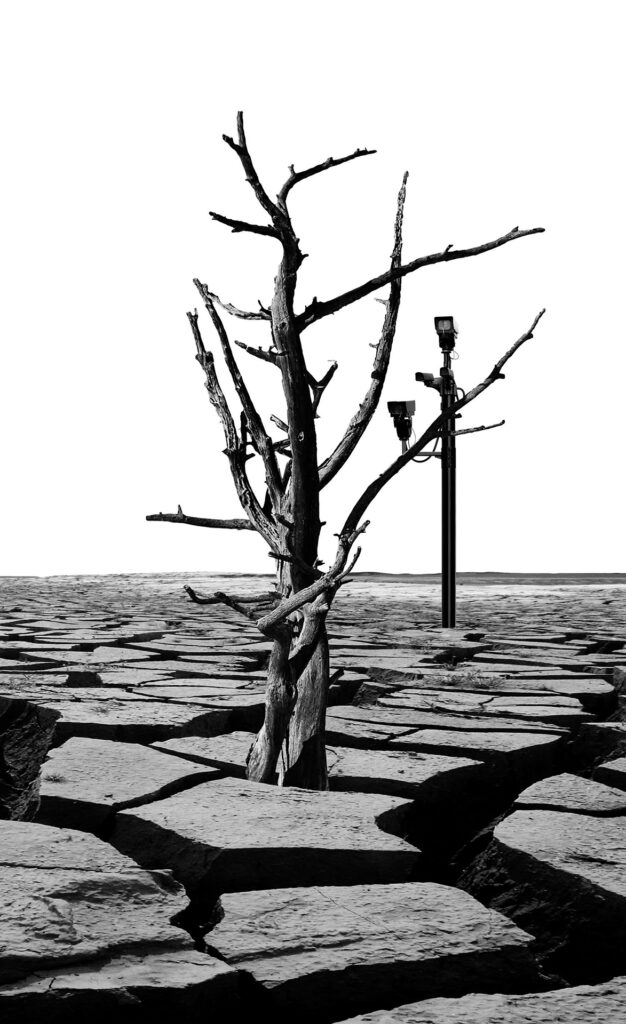 We're living in a time of absolute emergency. We're tottering through the rubble of the rampant free market. It's a time in which images can open up a critical space that can jolt assumptions and break through denial. The poet Shelley wrote that 'we must imagine what we know'. By picturing the result of extracting wealth out of the ground by every means possible I'm trying to picture what we know will happen if we don't stop this plunder. – Peter Kennard

In August this year the Intergovernmental Panel on Climate Change (IPCC) released their report. Their findings, prepared by 234 scientists from 66 countries, warn that human activity has warmed the climate to a point that is unparalleled by anything in the last 2,000 years and that by 2019 atmospheric CO2 concentrations were higher than at anytime in at least two million years. The UN Secretary General Antonio Guterres said the IPCC report was the 'code red for humanity, the alarm bells are deafening and the evidence is irrefutable'.
Through the use of photomontage the artist turns his outrage into images. Throughout CODE RED Kennard re-appropriates the beautiful photo of the whole earth taken by the Apollo astronauts in 1972, which Kennard cuts and tears, combining it with images of industrial chimneys, oil refineries exploding, polluted dust, gas masks, parched earth and floods. His image of the earth surrounded by a clock symbolises climate/nuclear destruction, whilst in another image planet earth is transformed into a seed sprouting a tree. Kennard's work makes visible the increasing devastation of the natural world, revealing this breakdown not as inevitable but the direct result of human activity. The resulting montages can then be used as a visual arm of the struggle for climate justice.
---
CODE RED is a print installation by artist Peter Kennard presented by Peace & Justice (Scotland) at the main exhibition space of The Out of the Blue Drill Hall in partnership with Street Level Photoworks to coincide with COP26 – UN Climate Change Conference in Glasgow. Curated by Iliyana Nedkova and Heather Kiernan as part of Peace & Justice (Scotland) Peace Cranes project supported by National Lottery Community Fund, Jackarts and Stop Climate Chaos Scotland.
CODE RED is also showing at Gallery 103 (Trongate 103), Glasgow 30 October – 19 December 2021 presented by Street Level Photoworks. Further details here.

---
CHECK HERE FOR ALL OTHER UPCOMING AND PAST EXHIBITIONS AND EVENTS AS PART OF THE PEACE CRANES PROJECT
Donate to our crowdfunder here to support the Peace Cranes project and enable us to reach over 140,000 visitors with our free exhibitions and events.