Cooperative Games and Conflict Resolution in Primary Schools 
The Peace & Justice Centre runs Cooperative Games sessions in schools across Edinburgh. Working through Cooperative games and activities the foundation sessions develop a culture of peace and begin to address conflict. Further conflict resolution sessions build skills in class groups to prevent and resolve conflict and within schools to put in place processes for restorative justice.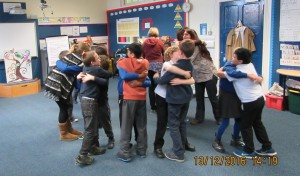 Sessions have been held over two years with children from all age groups at five Primary Schools in Edinburgh. For More Info on the Programme Click HERE.
Schools interested in hosting the programme are invited to contact us. Please contact Brian at the EP&JC. Tel: 0131 629 1058 or email coordinator[at]peaceandjustice.org.uk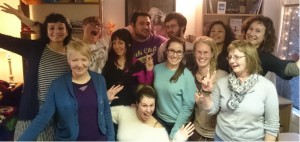 Cooperative Games and Conflict Resolution Skills Facilitator Training Programme 
For working with groups of young people, 5 – 12 years old.
Participants:  Open to teachers and youth workers in a variety of contexts interested in Nonviolence Education & Cooperative Games & Activities entering our Facilitator Training programme or for their own professional development.
For more information on the programme and upcoming Facilitator Training workshops click HERE.
140,000 Origami Cranes: Remembering Hiroshima Project
Origami Peace Cranes Workshops take place at the Edinburgh Peace & Justice Centre, second Saturday of every month from 2 – 4pm and at other locations. The project aims to make 140,000 origami cranes so we need lots of help. Everyone is invited to come along to workshops, pledge to make a set number of cranes at home, organise workshops in your area or get a local group to pledge to make a larger number of cranes. Click HERE to Find out more about the project and to get involved.  
Campaigning for Divestment from the Arms Trade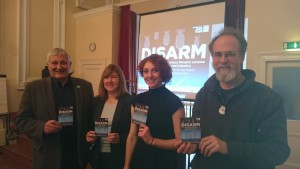 We have teamed up with Edinburgh Campaign Against the Arms Trade to call on the Lothian Pensions Fund to divest from arms companies. Peace & Justice Centre Coordinator Brian Larkin testified at the Petitions Committee (testimony starts at 8 minutes) of Edinburgh City Council.
Challenging Militarisation of Youth in Scotland 
This working group seeks to end military visits to schools, end the recruitment of under 18's to the military, and more widely raise awarenss of and end activities that target children and youth with militaristic indoctrination, such as at Armed Forces Days where children are encouraged to play with automatic weapons and clamber over tanks.
In June we're organising a Two short Films, Speakers and Discussion. For details click HERE.
Conscientious Objectors Memorial Project
The Peace and Justice Centre is leading a consortium of organisations in Edinburgh and across Scotland to establish a memorial to Conscientious Objectors and all those who oppose wars in Edinburgh's Princes St Gardens by November of 2018, the centenary of the end of the First World War.
For more info and to donate to the Memorial fund click HERE.
Don't Bank on the Bomb Scotland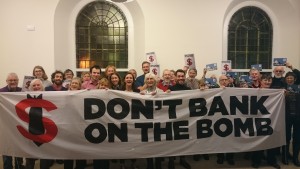 The Peace and Justice Centre initiated the formation of a network in Scotland working on the Don't Bank on the Bomb campaign, based on the work done by Pax in the Netherlands and the Don't Bank on the Bomb Report. Keep up to date and find out how to get involved with this programme CLICK HERE.
We organised a launch of the campaign in Scotland with a public meeting and an event at Scottish Parliament. Read the report from the lauch here.
Internship Programme and Student Work Placements
Most of the work of the Peace & Justice Centre is done by volunteers. We offer lots of great Volunteer and internship opportunities for people to get involved, learn skills and make a difference. For more info CLICK HERE.