P&J volunteer opportunities
Peace & Justice  welcomes volunteers, including students and new graduates, who might want to learn about peace and justice theory and practice, develop their skills for the workplace after graduation, and gain experience working within a grassroots community based organisation.
We also welcome volunteers with particular skills they might want to share.
Apply to be a volunteer using google docs
Apply to be a volunteer by filling in a word document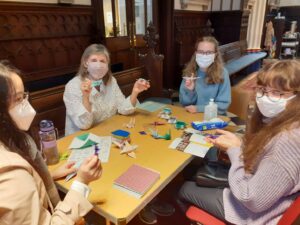 In the past, student volunteers have helped campaigning, networking, research, writing and administration. We identify a principle area of work or task that fits your interests and the needs of our programme. We ask that you review and sign on to our Values to ensure the P&J is a good fit for you. 
Work volunteers have done include drafting briefings such as the Made in Scotland Report and our briefing on the Lack of Access to Justice for Asylum Seekers at Dungavel and organised advocacy around peace, disarmament and environmental issues. 
Day to day tasks may include some administrative tasks such as updating subscriber and membership lists or adding Events to our online Calendar. With each intern we identify a principle role or piece of work and support you to carry that out.
Here are some of the possible roles:
Conscientious Objectors Memorial Researcher & Project Assistant: This person will conduct research into the stories of conscientious objectors from the UK from First and Second World Wars and or forge links with contemporary movements of conscientious objectors abroad, write about these on the project website and publish on our social media.
BLOGGING and WRITING/EDITING AND COMPILING PEACE & JUSTICE NEWS. Are you a writer with a passion for peace and justice? Join our P&J News team. Topics we publish on fall within the broad areas of Nonviolence, Peacebuilding, Conflict Resolution, Human Rights and Ecological Sustainability.
POLICY RESEARCHER / WRITER: This position involves carrying out research and developing policy briefings on areas related to our aims and objectives. This can be as part of a small team. We provide or arrange mentoring / support. 
ADVOCACY COORDINATORS: This role involves coordination of a team of volunteer to advocate for changes to policies related to our aims and objectives.
We are also always looking for volunteers who have specific skills or take on a short project such as:
Photographer: Taking photos of our events for use on our promotional materials, in Peace & Justice News and on social media.
Videographer: Create videos of our events and campaign videos for use on our promotional materials, in Peace & Justice News and on social media.
Graphics Artist: To create graphic illustrations for Peace & Justice News and for posters for events and campaigns publicity as needed.
Events management: annual events like our 'Kites Not Killer Drones' event takes a bit of organising and in the past we have had a volunteer to coordinate this event.
White poppies distribution: Every year in Sept/Oct we look to distribute white poppies to workplaces and shops across Edinburgh; and then to signpost these places and collect after November 11th. If you would be interested in taking on this work as a volunteer, please get in contact.