GET INVOLVED
Do you want to contribute to the making of the Peace Cranes exhibition? Choose from three volunteering opportunities.
Help us thread some of the throusands of origami cranes which will transform the entire space of St. John's Church into a bird sanctuary to peace and hope. All you need is a few hours or days in June and July 2021. To sign up email us at origamicranes[at]peaceandjustice.org.uk and we will be in touch with all the further details about our artist- and curators-led Peace Cranes workshop onsite, as well as opportunities to help from home. The onsite workshops adhere to all Public Health Government Guidance.
Join our team of volunteer exhibition guides during the Peace Cranes exhibition, if threading origami cranes is not your forte. All you need is a few hours or days from 7 August until 28 August 2021 as part of Just Festival – Edinburgh's social justice and human rights festival, which has been an important part of the Edinburgh International Fringe Festival for over twenty years. Please email us to sign up and we will be in touch with further details during July 2021.
Enable us to get closer to our exhibition funding target. We are aiming to extend the Peace Cranes exhibition until November 2021 leading up to the UN COP26 Climate Change Conference to be held in Glasgow. Please, consider donating here. Just insert "Peace Cranes" in the Comment Box. We are grateful for the support of all our current exhibition funding partners, including Creative Scotland and the William Syson Foundation.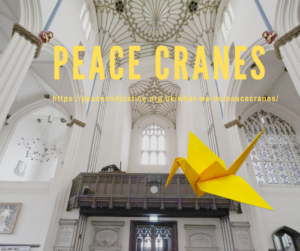 The Peace Cranes exhibition will allow us to use the underexplored dual power of contemporary public art and the peace movement to address the twin existential threats of nuclear war and climate change through the works of international artists online, and a visually arresting installation by artist Janis Hart comprised of 140,000 origami cranes spanning the entire space of Edinburgh's St John's Church. 
The origami cranes not only represent the number of victims lost to the atomic bombing of Hiroshima in 1945 but also the great acceleration of species extinction through the symbol of the endangered red-crowned crane. We believe that by exposing the cultural legacy of the first atomic bomb which killed 140,000 people in Hiroshima, our large-scale contemporary public artwork will also remind visitors of the nearly 140,000 lives lost to the COVID-19 pandemic in the UK alone. 
DID YOU KNOW 
The Peace Cranes exhibition is dedicated to teacher and pacifist, Atsuko Betchaku (1960-2016). As a teenager she visited Nagasaki where the atomic bomb was estimated to have killed 40,000 people and injured a further 60,000. But it was not until after arriving in Scotland, and four decades following her Nagasaki visit, that she was compelled to launch a poignant project commemorating each of the 140,000 Hiroshima victims and illustrating our shared desire for peace and disarmament.
In 2015, as the global peace movement marked the 70th anniversary of the atomic bombing of Japan, as a member of Peace & Justice Atsuko embarked on an international collaborative project of folding 140,000 origami peace cranes. 
In 2017, as a partner to the global International Campaign to Abolish Nuclear Weapons (ICAN) movement, Peace & Justice became a joint Nobel Peace Prize Laureate, reinvigorating Atsuko's vision for a nuclear weapons free world. In 2019, with the support of Peace & Justice members, volunteers and other activists from Scotland, Japan, England, Wales, France and Canada, Peace & Justice realised Atsuko's goal of folding 140,000 peace cranes. 
With official ceremonies restricted and other commemoration events taking place online in 2020 due to the Covid-19 pandemic, Peace & Justice marked the 75th anniversary of Hiroshima and Nagasaki with a five hour pre-exhibition Peace Cranes programme that ran from 6 to 22 August 2020. It features live theatre performances, artist's films, storytelling sessions and curatorial talks, artist's Q&A and an origami peace crane folding masterclass, all available at iliyananedkova.wordpress.com/2021/01/21/peace-cranes/. 
WATCH OUR PRE-EXHIBITION EVENTS

Several pre-exhibition events happened August (2020). These are available to watch and are listed below followed by background on the 140,000 Origami Cranes project.
We are honored to have recieved this message from the Mayor of Hiroshima Matsui Kazumi congratulating us upon the launch of these events. The message is introduced and read by Peace Cranes artists Michael Mears and You-Ri Yamanaka.
The Priests' Tale
Michael Mears performance of The Priests Tale Livestreamed from The Sands Theatre in London on 6 August.  This compelling account of a survivor of the first atomic bombing was written and performed live by Michael with live musical accompaniment by violinist Chihiro Ono.
The Priest's Tale is inspired by John Hersey's book  Hiroshima (1946) and offers an eyewitness account of the first atomic bombing. Meet Father Wilhelm Kleinsorge – a German Jesuit priest living in Hiroshima, who survived the blast but witnessed much of the devastation and later succumbed to radiation sickness. Experience Father Wilhelm's story full of extraordinary detail and rounded out with warmth and compassion. (Duration approx. 55 mins.) Directorial supervision by Rosamunde Hutt.  Watch anytime here.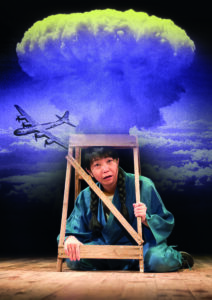 The Mistake
Michael and You-Ri performed  an excerpt from Michael's new play The Mistake at the Just Festival on 16 August. The live stage version will appear as part of our  Peace Cranes 2021 exhibition. Working remotely under lockdown the performers Michael Mears and You-Ri Yamanaka, and director Jatinder Verma compiled an exclusive film collage of extracts and images from the making of  The Mistake and did a live post-show Q&A together with the  Peace Cranes exhibition co-curators Iliyana Nedkova and Heather Kiernan. Using testimonies and eye-witness accounts, The Mistake interweaves the stories of survivor, scientist and soldier to create an evoking drama of what happens when scientific discoveries unlock the power of nature. Shigeko Nomura is a young woman living in war-time Hiroshima. Leo Szilard is a Hungarian scientist and 'father of the atomic bomb'. Paul Tibbets is the American pilot chosen to fly the plane that drops the bomb. At 8.15am on a Monday morning in August, their lives become fatally and forever entangled.
Origami Peace Cranes Workshop
Hear the stories of Sadako Sasaki who inspired people all over the world to make origami cranes for peace and of Atsuko Betchaku who initiated our our Peace Cranes project at 5 minutes 38 seconds into the video. Learn how to make an origami crane with Shoji Masuzawa at 14:03.  There's a lovely short film (3 mins) about the creation of an art work by US artist Jeff Brown inspired by Sadako at 35:56. Peace Cranes Curator talks some of the artists who will contribute and about our plans for the Peace Cranes exhibition at the Just Festival in 2021 at 38:57.
Background to the 140,000 Origamie Peace Cranes project
Folding paper cranes is done in memory of the children killed by the Hiroshima and Nagasaki bombs because of the story of Sadako, a Japanese girl who was just two years old, living in Hiroshima when the atom bomb was dropped. Sadako later developed leukemia and while in hospital heard the legend that anyone who folded 1000 paper cranes would have their wish granted. Wishing for peace Sadako set out to fold One Thousand Paper Cranes before she died aged 12. There is a statue of Sadako holding a golden crane stands in the Hiroshima Peace Memorial Park.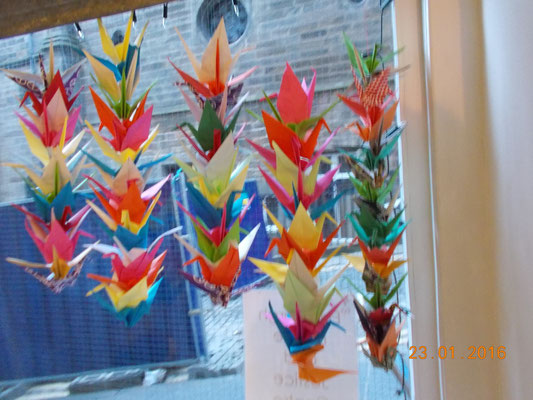 The atomic bomb dropped in Hiroshima on 6 August 1945 killed 140,000 citizens by the end of the year. Currently each nuclear warhead held by the UK is considered eight times more powerful than the one dropped in Hiroshima. If it is simply multiplied by eight, 1.12 million more than one fifth of the Scottish population would be dead. Later this year it is planned that the British government will renew Trident, the Britain's nuclear weapons system, costing £182bn. Currently Britain holds four nuclear submarines and 215 nuclear warheads. Faslane, near Glasgow, is home to such nuclear weapons in the UK.
Organise a Workshop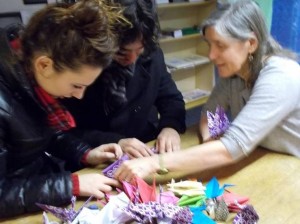 Although we have over already assembled over 140,000 schools and community groups that want to have children make origami cranes and send them in to us can still be included in the exhitition. 
(Some extra cranes will be used to display in other places to advertise the main exhibition.) A couple of suggestions for this are:
Children can write their names on the wings –  Write a wish on the other wing – Take group photo with their cranes – Include a note saying number of cranes, name of school and class group and any message they want to send along – Thread the cranes on one long thread with just a small enough gap between them so each crane can be seen and add a tag at the bottom end indicating name of school etc.(This arrangement would be great for the exhibition as we can hang cranes from high up in the roof space.)
Cranes can be posted to:
Peace & Justice, c/o St John's Church, Princes St, Edinburgh EH1 2JB 
Watch a video of How to Make an Origami Crane Here.
 Who started the project?