PEACE CRANES
Contemporary art exhibition of peace, people and planet by Janis Hart accompanied by a public programme of online and in-person events with Scottish and international artists and activists 
curated by Iliyana Nedkova and Heather Kiernan

Free to attend and open to all

6 August – 13 November 2021
St. John's Church, Princes St, Edinburgh, EH1 4BJ

#peacecranes    linktr.ee/PeaceCranes
Exhibition opening times:
30 August – 14 October Monday – Friday 1 – 3pm
15 October – 13 November Monday – Saturday 10:30am – 4pm excluding service times (Wednesday 11am – 11:30am)
Please note that St John's is normally open during these hours. As the church relies on volunteers it might sometimes be closed due to unforeseen circumstances. There will also usually be a Peace Cranes exhibition volunteer guide to welcome you and show you how to make an origami peace crane.
Planning to come as a group? Would like to request a free curatorial guided tour? Please contact us at least a week in advance! Download our free exhibition and events brochure here.

INTRODUCTION
The Peace Cranes exhibition features a monumental installation by Scottish artist Janis Hart transforming the heritage space of St John's Church into a bird sanctuary to 140,000 origami paper cranes folded by people from across the UK, France, Canada, New Zealand and Japan over the last six years. The exhibition offers a space for wonder, hope and reflection on the 140,000 victims of the 1945 atomic bombings in Hiroshima and the great acceleration of species extinction through the origami symbol of the endangered red-crowned crane.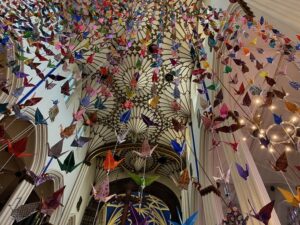 Installation View by Written in Film Productions. Courtesy of Just Festival
Origami cranes are an icon of hope for peace because of two year old Sadako Sasaki who lived in Hiroshima when the bomb was dropped and later developed leukaemia. Hearing a legend that anyone who folded 1,000 origami cranes would get a wish Sadako set out to do so but soon died. Since Sadako's wish for peace summed up in her words: 'I will write peace on your wings and you will ffy over the world', this life-affirming act of folding origami cranes have become a global sign of hope for nuclear disarmament.
In 2015 Atsuko Betchaku wanted to make 140,000 cranes to commemorate Sadako and all who died from the Hiroshima bomb. Atsuko died in 2017. Her vision is realized in this exhibition and the accompanying events transforming this icon of peace into a plea for protecting the biodiversity on our planet.
For further details, please download our Peace Cranes Exhibition Information Panels  or read them below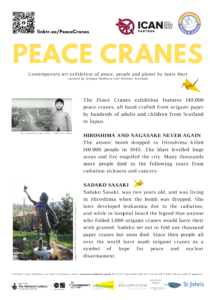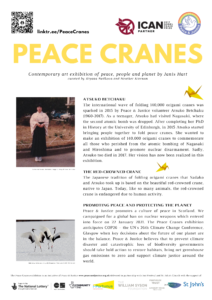 PUBLIC PROGRAMME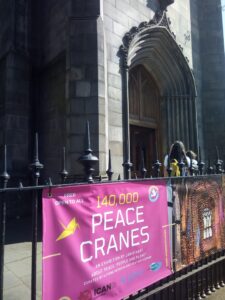 Peace Cranes exhibition banner installation view by Iliyana Nedkova. Courtesy the author
The Peace Cranes exhibition is accompanied by a public programme of free online and in-person events about peace, climate and ecological emergencies with Scottish and international artists, including Shatha Altowai, Jim Mackintosh, Anne Connolly, Peter Kennard, Pam Skelton, Dawn Cole, Madelon Hooykaas, Keiko Sato and Mare Tralla.
Sign up at origamicranes@peaceandjustice.org.uk for updates about our free public programme until 13 November 2021 curated in the context of COP26 – UN's Climate Change Conference and 2021 – UN's ​International Year of Peace and Trust​.
Our free public programme includes in-person drop-in origami crane making workshops every day the exhibition is open. In addition, explore our exhibition resources below – all free and available to download, read and watch again – including an illustrated Take Action booklet of facts and figures, visitors' comments, a film about Atsuko Betchaku, public talks with Peter Kennard, Kate Hudson, Damon Bridge and Hywel Maggs, a dance, origami peace crane folding masterclass and a five-hour-prograamme of pre-exhibition events, including live theatre performances with Michael Mears, artist's films, storytelling sessions, curatorial talks and artist's Q&A.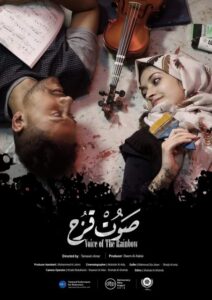 Our next free Peace Cranes exhibition event open for bookings is
Yemen: Pathways to Peace. Promoting Peace Through Art
21 September 2021, 7pm BST, Zoom webinar  REGISTER HERE

An evening of music, film and debate with Yemeni artists and human rights defenders exploring how art and culture contributes to peacebuilding. It features
Radhya Al-mutawakel, Yemeni human rights defender and chairperson of Mwatana Organisation For Human Rights – the recipient of the first Geoffrey and Elisabeth Carnall Peace Award

Shatha Altowai, Yemeni visual artist and Saber Bamatraf, Yemeni self-taught pianist and composer will introduce their documentary film Voice of the Rainbow
Kate Nevens will talk about the report she co-authored Broken People Can't Heal a Nation which is about the importance of the arts in peace building in Yemen
Chaired by Jolyon Mitchell, Professor of Communications, Arts and Religion at the University of Edinburgh and editor of Peacebuilding & the Arts (2020)
VISITORS' COMMENTS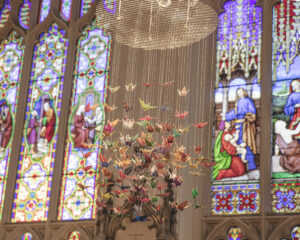 Peace Cranes exhibition intsallation view by Victoria Murray. Courtesy the artist
What some of our 7,165 (and counting) visitors since 6 August 2021 are saying about their in-person experience of our Peace Cranes exhibition.
'Can highly recommend sheltering under the wings of 140,000 peace cranes in Peace & Justice

#PeaceCranes

exhibition at St John's Church. A welcome space to pause for thought amidst the magnitude of world events.'
Jean Cameron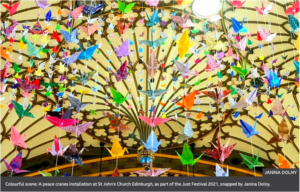 Screenshot from an image by Janina Dolny published on BBC News in the section Your pictures of Scotland: 27 August – 3 September 2021
'Come, see and reflect. And even fold your own origami crane. Join the movement. Stop the war. Stop the climate change.'
Magdalena Grzymkowska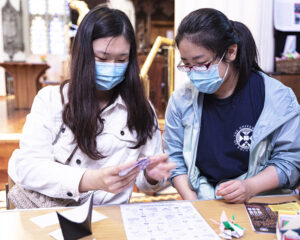 Peace Cranes exhibition intsallation view of Make a Peace Cranes drop-in workshops. Image by Victoria Murray. Courtesy the artist
'When I visited I made an emerald crane (a bit cack-handed as we say in Ireland) and was thrilled to see so many youngsters learning a new skill in such an important context. They won't forget that. So often it's the side-step that makes an impact.'
Anne Connolly
'This monumental show is a beautiful spectacle, but hard facts are presented too, including information on the UK's involvement in international arms trade, and recorded stories from Hiroshima survivors.'
Donna Rddington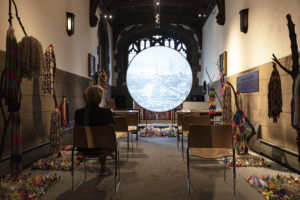 Peace Cranes cinematic installation view 6-27 August 2021 by Victoria Murray. Courtesy the artist
'Such a beautiful and powerful way to deliver an important message.'
Jim Mackintosh
'The diversity of colour and shape challenging us all to see and understand the other.'
Revd Markus Dünzkofer
'Amazing'
Robert Motyka
From 6-27 August 2021 as part of Just Festival and Edinburgh International Fringe, the exhibition was also accompanied by a cinematic installation by Janis Hart featuring carbonized trees, garlands and a circular screen projection of a creative documentary in collaboration with filmmaker Ian Dodds. Find further details in the free Peace Cranes exhibition brochure 6-27 August 2021
DOWNLOAD HERE
CROWDFUND WITH US
We're seeking to raise £3,500 to cover the remaining costs for the Peace Cranes exhibition not only for the duration of the Just Festival but until 13 November 2021 in conjunction with COP26 – UN Climate Summit to be held in Glasgow. Help us crowdfund and make our Peace Cranes exhibition take flight. Your donations will help with costs of talks, peace and climate cafes, films and workshops, as well as towards the remaining costs for the installation of the exhibition. Your contribution – however small – would be much appreciated. Our gratitude to all our donors so far! 
VOLUNTEER EXHIBITION GUIDES NEEDED
Help us share the Peace Cranes exhibition with 140,000 visitors onsite and online. Join our team of volunteer exhibition guides. All you need is a few hours during our exhibitoin opening times until 13 November 2021. Please email us with your availability to sign up and we will be in touch with further details.
EXPLORE OUR EXHIBITION RESOURCES
Never Again. Louder Than Bombs
Watch our Peace Cranes exhibition opening online event held on 6 August 2021 (58 min) in partnership with Just Festival 2021 and hosted by Helen Trew. It featured Peter Kennard, Britain's most influential political artist and Kate Hudson, historian and General Secretary of the Campaign for Nuclear Disarmament discussing how art changes minds.

Tackling climate change with the Eurasian Crane 
Watch our Peace Cranes exhibition event in partnership with Just Festival 2021 held on 27 August 2021 (61 min) hosted by Mark Hoskyns-Abrahall. It featured Damon Bridge of UK Crane Working Group in conversation with Stephen Magee and Hywel Maggs of RSPB Scotland. What is the impact of climate change on Scotland's Eurasian crane population? Could the majestic crane become Scotland's wetland icon for restoring our peatlands and sequestering carbon?
140,000 Peace Cranes
Watch our short documentary (3 min) about Atsuko Betchaku – the Peace & Justice volunteer who sparked the international wave of folding 140,000 peace cranes. Written and directed by Iliyana Nedkova this short film features contributions by Margaret Ferguson Burns, Niloo-Far Khan, Misao Betchaku, Jeff Brown and many more.
Impromptu Movement
Watch an improvised movement (5 min) performed live amongst the Peace Cranes exhibition by Sara Lockwood of the dance collective Les Impromptues on 27 August 2021 as part of their Impromptu Movements series of 'pandemic solos' 2020-21. Recorded live and published online, each Impromptu Movement responds to a new location and is inspired by the repertoire of the modern dance pioneer Margaret Morris (1891-1980). Yet each impromptue inserts her own variations, improvisations, and costumes extending Margaret Morris signature style movement even further. Camerawork by Paparazzi Pup.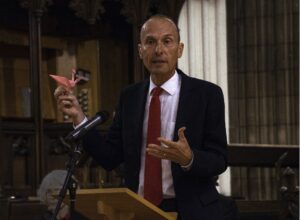 Prof Jolyon Mitchell at Peace Cranes exhibition. Image by Laleh Sherkat. Courtesy of Just Festival
Peace Cranes Exhibition Launch
Read our blog post by Brian Larkin (an illustrated long read) reflecting on our exhibition opening event held on 6 August 2021 as part of Just Festival, including extracts from the presentations of our guests Lord Provost of Edinburgh, Consul General of Japan and Professor Jolyon Mitchell READ HERE
DID YOU KNOW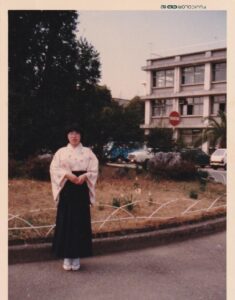 Portrait of Atsuko Betchaku. Image courtesy of Misao Betchaku
The Peace Cranes exhibition is dedicated to historian and pacifist, Atsuko Betchaku (1960-2017). As a teenager she visited Nagasaki where the atomic bomb was estimated to have killed 40,000 people and injured a further 60,000. But it was not until after settling in Edinburgh to pursue her PhD in history at the University of Edinburgh, and four decades following her Nagasaki visit, that she was compelled to launch a poignant project commemorating each of the 140,000 Hiroshima victims and illustrating our shared desire for peace and disarmament.
 'I was always wondering why Japan experienced two atomic bombs in Hiroshima and Nagasaki. My feeling was simply against war and no more Nagasaki and Hiroshima. After that I gradually learnt Japanese armies committed atrocities in other parts of Asia during the World War II. I also met people who congratulated the atomic bombs dropped in Japan. Wars divide people and Japanese were dehumanised. Without dehumanisation, such a devastating bomb would not have been utilised. Depending on the political context, any group could be victimised. We can get rid of nuclear weapons if we can get rid of wars and discriminations.' Atsuko Betchaku 
In 2015, as the global peace movement marked the 70th anniversary of the atomic bombing of Japan, as a member of Peace & Justice Atsuko embarked on an international collaborative project of folding 140,000 origami peace cranes. 

Peace & Justice is one of the organisations that campaigned for a global ban on nuclear weapons. The Treaty on the Prohibition of Nuclear Weapons entered into force on 22 January 2021. In 2017 the International Campaign to Abolish Nuclear Weapons – of which Peace & Justice is partner – won the Nobel Peace Prize for this work.
In 2019, with the support of Peace & Justice members, volunteers and other activists from Scotland, Japan, England, Wales, France and Canada, Peace & Justice realised Atsuko's goal of folding 140,000 peace cranes. 
With official ceremonies restricted and other commemoration events taking place online in 2020 due to the COVID-19 pandemic, Peace & Justice marked the 75th anniversary of Hiroshima and Nagasaki with a five hour pre-exhibition Peace Cranes programme that ran from 6 to 22 August 2020. It featured live theatre performances, artist's films, storytelling sessions and curatorial talks, artist's Q&A and an origami peace crane folding masterclass – all free and available to watch again here.
WATCH OUR PRE-EXHIBITION EVENTS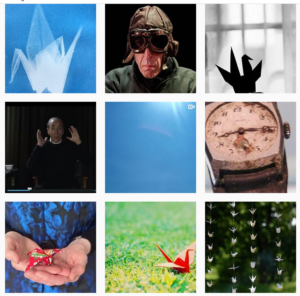 6 August 2020 10am BST | Peace Cranes | 49 min – an origami making and storytelling workshop featuring Iliyana Nedkova, Brian Larkin, Shoji Masuzawa, Magnus Byrne, Michael Mears, You-Ri Yamanaka and Jeff Brown WATCH HERE OR JUMP TO SEGMENTS BELOW:
Learn how to make an origami crane with Shoji Masuzawa  WATCH HERE at 14:03 in
Hear the stories of Sadako Sasaki who inspired people all over the world to make origami cranes for peace and of Atsuko Betchaku who initiated our our Peace Cranes project at WATCH HERE at 5:38 in 
2,000 Peace Cranes – an artist's film by US artist Jeff Brown inspired by Sadako WATCH HERE at 35:56 in 
Peace Cranes Curator Iliyana Nedkova about our plans for the Peace Cranes exhibition at the Just Festival in 2021 WATCH HERE at 38:57 in
6 August 2020 6pm BST | The Message | 6 min– artists Michael Mears and You-Ri Yamanaka deliver a message sent by Kazumi Matsui, the Mayor of The City of Hiroshima on the occasion of the Peace Cranes pre-exhibition events WATCH HERE
6 August 2020 7.30pm BST | The Priest's Tale | 60 min – a new play written and performed live by Michael Mears featuring Chihiro Ono (violin) with directorial supervision by Rosamunde Hutt  WATCH HERE
9 August 2020 7.30pm BST | The Doctor's Tale | 90 min – a new play written by Michael Mears and performed live by Leo Ashizawa with support from Michael Mears and Chihiro Ono (violin) WATCH HERE
22 August 2020 4pm BST | The Mistake | 16 min – a short film version of Michael Mears' play in the making directed and edited by Jatinder Verma. Featuring Michael Mears and You-Ri Yamanaka WATCH HERE
22 August 2020 4pm BST | The Mistake | 77 min – post-screening Q&A with Michael Mears, You-Ri Yamanaka, Iliyana Nedkova and Helen Trew WATCH HERE
FIND OUT ABOUT HOW PEACE CRANES PROJECT BEGAN

Peace Cranes exhibition installation view by Laleh Sherkah featuring artist Janis Hart. Courtesy of Just Festival
Folding paper cranes is done in memory of the children killed by the Hiroshima and Nagasaki bombs because of the story of Sadako Sasaki (1943–1955) – a Japanese girl who was just two years old, living in Hiroshima when the atom bomb was dropped. Sadako later developed leukemia and while in hospital heard the legend that anyone who folded 1000 paper cranes would have their wish granted. Wishing for peace Sadako set out to fold one thousand paper cranes before she died aged 12. There is a statue of Sadako holding a golden crane stands in the Hiroshima Peace Memorial Park
The atomic bomb dropped in Hiroshima on 6 August 1945 killed 140,000 citizens. Currently each nuclear warhead held by the UK is considered eight times more powerful than the one dropped in Hiroshima. If it is simply multiplied by eight, 1.12 million more than one fifth of the Scottish population would be dead. Later this year it is planned that the British government will renew Trident, the Britain's nuclear weapons system, costing £182bn. Currently, Britain holds four nuclear submarines and 215 nuclear warheads. Faslane, near Glasgow, is home to such nuclear weapons in the UK.
MAKE AN ORIGAMI PEACE CRANE

Golden peace crane in St. John's Church Peace Garden. Image by Iliyana Nedkova. Courtesy the author
Learn how to make an origami crane with Peace & Justice volunteer Shoji Masuzawa  WATCH HERE at 14:03 in 
Follow our step-by-step diagram here or DOWNLOAD HERE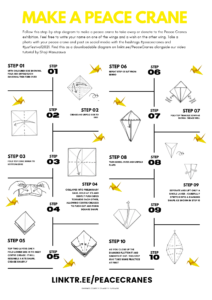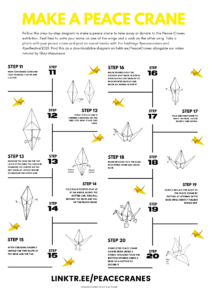 A couple of suggestions:
Write your name on one of the wings
Write a wish on the other wing
Take photo with your peace crane and post on social media with #peacecranes and @peacejusticesco

TAKE ACTION
Through the Peace Cranes exhibition we would like to encourage you to take action and find out more about the facts and figures which have inspired our artists and curators to create this monumental exhibition about peace, people and planet. We have compiled an illustrated 24 page booklet – free and available to read while visiting our exhibition in-person or from anywhere else by accessing your copy here: DOWNLOAD HERE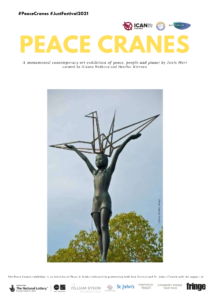 THANK YOU
Peace & Justice would like to express our heartfelt gratitude to all who have contributed to Peace Cranes – our monumental contemporary art exhibition of peace, people and planet. Special thanks to anyone else who has contributed and is not mentioned below or in this thank you card which you can DOWNLOAD HERE and HERE