RECENT PEACE CRANES EVENTS
ATSUKO Heather Kiernan and You-Ri Yamanaka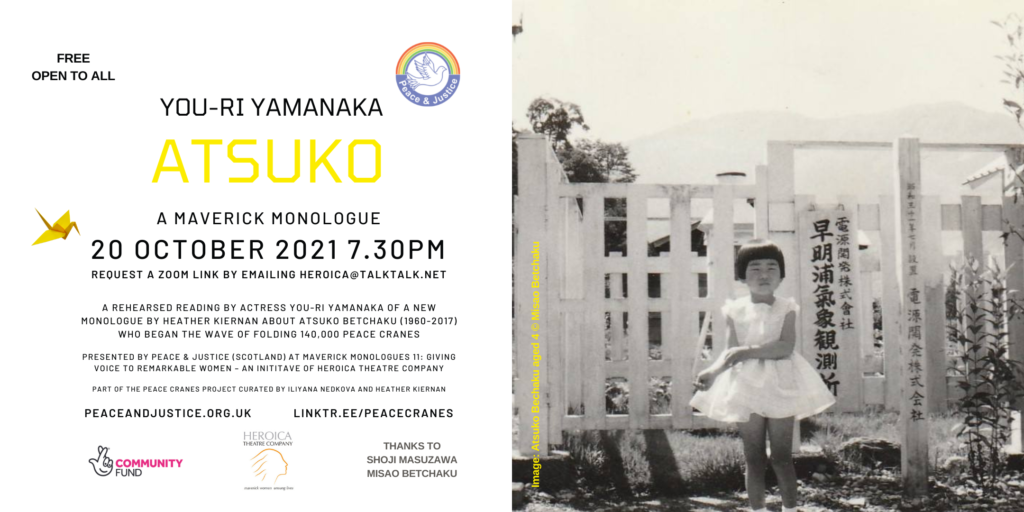 Atsuko's Story is a new monologue written by Heather Kiernan and performed by actor You-Ri Yamanaka telling the story of Atsuko Betchaku (1960-2017) – the Peace & Justice volunteer who sparked the international wave of folding 140,000 peace cranes. Premiered at Heroica Theatre Company's series 11 of Maverick Monologues on 20 October 2021 as part of an evening of maverick monologues giving voice to remarkable unsung women, including Atsuko Betchaku. Presented by Peace & Justice (Scotland) as part of the Peace Cranes project curated by Iliyana Nedkova and Heather Kiernan. Additional research kindly provided by Shoji Masuzawa and Misao Betchaku. Supported by National Lottery Community Fund Scotland.
Watch Atsuko's Story
Poignant and inspirational all at the same time. And what a tragic loss at such a relatively young age. We imagine she would be very proud of how you honoured her. What determination and ingenuity she displayed.
Angie Cairns and Alexandra Mathie, Heroica Theatre Company
---
Did you know that our widely acclaimed Peace Cranes installation featuring 140,000 origami cranes at St John's Church is dedicated to Atsuko Bechaku. Find out why here
Plan your visit to the Peace Cranes installation by Scottish artist Janis Hart who helped bring Atsuko's vision to life. Showing 6 Augutst – 13 November 2021. Find all the exhibition details here
See You-Ri Yamanaka performing live in The Mistake by award-winning actor and playwright Michael Mears – a compelling new play about the dropping of the first atomic bomb – join us on 13 November 2021, 2.30pm as one of our free, in-person Peace Cranes project events. Find all the details here including You-Ri Yamanaka profile as a performer.
---
Watch 140,000 Peace Cranes
Watch our short documentary (3 min) about Atsuko Betchaku written and directed by Iliyana Nedkova which features contributions by Margaret Ferguson Burns, Niloo-Far Khan, Misao Betchaku, Jeff Brown and many more. Premiered on 21 July 2021 at Our Edinburgh – a project about filmmaking and the arts for women of Black, Asian, and minority ethnic background at AMINA Muslim Women Resource Centre, Glasgow. Watch a Q&A with Iliyana Nedkova, Niloo Far Khan, Sarmed Mirza and Magdalena Grzymkowska as part of Our Edinburgh here.
---
Read Atsuko's Story
Read Heather Kiernan's monologue published in November 2021 by Heroica Theatre Company as part of Maverick Monologues 11. READ HERE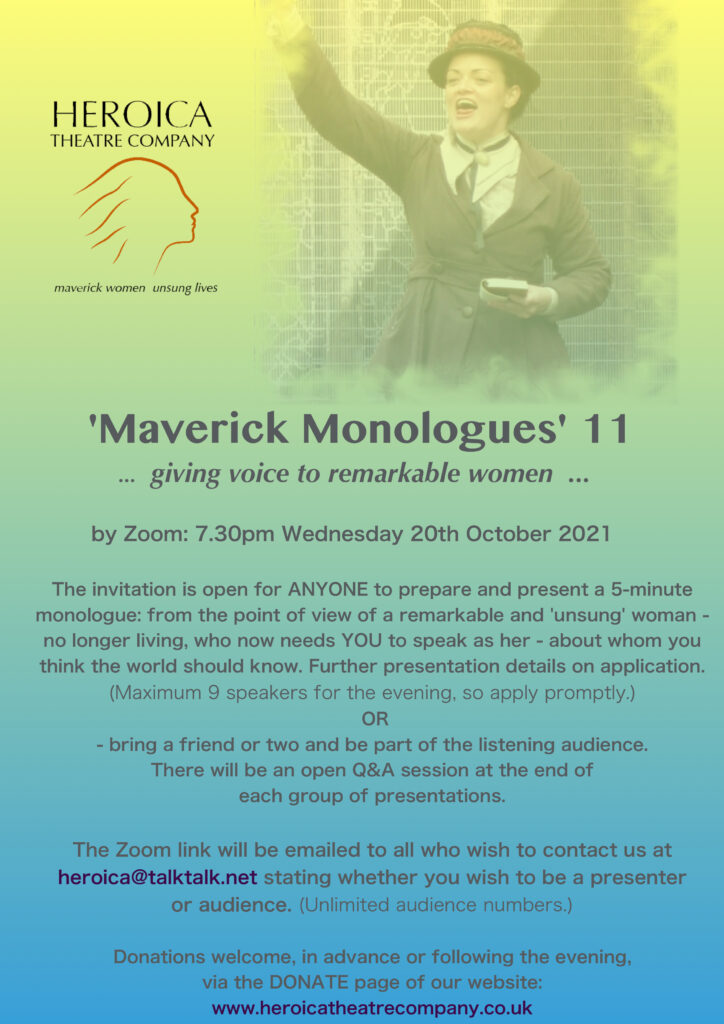 ---
About Peace Cranes
Peace Cranes is our ongoing project about peace, people and planet featuring contemporary art exhibitions and events by Scottish and international artists and activists, including Michael Mears, You-Ri Yamanaka, Janis Hart, Ian Dodds, Peter Kennard, Pam Skelton, Donna Riddington and many more.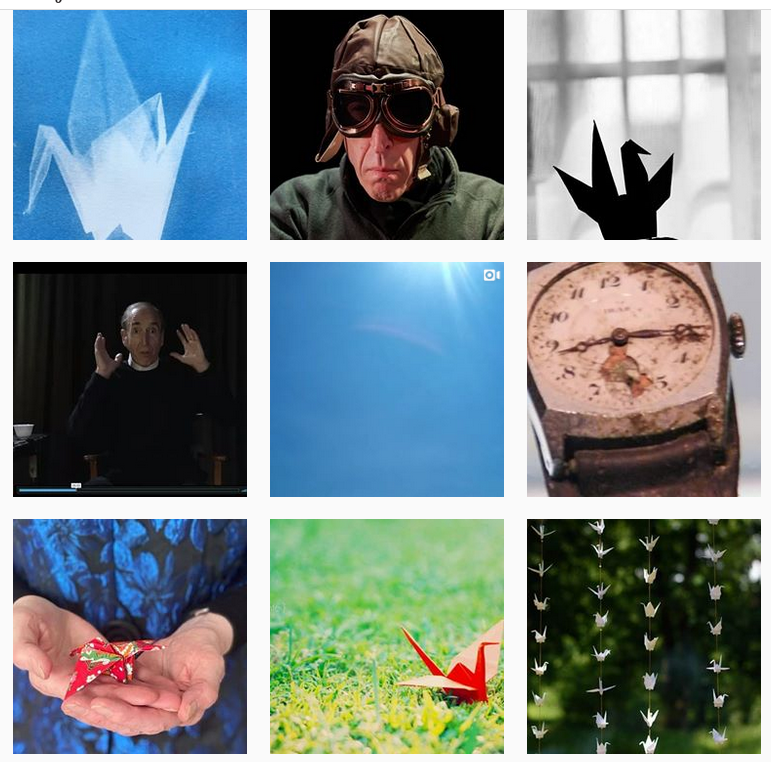 Delivered with the support of a range of partners, volunteers, backers and funders, the Peace Cranes project is curated by Iliyana Nedkova and Heather Kiernan in conjunction with COP26 – UN's Climate Summit, UN's International Year of Peace and Trust, International Day of Peace, Maverick Monologues, Stitches for Survival, Geoffrey and Elisabeth Carnall Peace Award, CHRNBL International Forum, Just Festival, Our Edinburgh, Hiroshima and Nagasaki 75
CHECK ALL CURRENT, UPCOMING AND PAST PEACE CRANES EXHIBITIONS AND EVENTS HERE