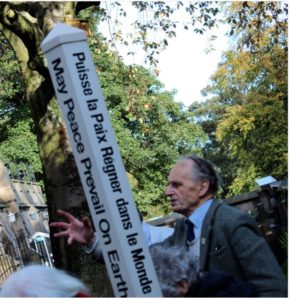 Get Involved in our 2020 Relaunch
In time for our 40th birthday in September 2020, Edinburgh Peace & Justice Centre plans to relaunch as Peace & Justice.  We have a deep desire to be a more effective advocate for peace, nonviolence, conflict resolution, and ecological sustainability for the next generation. 
Responding to the Coronavirus Pandemic AND the Climate and Ecological Emergency, we see this relaunch as an opportunity to deepen our work and become a beacon for the change we believe these  crises demand. The message we take from the Coronavirus Pandemic is that our exploitative ways of living cannot continue. 
We plan to restructure the P&J to play a significant part in modelling a socially responsible organisation – deeply anchoring our values to embody  peace, nonviolence, conflict resolution, and ecological sustainability.
This is no small task; it will take the same sort of time, commitment, and passion that has sustained the P&J since 1980 by the dedication of those who work here, our volunteers, interns, and members. 
For this next phase, we seek to gather the wisdom of those who hold the Edinburgh Peace & Justice Centre dear and who can contribute to what we will become as we remodel the foundations of a new Peace & Justice Scotland. We need you alongside us on this journey.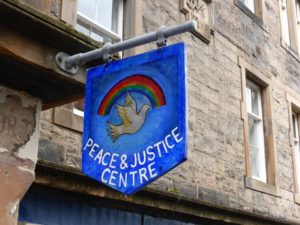 What is the process?
Our remodelling process will clarify the purpose and values of our organisation. Just like building a house, these provide integrity for the whole organisation – providing the core of how we operate and relate to one another. 
By helping form this bedrock, your concern for Edinburgh Peace & Justice can be integrated and become a fundamental part of what we go on to be .
Please sign up!  You can then respond to some questions designed to gather ideas to be fed into a Stakeholder Meeting where they will be integrated and refined. If you see yourself as a significant stakeholder, please say if you could join in.
We invite you to join us in this process if:
You support the work of the Edinburgh Peace & Justice Centre in any way? (e.g. as a donor, or member, by volunteering or sharing our work with others)

and

, 

You value our work and would love to be included in the remodelling?

Or

, you want to be involved with the P&J as we evolve?
If you answer "Yes" to the above questions, and you want to participate, please fill out the following form "I want to participate in the Edinburgh Peace & Justice Centre Remodelling Process"