PAST PEACE CRANES EVENTS
Stitching for peace and planet: a banner-making workshop for COP26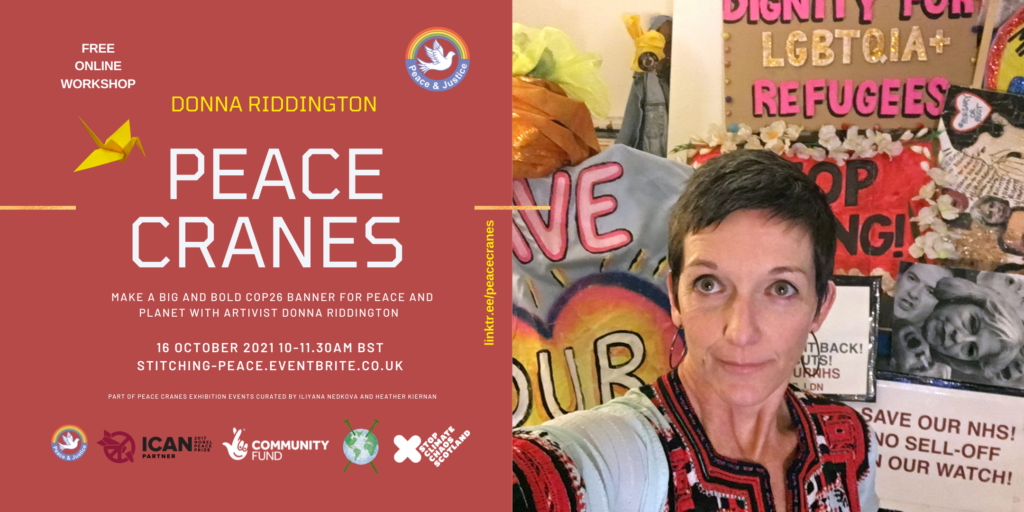 Make a big, bold and striking statement for peace and planet through art and craft with London-based independent visual artist and activist Donna Riddington
16 October 2021, 10-11.30am. Free online workshop. REGISTER HERE
DOWNLOAD Donna's presentation here and learn about her approach as an artist and activist to making banners for the campaigns and protests she has participated in as an artist and activist, including No Pride in War Coalition, Free the Vaccine, Positively UK Women, ACT UP, Movement for Justice and LGS Migrants. Find out about Donna's involvement as a creative ally in the Catwalk 4 Power campaign of women living with HIV. Make use of her tried and tested toolkit Utopia Dreaming for designing your own protest banner including as part of the Stitiches of Survival COP26 campaign.
As part of our Peace Cranes project curated by Iliyana Nedkova and Heather Kiernan. Supported by National Lottery Community Fund, Stitches for Survival and Stop Climate Chaos Scotland
---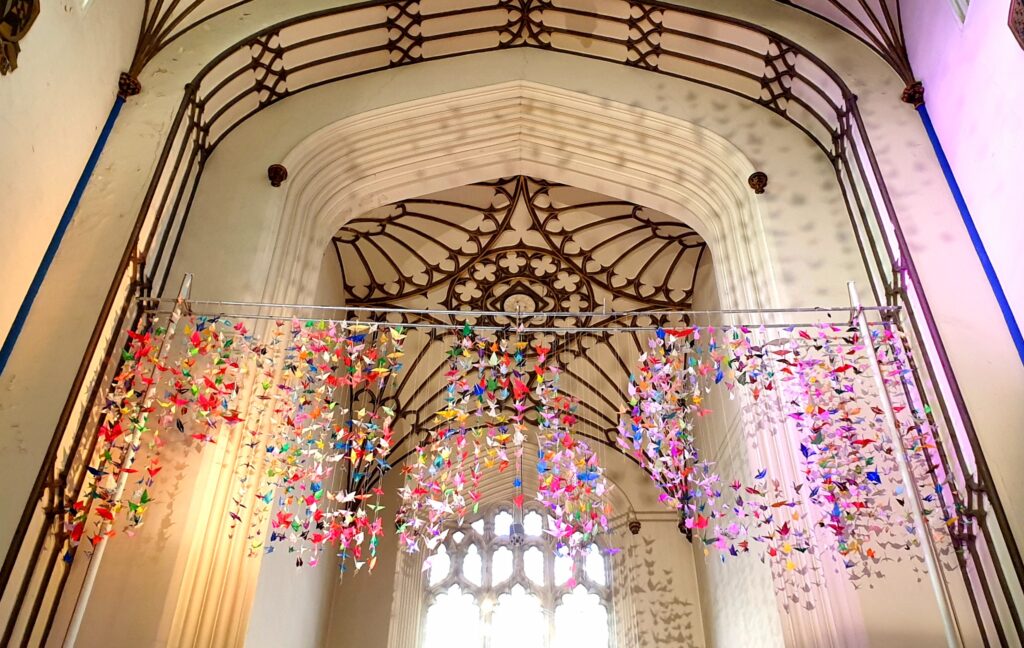 Plan your visit to Peace Cranes exhibition – our monumental installation by Scottish artist Janis Hart which spans the heritage space of St John's Church, Edinburgh. It fills the space with 140,000 origami cranes folded by people from across the world inspiring reflection on the atomic bombing of Hiroshima and the acceleration of species extinction. It is free and open to all until 13 November 2021 (excluding 7 – 17 October) Monday – Saturday 10:30am – 4pm (excluding Wednesdays 11am – 11:30am). It is accompanied by Peace Cranes making workshops led by our dedicated volunteer exhibition guides daily 1–3pm during opening times.
CHECK HERE FOR ALL OTHER CURRENT, UPCOMING AND PAST EXHIBITIONS AND EVENTS AS PART OF THE PEACE CRANES PROJECT