Staff Team
Brian Larkin – Coordinator (recently retired)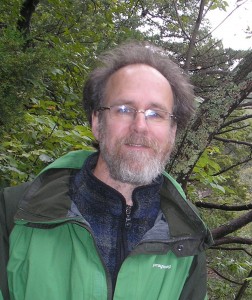 Brian is a US citizen. He first came to Scotland to study Theology at the University of St Andrews. He was Manager of Ann Arbor Shelter for homeless men and women and an organiser with Cesar Chavez's United Farm Workers of America. Brian was a class teacher at Edinburgh Rudolf Steiner School for 8 years. He served on the Steering Group of Faslane 365 the yearlong blockade of the UK nuclear weapons base and the Executive Committee of Scottish CND for two years. He was a Canvass Director and organiser in the Michigan office of the Committee for a SANE Nuclear Policy (now Peace Action) and has been arrested for civil resistance to nuclear weapons and arms sales around twenty times. At the age of 20 he risked five years in prison, refusing to register for the Selective Service and was jailed indefinitely for 3 months for blockading a Cruise missile engin factory. During the US covert war he took part in a Witness for Peace delegation to Nicaragua. Brian holds a Masters degree in Writing and Cultural Politics from the University of Edinburgh. He lives with his partner Jane Tallents and flocks of rooks, mallards, and lots more wildlife on Mikhall Pond near Howgate.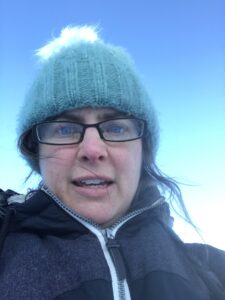 Janet Fenton is currently working part-time on development and partnership possibilities to build Peace and Justice's capacity as a national organisation during this interim period.
Jane Herbstritt – Finance and Administration Officer
Jane is the Administrator at the Peace & Justice Centre. She also works part time at Global Justice Now and has worked in the voluntary sector since she moved to Edinburgh more than fifteen years ago. Other jobs have included working for Scottish Environment LINK and the Scottish Civic Forum. When she's not working Jane likes to spend time hanging out with her two kids, playing the piano, cooking veggie cuisine (or meat if necessary!) or out cycling. You can email Jane at: admin[at]peaceandjustice.org.uk
Management Committee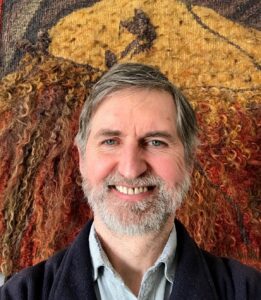 David Somervell – Co -Convenor
In his role as vice convener of the P&J David continues his involvement with the peace and anti-nuclear movement which started in 1977 – campaigning against Torness near Edinburgh.
Career Summary: David trained as an architect at Edinburgh College of Art and Oxford Polytechnic and specialised in energy and sustainable services provision. He was Technical Services Manager for Heatwise Glasgow 1984 – 89 when 100,000 Glasgow tenants had energy conservation measures installed in a multi-funded, multi agency programme providing training and employment for long-term unemployed.
His role as a change agent as much as a technical solutions provider evolved during his years with the University of Edinburgh – recognised as having a sector-leading role in implementing best practice in strategic energy & environmental management techniques. Initially appointed as Energy Manager in 1989, David stepped back from paid role as University Sustainability Adviser in 2016.
In his last five years at Edinburgh he was instrumental in helping establish the University's Department for Social Responsibility and Sustainability – free-standing as a support department – alongside Estates, Procurement and Health and Safety etc.
Awards: UoE 2015 Lifetime Achievement Award for Sustainability and NUS Green Impact Lifetime Achievement Award in 2015 for "being a genuine sustainability legend, and inspiring a generation of students".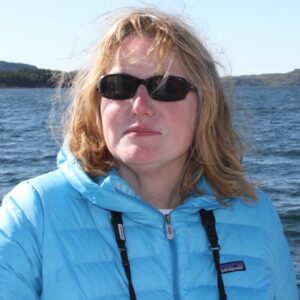 Heather Kiernan – Co-Convenor
A retired epidemiologist with degrees in medicine and public health from the University of Toronto and Cambridge, Heather began a second career as a free -lance writer and editor of intellectual and cultural history. More recently she co-edited Woodlanders a project conceived and developed by Reforesting Scotland to promote its vision for a restored landscape supporting a woodland culture together with being a co-curator of the RBGE's exhibition From Another Kingdom: The Amazing World of Fungi.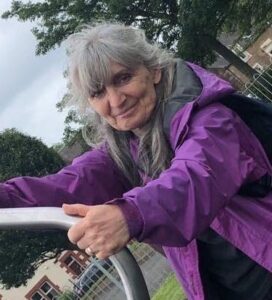 Jan Benvie
Jan is a retired Primary School teacher who spent 4 years in the Middle East with Christian Peacemaker Teams in both Iraq and Palestine Israel.
Since retiring she has joined the Management Committee of the Centre and has a particular interest in the Peacebuilding in Schools work the Centre is undertaking.
She is a member of the Anglican Third Order of Society of St Francis and is a Trustee of the Anglican Pacifist Fellowship, one of the groups that have supported the Centre's Peacebuilding in Schools project.
As well as her time as a human rights monitor in the Middle East, Jan has always been involved in a range of peace and justice issues at home and abroad. She is a member of Edinburgh Women in Black, Chair of Edinburgh Action for Palestine and Secretary of the Scottish Palestinian Forum.
When not undertaking work with the various groups she is involved with, Jan enjoys walking and reading.
A Christian pacifist, Heather has been a lifelong peace activist involved in both the Catholic Worker and Plowshares movement. She is also deeply committed to our stewardship to care for the earth and the poor and to the Global Catholic Climate Movement. Heather's many loves include gardening, the arts, cooking and sharing ideas with friends. She lives in the Scottish Borders with her Japanese husband, Shoji, two cats, seven hens, and a hedgehog family surrounded by a mini bird sanctuary.
Moira Taylor-Wintersgill
Juilette Diagre
Lyn Seren – Treasurer
Mary Alice Mansell
Interns & Volunteers
Melkite Balcha University of Bradford MA Peace Studies Student Work Placement. Sept – December 2020. Meklite is working on a Briefing on the lack of access to justice for asylum seekers at Dungavel Detention Centre in Ayrshire.
Angus Doyle . Angus is our graphic designer and produces the monthly newsletter front cover.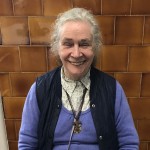 G. M. (Jill) McClenning
Jill has been a volunteer with P&J Centre for some years now. She works on general office duties and helps get the newsletter out to the post on time.