Brian Larkin retires as P&J Coordinator
Brian Larkin has today 10 June stepped back from his role as Coordinator of Peace & Justice (Scotland). He was our Coordinator for a decade, during which time its work grew and flourished in partnerships across Scotland and beyond. He additionally oversaw many difficult times, including most recently the Covid-19 Pandemic. He has taken medical retirement following a recent major operation from which he is recovering well. However his state of health sadly prevents his return to work at Peace & Justice. We are aware that there are many people who may wish to make enquiries or pass on good wishes to Brian and his family, and we will be updating our members and supporters about Brian's situation and future plans.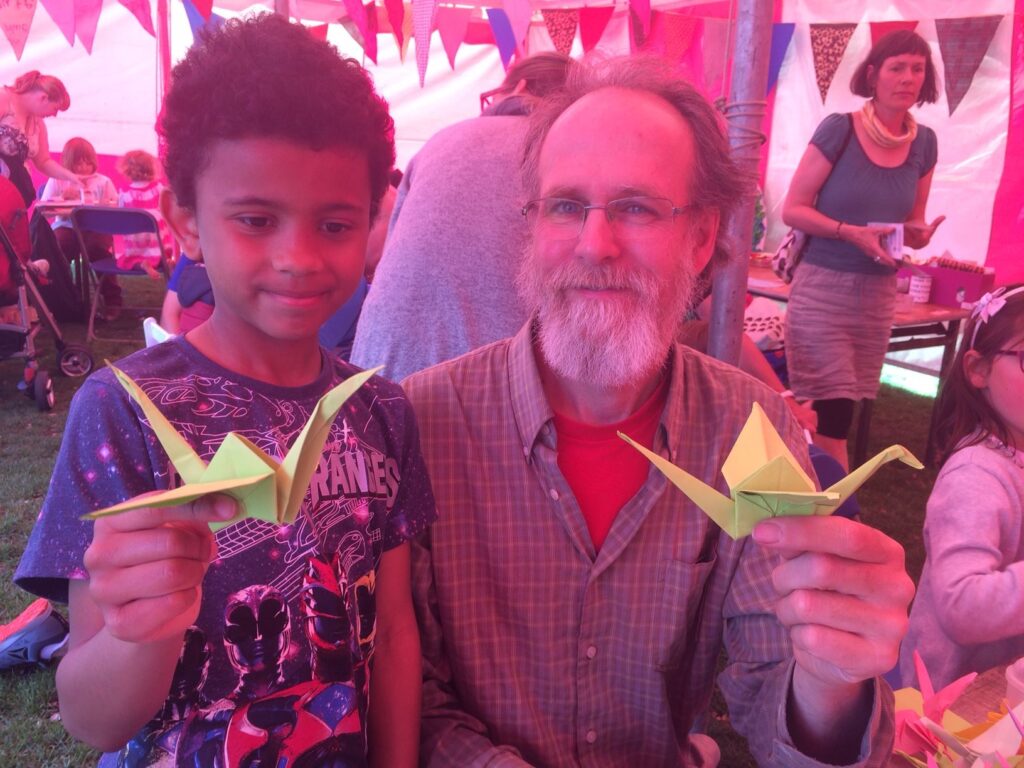 Meanwhile you can find more about Brian and his work here.
The Trustees are currently consulting with Janet Fenton, (former Coordinator) on development and partnership possibilities to build Peace & Justice's capacity as a national organisation.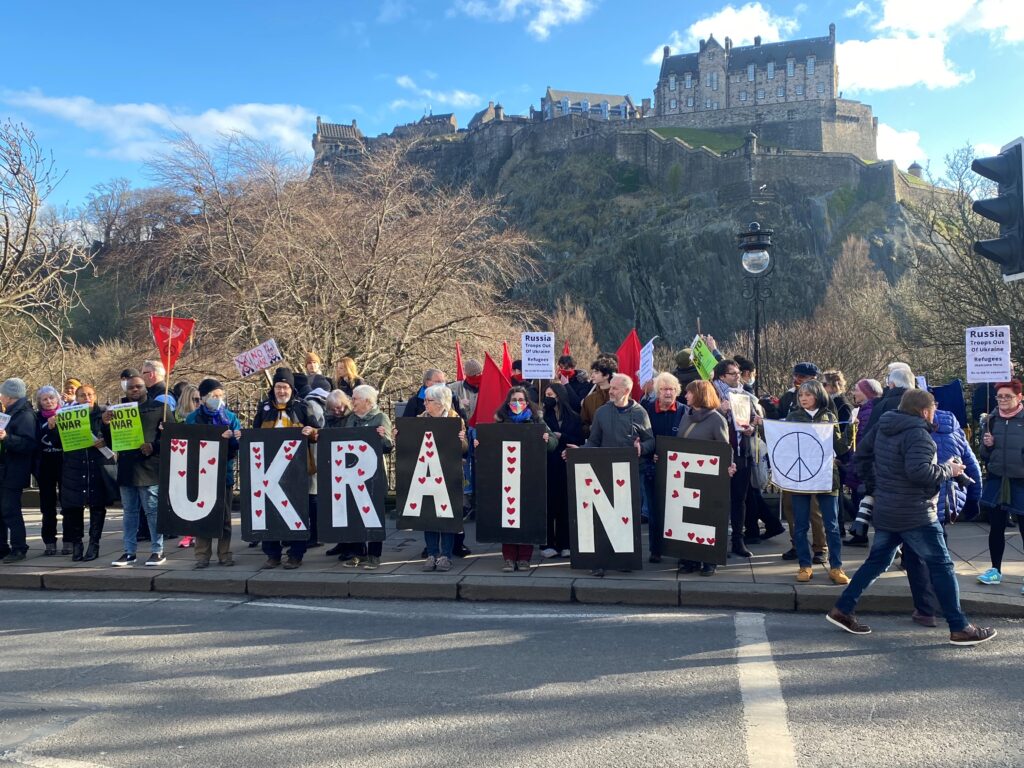 Troops out of Ukraine
UK government: open the borders to Ukrainian refugees
Russia and all nuclear weapons states, including the UK: sign up to the UN nuclear weapons ban treaty
For our latest news on Ukraine go to our Facebook page
---
Advocating for disarmament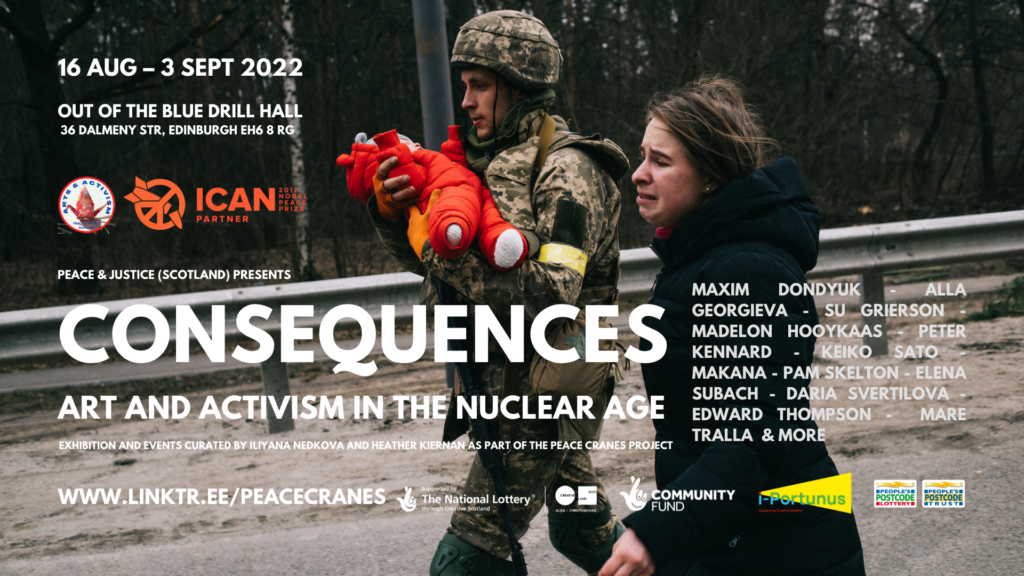 Peace & Justice is one of the civil society groups that campaigned successfully for an international treaty banning nuclear weapons. ICAN, the International Campaign to Abolish Nuclear Weapons, of which we are a partner – won the 2017 Nobel Peace Prize for this work. Our Peace Cranes project of contemporary art engages people in their communities to remember all those killed by the Hiroshima bomb and raises awareness of the Nuclear Weapons Ban Treaty and Don't Bank on the Bomb Scotland campaigns.
Consequences is part of our Peace Cranes project which began online on 6 August 2020 with a series of films, talks and theatre commemorating the 75th anniversary of the nuclear catastrophe caused by the US atomic bombing of the Japanese civilian populations in Hiroshima and in Nagasaki in August 1945. Tune in our 2020 programme here. Our project continued with Peace Cranes and Code Red – our exhibitions and events about peace, people and planet held across Edinburgh 6 August – 26 November 2021 which attracted over 15,000 visitors.
Our Peace Cranes project culminates with Consequences at Edinburgh's Out of the Blue Drill Hall, an exhibition and events free and open to all 16 August – 3 September 2022. Through artist's films, photography, sound art and poetry, we will explore the humanitarian and environmental consequences posed by the Russian invasion of Ukraine, together with the nuclear power accidents at Chernobyl, Kyshtym and Fukushima, as well as the dropping and testing of the atomic bomb in Hiroshima, Nagasaki, Kazakhstan and Marshall Islands.
Check out the new reports Nuclear Weapons, the Climate and our Environment and the Stop Funding the End of World: A guide to nuclear weapons divestment in Scotland and find out how you can take action to promote divestment.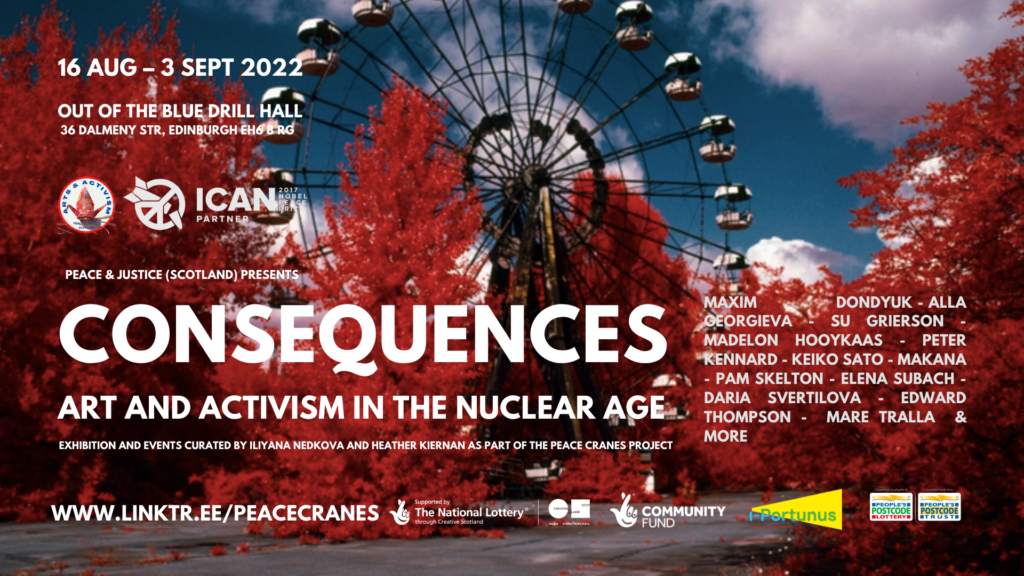 ---
Teaching peace
Our Peacebuilding in Primary Schools project facilitators have run Cooperative Games and Conflict Resolution courses in more than 50 primary school classes across Edinburgh and Glasgow. The programme is now available as a video series for teachers across Scotland to use with support from our Facilitators.
Find out more about the video series and how you can arrange to use them at your school here.
---
Justice for refugees
We're advocating for justice for Asylum Seekers and Refugees. Check out our new Briefings: Lack of Access to Justice for Asylum Seekers in Dungavel Detention Centre sets out the serious injustices for asylum seekers held by the Home Office in Scotland and find out how you can get involved as a volunteer advocate. Refugees on the Move looks at the difficulties faced by refugees on their journeys to and after they arrive in Britain.
---
A memorial for Conscientious Objectors
There are 37 war memorials in Edinburgh. Isn't it time peacemakers are recognised in public space too?
Find out about our plans to build a Memorial to Conscientious Objectors and all who oppose war in Edinburgh's Princes Street Gardens and how you can support the project.
We also organise Conscientous Objectors Day Vigils in Edinburgh annually. And, check out the stories of First World War COs in our Legacies of Resistance booklet here.
---
Challenging militarism
We organise events like Fly Kites not Drones and collaborate with a number of groups to challenge militarism and promote alternatives to war. This year our Edinburgh Alternative Remembrance event will be part of an online UK-wide remembrance event organised by Peace Pledge Union. We regularly organise public talks by prominent speakers on peace and justice issues .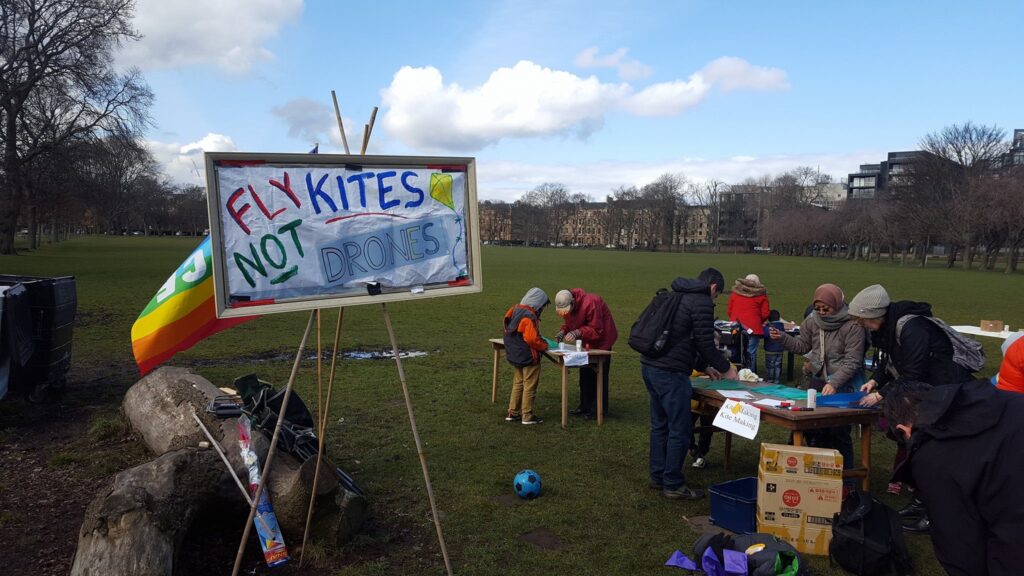 We're part of the Global Campaign on Mililtary Spending and we're working with Campaign Against the Arms Trade in Scotland to advocate divestment from arms. Check out our joint publication Made in Scotland that details the companies that are producing arms here and selling them to Saudi Arabia and other human rights abusers.
Find out about these and other projects we are involved in here