We've Moved
 After 3 years in our present location the P&J is on the move – to City of Edinburgh Methodist Church, 25 Nicolson Square, EH8 9BX.
When our current landlords informed us of a steep rise in rent we quickly found a new home thanks to our connections across the networks in Edinburgh. We'll carry on organising all our programmes: Peacebuilders for Schools, the Opposing War Memorial, the Cranes project, and our programme of events.
The new Centre is fully accessible. We'll still be able to provide space for small community based groups' meetings of up to ten people and desk space at low cost. Our new location is just a few steps from the University of Edinburgh campus and so more accessible for students to get involved as interns or volunteers. And we still house a small library of books on nonviolence, peacebuilding, human rights, conflict resolution and disarmament. Open Wednesdays 2 – 5pm and Fridays 10am – 1pm. Other times by appointment.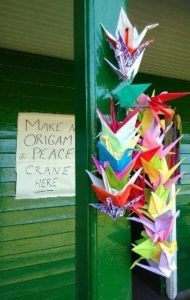 140,000 Origami Peace Cranes: Storage Needed.
With receipt of another shipment of several boxes packed with cranes from Japan we probably have over 125,000 cranes now. (We still have to count this latest lot to be sure!). We urgently need a dry place to store about 12 big boxes of paper cranes from now until we organise an exhibition, probably in August 2020. Can you help?
Workshops continue at the P&J on the second Saturday of each month. We still need to make several thousand more cranes so please get in touch if you can help with organising a workshop in your area or making cranes at home.
Don't Bank on the Bomb
The P&J is active in the Don't Bank on the Bomb Scotland Network. We launched a guide to nuclear weapons divestment last year. As a result of our discussions with RBS Group, we learned that the bank is undertaking a review of its defence sector investment policy. Information about the bank's investments in nuclear weapons and its current policy is at: https://nukedivestmentscotland.org/royal-bank-of-scotland-group/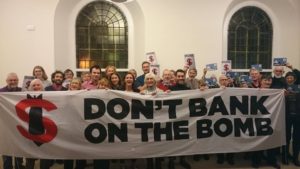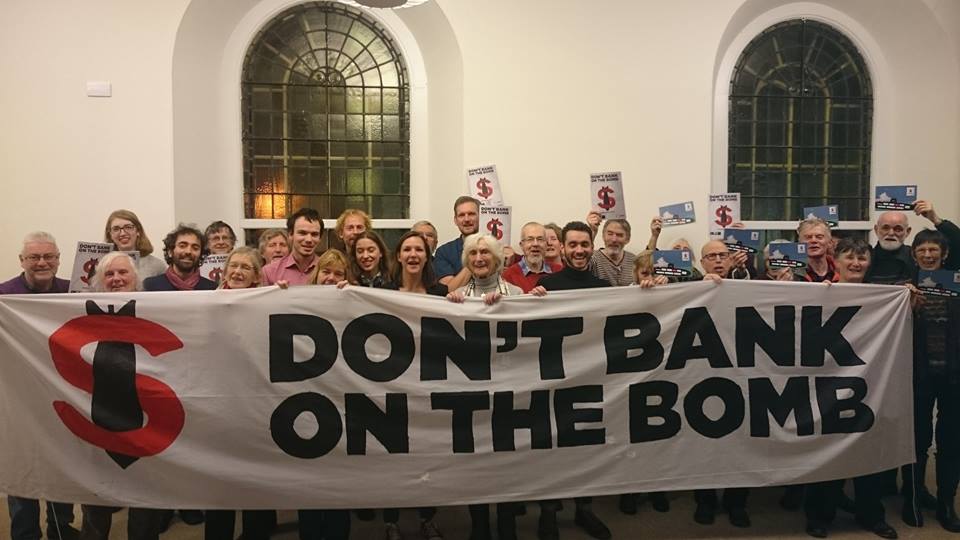 RBS has acknowledged the TPNW but won't change its policy to exclude all nuclear weapons producers unless the UK ratifies the treaty. However, the bank is concerned about reputational risk. Customer concerns are passed to the review team. Please write to the bank to request that it change its policy. You can use the template letter as a guide but it's better if you can compose your own: https://nukedivestmentscotland.org/template-letters-2/
Opposing War Memorial  
Our crowdfunder raised over £18,000 bringing funds raised so far to over £37,000. This will enable us to commission technical drawings, an engineer's certification of the design and exploration of the site in Princes St Gardens. Then we'll be able to obtain planning permission.
Artist Kate Ive will run Embroidery Workshops in the coming months, enabling interested people to participate in the project. Workshop dates are to be confirmed. To receive information about workshops email admin@peaceandjustice.org.uk or phone 07584492257.
To commission fabrication and installation of the Memorial we need to raise £130,000 more. Our grant applications will be strengthened by the public support that has been demonstrated by donations received so far. If you have not already done so please consider donating to the Memorial:
By Bank Transfer: Bank of Scotland Account: Edinburgh Peace & Justice Centre. Account No.: 00207018 / Sort Code: 80-11-30 Reference: Opposing War Memorial
By cheque made out to Edinburgh Peace & Justice Centre. Post to Edinburgh Peace & Justice Centre, Central Edinburgh Methodist Church, 25 Nicolson Square, Edinburgh EH8 9BX with a note that the donation is for the Opposing War Memorial. 
To Donate by bank card or credit card visit www.opposingwar.scot/donate/
Legacies of Resistance to the First World War
As a project partner P&J staff delivered workshops to the HLF funded Legacies of Resistance to the First World War project. We edited learners' materials, helped set up and participated in the final exhibition. We're currently working with WEA Scotland on a booklet that will celebrate the lives of about 30 First World War Conscientious Objectors from Dundee, Glasgow and Edinburgh.
The exhibition included presentations by all of the learners. Amongst the treasures displayed was the autograph book of CO Henry McIntyre which contains drawings poems and the thoughts of dozens of imprisoned COs. Henry's son and grandson were on hand.
A few of the learners performed two short original plays and a selection of women's peace songs from the era. Amongst the COs presented were a bootmaker, a coal miner, a University lecturer and a novelist. Uncovered letters, drawings of their prison cells and Tribunal applications illustrated the stories of these diverse men who were united in refusing to take part in war. The exhibition featured tribunal statements, accounts of their loves, prison experiences, even death.
One of the aims of the project was to show the contribution COs made to society. Edinburgh Quaker Andrew Farrar found two notable examples in the stories he'd uncovered of Edinburgh Quakers Jack Hamilton and Donald Grey both of whom volunteered with the Friends Ambulance Unit, risking their lives in Belgium. Grey went on to become Head Master of Bootham School and Hamilton was Resident Engineer on the construction of the Forth Road Bridge which was opened by Queen Elizabeth in 1964.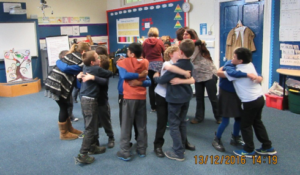 Peacebuilding for Schools Programme
In addition to funding awards from Anglican Peace Fellowship and Pumphouse Trust our Peacebuilders programme has received support from Fellowship of Reconciliation and notice of awards from Network for Social Change Charitable Trust and Big Lottery Fund Awards for All.
Project Development Coordinator Emma Quayle and Louise Smith Project Coordinator have been working to improve Facilitator training and targeting and tracking of outcomes. Facilitators meet up at regular Play and Connect sessions to share experience and learn from each other.
We worked in just two schools over the past two terms, focusing on building relationships with schools like Hermitage Park Primary, which is in an area of deprivation.  Intensive long-term work with schools and a whole school approach is a key part of our strategy, especially where the project has the support of the Head Teacher. The team are learning Restorative practices by establishing an internal Conflict system. Lessons learned will be translated into our work in schools, following the principle of teaching out of personal experience. Thanks to improved systems and Facilitator training we will be able to work in four schools in the coming term.
Burns Supper: Great Speakers Raised £1,400 in support of Peace & Justice
At our Peace & Justice Burns Supper Gerda Stevenson gave the Toast to the Lassies with poems from her book Quines that celebrate Scots women including peace campaigner Chrystal Macmillan. AL Kennedy gave a slightly edgy Response from the Lassies and feminist historian Lesley Orr gave the Immortal Memory. Stan Reeves piped in addressed the haggis. Thanks to them and the volunteers, Robin Naumann and Bespoke Organic Events for organizing and catering. It was all in aid of our work to promote nonviolence, peacebuilding and alternatives to war.
To support our work visit:  peaceandjustice.org.uk/become-a-member/