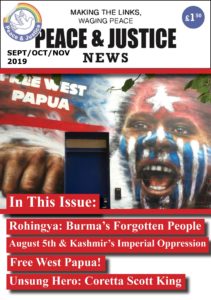 Peace & Justice News – Sept Oct November 2019
In this issue of Peace & Justice News Nay Nay Htun who hails from Burna, remembers the forgotten people – the Rohingya Muslims that are currently undergoing an ethnic cleanse in Myanmar. Eeman Talha gives historical context to the crisis in Kashmir and Cindy Kamtchoum explores West Papua's demand for autonomy, a battle that is far from over.
In Centre News we have nearly reached our goal of making 140,000 Origami Cranes. All welcome to join one of our autumn peace crane workshops or send your cranes in. Our Peacebuilders Collaborative Classroom projects programme is nearly ready to launch in schools. And catch up on the latest developments on our work on the arms trade and nuclear weapons.
It's time to celebrate another unsung hero. Cindy Kamtchoum profiles recognizes the peace work Coretta Scott Kind and did in her lifetime.
Lastly,  a calls to action on Don't Bank on the Bomb and West Papua.