New PeaceBuilders Video Resource for Primary Schools
We have made a series of eight short videos, each designed to fit into a single lesson, together with a manual for teachers to use in the classroom, based on our Cooperative Games and Conflict Resolution course. Watch a smaple vide and find out how you can view the video and find out how to help us get the videos out to schools here.
Peace & Justice joins Stop Climate Chaos Scotland Coalition
With only nine years left to meet the 2030 target of 75% emission reductions, urgent action is needed. That's why we've joined Stop Climate Chaos. The Climate Change Plan must set out the concrete actions that will reduce emissions such as phasing out high carbon heating systems in homes and preventing the use of peat in horticulture.
Advocating reductions to military sector GHG emissions. We're advocating specifically on the neglected area of military sector GHG emissions. The UK military and weapons industries are responsible for 11 MillionTonnes CO2e emissions, equivalent to that of the annual emissions from 6 million average cars, yet, these are are not counted. Tackling the global climate crisis requires transformational action by all sectors, including the military.
This week's budget announcement included a £3.5bn further increase in the MoD budget now up to £46bn or just nearly 10% of the total budget. Read our response in our Blog Cut military Carbon to address climate crisis and human needs.
Along with other Global Campaign on Military Spending partners we're helping organise the Global Days of Action on Military Spending that will take place between the 10th April – 9th May 2021. With the UK having just announced it's biggest hike in military spending in decades it's vital to raise our voices. You can Join this interactive Zoom planning session and help shape the campaign.
Banning Nuclear Weapons – Smashing the Patriarchy.
22 March. 7pm.  Online. Register for the event on EventBrite
We join with Scottish ICAN partners to welcome Ray Acheson (Director, Reaching Critical Will: WILPF) to Scotland (virtually!) for conversation and readings from her upcoming book: Banning the Bomb, Smashing the Patriarchy (Rowman & Littlefield, June 2021).
Online Rally: #YemenCantWait – Stop British Support for the War
Start: Friday, March 26, 2021 • 6:00 PM. 
The Saudi-led war on Yemen is about to enter its sixth year. The war has already claimed 233,000 lives. 24 million Yemenis need humanitarian assistance  which is being thwarted by the Saudi-led coalition's air and naval blockade of the country.  Register for the Rally here.
P&J Relaunch as Peace & Justice
Originally founded in 1980 as Edinburgh Peace & Justice Centre we relaunched at our Annual Meeting on 19 November 2020 as Peace & Justice with the mission of  Building a culture of peace across Scotland.  
Wherever you live in Scotland please consider becoming a P&J member or supporting our work with a donation.
Origami Peace Cranes Exhibition. We're planning an Exhibition at the Just Festival in August as part of the Edinburgh Fringe Festivals. Links to videos of the pre-exhibition events, including a Message from the Mayor of Hiroshima, The Mistake, The Priest's Tale and our Origami Cranes Workshop are on our website here. 
Physical P&J Centre Closed but we are still Working for Peace! Due to COVID-19 in person meetings are not possible. To better steward resources we have closed the Centre for now with staff working from home to organise events and projects.
Programme Updates
Don't Bank on the Bomb
The P&J is active in the Don't Bank on the Bomb Scotland Network. We launched a guide to nuclear weapons divestment last year. More information about the bank's investments in nuclear weapons and its current policy is at: https://nukedivestmentscotland.org/royal-bank-of-scotland-group/
Opposing War Memorial  
Our proposal for a Memorial to Conscientious Objectors and all who oppose war has been approved for a site in Princes St Gardens by the Transport and Environment Committee of the City of Edinburgh. We've raised over £64,000 so far. We commissioned the design. Now we will be able to commission technical drawings, an engineer's certification of the design and exploration of the site in Princes St Gardens. Then we'll be able to obtain planning permission. In order to commission fabrication and installation of the Memorial we need to raise £100,000 more. If you have not already done so please consider donating to the Memorial. Find out more about the Memorial and Donate here.  
Nobel Peace Prize Medal Comes to Scottish Parliament
The Nobel Peace Prize medal, which was awarded to the the International Campaign to Abolish Nuclear Weapons in 2017, was displayed at Scottish Parliament on 12 June 2018. Peace & Justice is one of five Scottish civil society groups that are among the 468 worldwide ICAN partners, who collectively share the Peace Prize. Read more here.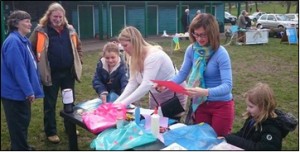 Fly Kites Not Drones Days
The beautiful blue skies of Afghanistan are now a fearful sight to children who no longer want to fly kites, due to fear of a drone strike. Drones are now extensively used in Afghanistan, Pakistan, Iraq, Gaza, Yemen, Mali and Somalia. In solidarity with all people living under threat of drones we organised a fun day being the change we want to see and brought our ideas of a culture of peace to life. Lots of families turned up and it was great to see so many people, young and old alike out flying kites.
Marking the Centenary of Conscription
On Thursday, 28 January 2016, Patrick Harvie MSP, Quakers in Scotland, and the Edinburgh Peace and Justice Centre, hosted a reception to mark the centenary of the Military Service Act at the Scottish Parliament.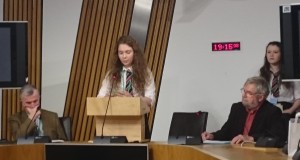 Trevor Royle, author of 'The Flowers of the Forest' the definitive history of Scotland in the First World War, and a member of the Scottish Commemorations panel praised the "16,000 brave men who refused to be conscripted in the First World War" saying it would be right to honour them with a memorial. Historian Lesley Orr told stories of several Edinburgh conscientious objectors and of people who supported them, notably within St Mark's Unitarian congregation.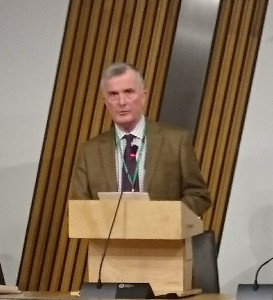 Conscientious Objectors Day Recognition by Scottish Parliament?
Peace & Justice worked with  Alison Johnstone MSP who lodged a motion calling on Scottish Parliament to recognise International Conscientious Objectors' Day 15 May. The motion was signed by MSPs John Finnie, Drew Smith, Patrick Harvie, Jean Urquhart, Neil Findlay, John Wilson, Claudia Beamish, Alison McInnes, Malcolm Chisholm, Sarah Boyack, John Mason, Iain Gray and Fiona McLeod. While the number of MSPs signing the motion was comparatively small the fact of it being lodged and signed by Labour, SNP, Liberal Democrat and Green MSPs is worth noting, and helps to raise awareness and respect for those who refuse to take part in war.  We will be exploring the possibility of a fresh motion in the new Parliament around the time of international CO Day itself.