The Peace and Justice Centre has worked since 1980 to promote nonviolence, human rights, conflict resolution, and ecological sustainability and to create a culture of peace across Scotland.
For information about our current programmes and work click here.
Here's a roundup of some of the many events, programmes, projects, exhibitions and workshops we have organised over the years.
PeaceBuilders: Teaching Peace and Conflict Resolution   
Cooperative Games and Conflict Resolution in Primary Schools 
The Peace & Justice Centre has run Cooperative Games sessions in schools across Edinburgh since 2015. Working through Cooperative games and activities the foundation sessions develop a culture of peace. Further conflict resolution sessions build skills in class groups to prevent and resolve conflict and within schools to put in place processes for restorative justice.
Collaborative Classrooms
Creating a Culture of Peace
Planting the Peace Pole in the Peace Garden at St John's Church
The Centre organised a ceremony for the planting of a Peace Pole with the phrase May Peace Prevail on Earth in four languages. Two people one "ordinary" and one "bigwig", including the Ambassador of Ukraine, recited the mantra in each of the four languages when the pole was planted.
 140,000 Origami Cranes Workshops 
Workshops making Origami Peace Cranes in memory of Hiroshima take place at the Peace & Justice Centre, second Saturday of every month from 2 – 4pm and at libraries, churches, schools and community centres across Scotland. . as well as ocassionallyThe project aims to make 140,000 origami cranes so we need lots of help. Everyone is invited to come along to workshops, pledge to make a set number of cranes at home, organise workshops in your area or get a local group to pledge to make a larger number of cranes. Click HERE to find out more about the project and to get involved.  
Working Through the Arts
The World is My Country Exhibition at The Scottish Storytelling Centre. May 2106.
The World is My Country exhibition celebrated, in stories and pictures, the people and movements that opposed the First World War. Featuring disobedient soldiers, feminist peace initiatives, a Maori princess, a famous Cambridge philosopher, and the striking graphic art of Emily Johns.
Light Against Darkness: An Exhibition of the Artwork of Syrian Refugee Children
13 October – 12 November 2015. City of Edinburgh Methodist Church, Edinburgh University Chaplaincy (Bristo Square) and St John's Church, Princes St, Edinburgh.
We brought 166 paintings and drawings created by Syrian refugee children during a three month psychological support project at the Shatila refugee camp in Lebanon to audiences in Edinburgh and raised over  £1,600 to support the "Tomorrow is Ours" programme of Najda Now that extends a loving hand to these children and plant the seeds of hope. We hope the psychological support programs provided by the center can help bring these children out of the darkness and in to the light; put smiles back to their sad faces, and wipe away the tears from their troubled eyes.
Read the STV News review of the exhibition here.
Organised by Edinburgh Peace and Justice Centre with the Children's War Museum. Supported by Church of Scotland World Mission Council, Edinburgh City Centre Churches Together and Just Festival.
The Drones Quilt Exhibition: A Tribute to the Victims of Drones: August 2013 
The Centre exhibited the 40 foot long Drones Quilt throughout the August Festival. It was seen by thousands of people.  Each square was made by a different person, the Drones Quilt reminds us that those killed by drones are human beings, whose lives are sacred.  Read the Full Report Here.
New Scots Photo Exhibition. Ocean Terminal. 2002
Large format photographs by Indian photographer Herman Rodrigues, at the Ocean Terminal November 2002. Commissioned and organised by the Peace & Justice Centre.
Divergent Voices of the First World War Scottish Storytelling Centre & Scottish International Storytelling Festival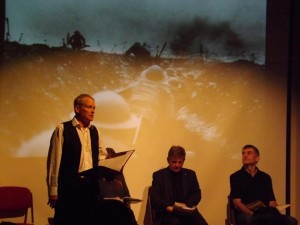 Created and produced by Peace & Justice Centre Coordinator Brian Larkin in collaboration with the cast: With actor, director, playwright and poet
Gerda Stevenson
, actor
Crawford Logan
(BBC Radio Four's Paul Temple), Gaelic poet
Aonghas Macneacail
 , cultural activist Jamie Baxter Reid and musician Michel Byrne.
Divergent Voices
explored less familiar responses to the First World War. The performance included poetry, excerpts from  letters and journals of soldiers, nurses and civilians, memoirs, soldiers trench journals (newspapers published at the front), conscientious objectors tribunal testimonies, and secret prison papers.
Scotlands for Peace Gazebo at the Craft Fair
The Centre commissioned Buchlyvie Pottery worker to produce works with the Scotlands for Peace logo that were available in the gazebo.
Jam for yer Peace
The Centre worked with Edinburgh poet and founder of the Scottish Poetry Library Tessa Ransford to organise performances by area poets and musicians at Henderson's Coffee Bar for a number of years.
Cross Cultural Arts Exchange: Scotland and Tibet
The Peace and Justice Centre organised this exchange brining Tibetan artist Topden Thomas from Norbulingka Institute in Dharamsala, India to Edinburgh and sending a Scottish artist to Norbulingka. Topden produced Tibetan Thangkas on cotton and silk cloth with depictions of Boddhisatvas. mandalas and deities in the Tibetan Buddhist tradition, which were exhibited at the Cornerstone Coffee Shop and delivered a talk on Faith, Art and Social Justice.
Challenging Militarism
Fly Kites Not Drones Days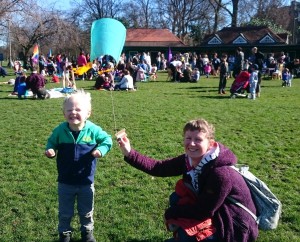 It is traditional to fly kites every year on the 21st of March – Now Ruz – in Afghanistan. But the beautiful blue skies are now a fearful sight to children due to fear of a drone strike. Drones are now extensively used in Afghanistan, Pakistan, Iraq, Gaza, Yemen, Mali and Somalia.
In solidarity with all people living under threat of drones and in response to a call out by Afghan Peace Volunteers and Voices for Creative Nonviolence UK and in partnership with Meadows Pavilion Cafe we've organised these festive family friendly Fly Kites events annually since 2014. With kite making, kite decorating, kite flying, badge making and face painting. Lots of families took part. The 2017 day was a fundraiser for Refugee Community Kitchen. Each year more people have attended and more kites made. In 2017 about 300 people attended and 130 kite kits distributed.
Conscientious Objectors Day Vigils. 15 May. Annually since 2014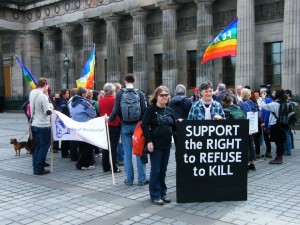 On International  Conscientious Objectors' Day each year the Peace and Justice Centre organises a public vigil on the Mound to honour the memory of conscientious objectors to all wars, and to raise awareness of and show solidarity with contemporary COs. In these First World War centenary years the vigils pay tribute to COs from Edinburgh and Scotland, reading of the names of 235 Edinburgh area WW1 COs, accounts of the experiences of Scottish COs and recollections by a number of descendants of WW1 COs. There has also been testimony from World War 2 COs, singing by Edinburgh street choir Protest in Harmony, poetry and music by other local musicians. Read the full 2015 account here. 
Marking the Centenary of Conscription
January 2016. Patrick Harvie MSP, Quakers in Scotland, and the Edinburgh Peace and Justice Centre, hosted a reception to mark the centenary of the Military Service Act at the Scottish Parliament.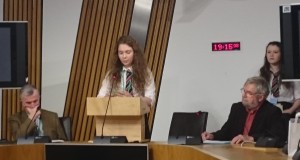 Speakers: Trevor Royle, author of 'The Flowers of the Forest' the definitive history of Scotland in the First World War, and a member of the Scottish Commemorations panel, University of Edinburgh historian Dr. Lesley Orr, Brian Larkin, Coordinator, Edinburgh Peace and Justice Centre, Second World War conscientious objector David Turner, Elisabeth Allen and Joyce Taylor-Richards, descendants of First World War conscientious objectors and students from St Thomas Aquin's High School in Edinburgh who presented their work on conscientious objectors.
White Poppy Remembrance & Distribution
We organise an annual candlelit ceremony with poems including from Edna St Vincent Millay, Wilfred Owen, Siefgried Sassoon around the peace pole at St John's Church and laying a white poppy wreath at the War Memorial on the Royal Mile remembering all victims of war, military and civilians. Each year we distribute white poppies in November. In 2017 we arranged for 16 venues across Edinburgh to distribute over 600 white poppies, a 100% increase from 2015. This work is done as part of the Scottish Peace Network.
Global Day of Action Against Military Spending
Each year we participate in the Global Campaign on Military Spending. In 2016 we teamed up with with Edinburgh Campaign Against the Arms Trade and others to hold an anti arms trade fair and in 2017 we teamed joined forces for a demonstration outside the Scottish Parliament calling for an end to the sale of armaments to Saudi Arabia and an end to the war on Yemen.
Campaigning for Divestment from the Arms Trade
Edinburgh Campaign Against the Arms Trade to call on the Lothian Pensions Fund to divest from arms companies. Peace & Justice Centre Coordinator Brian Larkin testified at the Petitions Committee (testimony starts at 8 minutes) of Edinburgh City Council.
Challenging Militarisation of Youth in Scotland 
This working group seeks to end military visits to schools, end the recruitment of under 18's to the military, and more widely raise awarenss of and end activities that target children and youth with militaristic indoctrination, such as at Armed Forces Days where children are encouraged to play with automatic weapons and clamber over tanks.
In June we're organising a Two short Films, Speakers and Discussion Event screening the Forces Watch film "Engage" about Cadets in schools and the Woodcraft Folk campaign against it and the Quaker film "The Unseen March" that outlines the UK government's concerted campaign to improve its image – from Armed Forces Day events annually to the expansion of the Cadets programmes. Speakers: Jay Sutherland, founder of Scotland Against Militarism Campaign and Rhianna Louise from Forces Watch by Skype Link.
Campaigning for Nuclear Disarmament
Love the Planet – Scrap Trident
Groups and individuals demonstrated oppostion to nuclear weapons on Valentine's Day 2016 in 37 towns and cities across Scotland. People created their  own events linked to the theme Love the Planet – Scrap Trident.  #LovethePlanet & #ScrapTrident.
Scrap Trident Demonstrations in Glasgow.
Organised with the Scrap Trident Coalition in 2015 & 2014.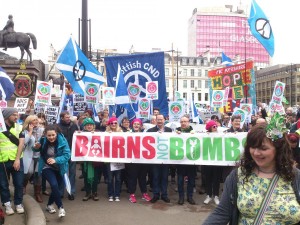 Thousands of people marched against Trident. First Minister Nicola Sturgeon and Scoottish Greens Co-Convenor Patrick Harvie spoke at the 2015 rally.
Peace and Justice Centre had a lead role on the Steering Committe and handled parliamentary liason work, media work and part of the social media work.
Blockade of Faslane Trident Nuclear Weapons Base. 2014
Organised with the Scrap Trident Coalition. Peace & Justice Centre had a key organising role on the Steering Committe and handled parliamentary liason work, media work and part of the social media work.
Member of International Campaign to Abolish Nuclear Weapons
Member of Aboliltion 2000. Particpated in Aboliltion 2000 International Conference in Edinburgh.
Contributed to draft and delivery of "Faslane Declaration" calling for UK disarmament of Trident and global abolition of nuclear weapons.
Scotlands for Peace
The Peace and Justice Centre is the East Coast Base and a core member of Scotlands for Peace. Includes religious, trade union and other peace groups.
 Scottish Peace Covenant
The Peace & Justice Centre and Scotlands for Peace created beautiful books with a specially commissioned frontispiece by Alasdair Gray, author of Lanark. Forty of the books were widely circulated the length and breadth of Scotland and signed by thousands of people including Bishop of Edinburgh, the Rt. Rev. Brian Smith,  Scottish First Minister Alex Salmond and the moderator of the Church of Scotland, the Rt. Rev. Sheilagh Kesting, at a public ceremony at the Scottish Parliament. The Peace Covenant declares, "We desire that Scotland should be known for its international contribution to peace and justice rather than for waging war."
People and Parliament Against Trident Demonstration 
March through Edinburgh calling for UK Government to remove all nuclear weapons from Scottish soil.  More than 2,000 people took part.  Organised by Scotland For Peace.
Cross Party Group on Nuclear Disarmament
The Peace & Justice Centre is an active member of the Cross Party Group on Nuclear Disarmament.
Organising Mayors for Peace Conference – 2006
The Centre played a key role working closely with Bill Kidd MSP co-Chair of the Cross Party Group in organising this conference and bringing mayors from Glasgow, Edinburgh, Shetland and other parts of Scotland together with Japanese Hibakushasa at the conference which culminated with the symbolic planting of a cherry tree at Gillies College in memory of the atomic bombing of Hiroshima.
The Centre has been active in several other Cross Party Groups including the Tibet, Human Rights, Violence Against Women and Palestine groups.
Support and Advocacy for Refugees
Candlelit Vigil for Refugees: Save All Calais Children
With the French government preparing to demolish the Calais "Jungle" refugee camp, home to more than 9,000 people we held a simple vigil to demonstrate solidarity especially with the more than 1,000 unaccompanied children who are among the most vulnerable. We  collected signatures on letters to the French government and Home Secretary Amber Rudd calling on their respect governments to protect all the children at the camp and delivered these by hand to the Scotland Office and the French Consulate.

Meeting the Needs of Refugees and Unaccompanied Refugee Children  in Scotland and the EU: From Turkey to Scotland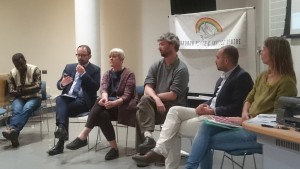 October 2016. University of Edinburgh 
Gary Christie, Scottish Refugee Council
Matthew Naumann, Edinburgh Peace and Justice Centre. Author of our report on Meeting the Needs of Unaccompanied Asylum Seeking Children in Scotland. Read the Briefing Here.
Sabine Gundren from Citizens UK
Amadu Khan, The Welcoming Group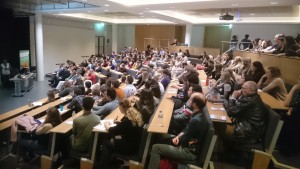 Janet Barnes, Coordinator of East Lothian Aid to Refugees. Janet has visited Calais and refugee camps in Greece many times delivering aid.
Former Head of Oxfam Response to Syria Crisis, recently returned from visiting refugee camps in Greece and Turkey.
Chair: Brian Larkin, Coordinator, Edinburgh Peace and Justice Centre
With the fate of thousands of children in Europe uncertain we brought together people working in the field to suggest how we can best advocate for the UK to admit its fair share of refugees, especially unaccompanied children. The event was attended by 200 people.
Initiating and Facilitating Gude Cause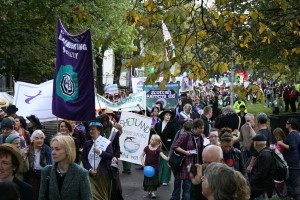 Gude Cause was the name of a feminist project, based at the Peace and Justice Centre iwhich inspired over 60events and projects throughout Scotland between 2007 and 2009. Gude Cause aimed to commemorate the work of Scotswomen involved in the suffrage movement, to celebrate women's achievements in the 100 years since the Women's Suffrage Procession which had taken place in Edinburgh in 1909, and to re-energise women's commitment to political representation and action in Scotland.
The work culminated in the re-enactment on 10 October 2009 of the 1909 Edinburgh procession, and was organised by volunteers, women's historians and community workers, in association with the Edinburgh Peace and Justice Centre,[1]  drawing attention to the problems that still need to be addressed , such as tackling domestic violence, forced marriage, sex trafficking and equal pay.[1]
Thousands of people from groups across Scotland had prepared for the day by creating banners, learning old and specially written songs, researching women's struggles in the past and discussing current issues and future aims
Trident and International Law: Scotland's Obligations ConferenceBook Talks and Speakers Series 
Dynamic Earth, Edinburgh.
Keynote Speaker HE Judge Mohammed Bedjaoui, President of the International Court of Justice.
Scotland and International Law Event at Scottish Parliament
Keynote Speaker: HE Judge Christopher Weeramantry, International Court of Justice.
Nonviolent Resistance to the Nazis:
 Book Talk and Discussion with author George Paxton. October 2016.
George Paxton is a Trustee of The Gandhi Foundation whose aim is to spread knowledge of Gandhi and his ideas mainly in the UK.  He edits their quarterly journal, The Gandhi Way, and is the author of 'Sonja Schlesin: Gandhi's South African Secretary'. Read a Review of the book on the Satyagraha Foundation website at http://www.satyagrahafoundation.org/book-review-nonviolent-resistance-to-the-nazis/
The Hammer Blow:  How Ten Women Disarmed a Warplane
A Book Talk by author and activist Andrea Needham. November 2016. 
Andrea Needham's gripping inside account of how ten women disarmed a Hawk jet bound for genocide in East Timor – and were acquitted. Marking the 20th anniversary of the historic Seeds of Hope Ploughshares action. Published by Peace News.
Britain Brexit and World Peace. September 2016. 
Vijay Mehta, Author, Peace Beyond Borders
Brian Cooper, Coordinator, Uniting for Peace
Brian Larkin, Coordinator, Edinburgh Peace and Justice Centre 
Peace Beyond Borders: Booktalk by Vijay Mehta, Author, Peace Beyond Borders
Ditch Coal Film, speakers and discussion. June 2016.
Speaker from Grassroots community resistance to open cast coal mining in Siberia. We know burning coal causes climate change, but what do we know of its human and ecological impacts?
Drone Wars: Today, Tomorrow, Forever? Chris Cole Coordinator of DroneWarsUK. May 2104 
Chris Cole, Coordinator of Drone Wars UK and Convenor of the Drones Campaign Network outlined the first decade of Drones, outlined the legal and ethical arguments against their use and gave us a glimpse of the future.  A few days later Amnesty International and Human Rights Watch  called for those responsible for the killings of civilians in Drone attacks in Pakistan and Yemen to be tried for war crimes.

Economic & Human Cost of Drone Wars: Chris Cole Coordinator of DroneWarsUK:  October 2013 
Chris Cole, Coordinator of Drone Wars UK and Convenor of the Drones Campaign Network, spoke on the operational use of drones for remote warfare, the costs, and the legal and ethical issues surrounding their use.  Read the Full Report Here.
George Lakey: a Living Revolution: July 2013      
George spoke about his book Toward a Living Revolution, (1987) re-published by Peace News this year. He offered an analysis of 5 stages in social change movements, and a range of practical tools for creating change. Lakey was a trainer for Mississippi Summer and co-founder of the Movement for a New Society and Training for Change. Read the Full Report Here.
Peace Pilgrimage Events: Ceilidh, City Chambers & Holyrood
The Centre organised a number of events in support of the Iona Pilgrimage for Peace and Economic Justice, including a ceilidh with Hud yer Wheesht, receptions at Hoyrood, with Marco Biagi MSP and Alison Johnstone MSP and at City Chambers with Councillors Maureen Child (on behalf of the Lord Provost) and others, and a send off from St John's by Bishop John Armes. 
Prospects for Peace with Iran: June 2013               
Peace News Editors Mil Rai and Emily Johns reported on their trip to Iran with an FOR Peace Delegation. Emily exhibited her wonderful line drawings, which will form the basis of  a new edition of her book Drawing on the Axis of Evil.  Mil spoke on Iran's nuclear programme. Read the Full Report Here.
Guantanamo Solidarity Fast : May 2013                                 
The Centre held a public Guantanamo Solidarity Fast in conjunction with solidarity fasts which took place globally as the hunger strike reached 100 days, with more than 100 of the 166 inmates on hunger strike and many being force fed in what many consider amounts to torture. Read the Full Report Here.

Susan Clarkson on the UK Peace Delegation to Afghanistan.              February 2012                                        
Though legally blind Susan provides shelter to destitute asylum seekers and went to prison for cutting a fence at Aldermaston – where UK nuclear weapons are built.  Susan travelled to Afghanistan in December 2012 and met with the Afghan Youth Peace Volunteers (AYPV). Read the Full Report Here.
Disarming Trident in the US and Scotland: Nobel Peace Prize Nominee Bill Bichsel & Leonna O'Neill of Faslane Peace Camp. December 2012                             
83 year old Jesuit priest Bill 'Bix' Bichsel was imprisoned for 6 months for seeking to live out  Isaiah's prophecy to "beat swords into plowshares". He and four others attempted to disarm US Trident nuclear weapons with hammers. LeonnaO'Neill lived at Faslane Peace Camp for two years.  She has organised numerous nonviolent direct actions resisting Trident here in Scotland.  Read the Full Report Here.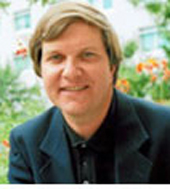 The Spirituality and Practice of Peace in a World of War:  
Fr John Dear and Rev Kathy Galloway.  August 2012 
Nominated for the Nobel Peace Prize by Archbishop Desmond Tutu Jesuit  Fr John Dear is an internationally known voice for peace and nonviolence. Rev Kathy Galloway is  head of Christian Aid Scotland and former leader of the Iona Community, a dispersed community of Christians who work for justice and peace throughout the world.  John and Kathy have stood against nuclear weapons and gone to jail. Kathy blockaded Faslane, where Trident, the UKs nuclear weapons are based. John was hammered on an F15 nuclear fighter bomber in an effort to "beat swords in plowshares".   Both are grounded in the gospel of the nonviolent Jesus.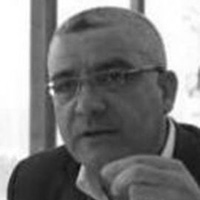 Dr Omar Shaban of Pal-Think Institute: May 2012 
In the May talk in our Series, Dr Omar Shaban, Director of Pal-Think Institute in Gaza , argued that international aid has 'deepened the divide' and prevents reconciliation between Hamas and the Palestinian Authority.
Ecumenical Accompaniment in Palestine and Israel (EAPPI).  April 2012
Ros Robertson served as a human rights observer in South Hebron with EAPPI.
Cooperation in Israel – Palestine: Hamed Qawasmeh  & Erella Dun of  The Villages Group.                    
The Villages Group is a remarkable group of Palestinians and Israelis working  together to support Palestinian communites in the West Bank.
South Sudan: Building for Peace: March 2012
Sheila Dhariwal and Sylvia De Nygos spoke of their work with Gua-Africa and Scotland and South Sudan Initiative (SASSI) one year after independence. South Sudan has experienced nearly continuous wars since achieving independence in 1956. More than 2 million people have died, and more than 4 million are internally displaced persons or refugees. Sheila focused on Gua Africa's work with former child soldiers and the 'lost boys' of South Sudan. Silvia De Nygos was born in Torit and educated in Khartoum. She is founding SASSI to support women starting up their own small businesses to feed their families.
Report from First UK Peace Delegation to Afghanistan: Maya Evans.  February 2012
Founder of Voices for Creative Nonviolence Maya Evans visited the Afghan Peace Volunteers in Kabul. Maya is the author of Naming the Dead an account of being the first person to be arrested under the Serious Organised Crime and Police Act (SOCPA) for reading the names of the dead in Afghanistan outside Downing St.
Centre Workshops
Centre Coordinator Brian Larkin led workshops on Consensus Decision Making and Pacifists & Realism in the 21st Centurty at the Edinburgh Peace Initiative international conference Voices in Conflict: Rights, Realism and Moral Outrage, and on Nonviolent Action for University of Wisconsin Summer in Scotland
Volunteers Needed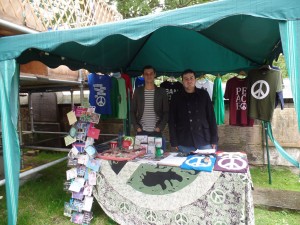 The centre is always looking for volunteers who are interested in the causes we support and want to get involved.  The Centre is based on the terrace of St John's Church, at the West End of Princes St.  But we are currently seeking a new home as of September 2015.
For more information, please go to the Get Involved page.
Hours of Operation
Tuesday – Saturday, 10:00 am to 4:00 pm