The Peace and Justice Centre has worked since 1980 to promote nonviolence, human rights, conflict resolution, and ecological sustainability and to create a culture of peace across Scotland.
We are a hub for peacebuilding in Edinburgh and beyond. We aim to act as a catalyst for a more peaceful and just Scotland.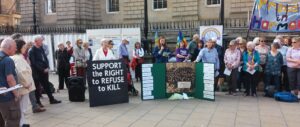 Our Mission
Offering training in conflict resolution and nonviolence.

Raising awareness and challenging pervasive militarism, advocate for disarmament and ecological responsibility.

Promoting human rights by engaging in events and collaborating with individuals, organisations, and communities. 

Being an ally to those experiencing violence and oppression and standing for equality.

Bringing together organisations and individuals within the peace movement by activating our networks, and providing accessible resources and a welcoming meeting place.

Modeling the values of a peaceful and just society.
Find out about our current projects here.
We also run several annual events including 'Kites not killer drones' at the Meadows and our annual CO day memorial day event. This year the event was all online and streamed live on Facebook. You can watch it again here: