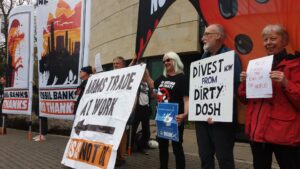 The Peace and Justice Centre is part of a small network of organisations in Scotland working on the Don't Bank on the Bomb campaign, based on the work done by Pax in the Netherlands and the Don't Bank on the Bomb Report.
The Don't Bank on the Bomb Scotland network has published Stop Funding the End of World: A guide to nuclear weapons divestment in Scotland
The guide. includes lots of information on investments in nuclear weapons by public bodies in Scotland including Local Authority Pension funds, Universities and the Scottish Parliament Pension Scheme, and information on how you can take action to promote divestment.
We organised a launch of the campaign in Scotland with a public meeting and an event at Scottish Parliament. Read the report from the lauch here.
The full Don't Bank on the Bomb report is available at www.dontbankonthebomb.com and www.paxforpeace.nl . There you will also find information on hundreds of financial institutions that have investments in nuclear weapons.
A number of UK banks and financial institutions are invested in nuclear weapons. RBS is the largest investor in nuclear weapons in the UK. All of us as taxpayers have a stake in RBS. Therefore we are asking everyone to write to RBS to call on them to Divest from nuclear weapons, and anyone who has an account with ROYAL BANK OF SCOTLAND to send a message to the RBS and consider closing your account with them.
Click HERE to FIND and DOWNLOAD A LETTER TEMPLATE YOU MIGHT SEND OR ADAPT AS YOU SEE FIT TO THE CHIEF EXECUTIVE OF RBS.
YOU CAN CUT AND PASTE SOME OR ALLTHE LETTER OR WRITE YOUR OWN.
WE SUGGEST IF YOU SEND THE LETTER YOU MIGHT ALSO CONSIDER CLOSING YOUR ACCOUNT AND TRANSFERING TO A BANK OR BUILDING SOCIETY THAT DOES NOT INVEST IN NUCLEAR WEAPONS.
Information on Ethical alternatives can be found at: http://www.ethicalconsumer.org/
IF YOU DO EITHER OF THESE THINGS PLEASE LET US KNOW AT SCOTLAND DON'T BANK ON THE BOMB BY EMAILING: send@banthebomb.org and putting "DBOTB" IN THE SUBJECT FIELD.