A broadly based campaign focussing on the links between banks and financial institutions to companies involved in the manufacture of nuclear weapons was launched at a public meeting in Edinburgh on Monday 16 November.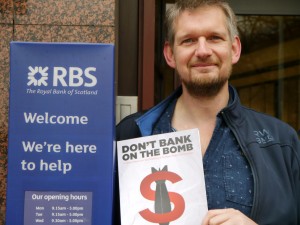 Wilbert van der Zeijden one of the authors of the 2015 Don't Bank on the Bomb report pointed out that the Royal Bank of Scotland remains the largest investor in nuclear weapons in the UK, while the pension funds of public bodies in Scotland, including that of the Scottish Parliament, continue to invest in nuclear weapons despite clear majority opposition to them.
According to the report, published by Dutch peace organization PAX, 53 financial institutions now prohibit or limit investments in nuclear weapon producers. Van der Zeijden said "This is a 50% increase compared to last year's report. The increase illustrates the growing stigmatization of nuclear weapons because of the renewed focus on their humanitarian consequences."
The report also identifies 382 banks, insurance companies and pension funds which have made USD 493 billion available to nuclear weapons producers since January 2012.
Brian Larkin, Coordinator of the Edinburgh Peace and Justice Centre, one of the groups campaigning on this issue in Scotland, said "Based on evidence presented in the report, activists worldwide are calling on financial institutions to stop any investments into weapons of mass destruction, and on governments to ban nuclear weapons once and for all."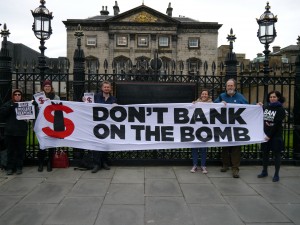 "Here in Scotland we are focussing on the Royal Bank of Scotland. RBS remains part-owned by the public so it's all of our business when it continues these toxic investments. RBS have already responded to our approach and have agreed to meet with us."
Arthur West, Chair of Scottish CND, one of the organisations in Scotland campaigning on this issue said "On Tuesday we will be briefing MSPs on this issue and we'll highlight the fact that the Scottish Parliament is invested significantly in Rolls Royce, which is building the nuclear reactors, that is the engines, for the new Trident nuclear weapons submarines. It's madness, and highly unethical, for the Scottish Parliament to invest in nuclear weapons when it has just voted against Trident replacement."
Rebecca Sharkey of ICAN UK (International Campaign for the Abolition of Nuclear Weapons), which jointly organised the launch events, explained the link with the international efforts to prohibit nuclear weapons, including investments in nuclear weapon producers.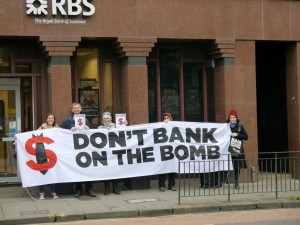 Van der Zeijden said "Investments in nuclear weapon producers are not a necessity but a choice, as is shown by 13 financial institutions listed in the report's Hall of Fame. These institutions have outstanding policies preventing any types of investment in any company with association to nuclear weapons. Divestment makes it clear to producers that as long as they are involved in nuclear weapon programmes, they will be considered illegitimate, and a bad investment."
A range of campaigning organisations including the Edinburgh Peace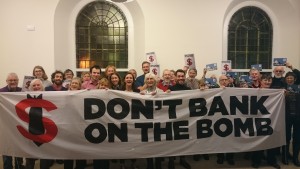 and Justice Centre, Scottish CND, ICAN UK, Medact, Friends of the Earth Scotland, Global Justice Now, Edinburgh CND,  and Edinburgh University People and Planet  are all supporting the campaign.
The full report is available at www.dontbankonthebomb.com and www.paxforpeace.nl