Community workshops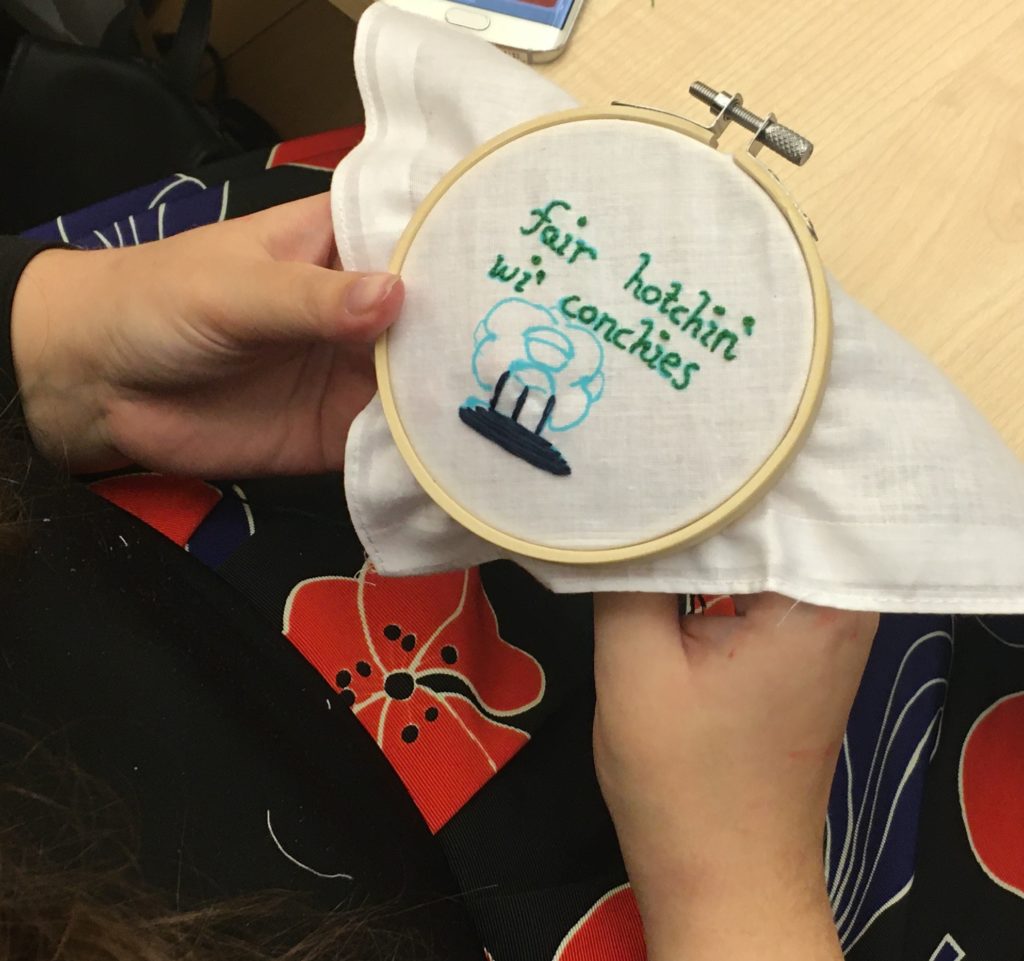 Opposing War Memorial artist Kate Ive ran Embroidery workshops in Glasgow, Edinburgh and Dundee in November, giving people an opportunity to participate in the Memorial project. 
Nineteen people took part, including two whose fathers or grandfathers were COs, one who had never embroidered, one from Glasgow's Embroiderer's Guild and a refugee family from Somalia, a mum & four children. There were great discussions. Participants said they really enjoyed it and all produced finished embroidered handkerchiefs with symbols of peace, disarmament or conscientious objection.
During lockdown, to mark Conscientious Objectors Day in May 2021, Opposing War Memorial artist Kate Ive held an online workshop for people to make their own handkerchiefs to oppose war. More than twenty people took part, and some great designs were conceived!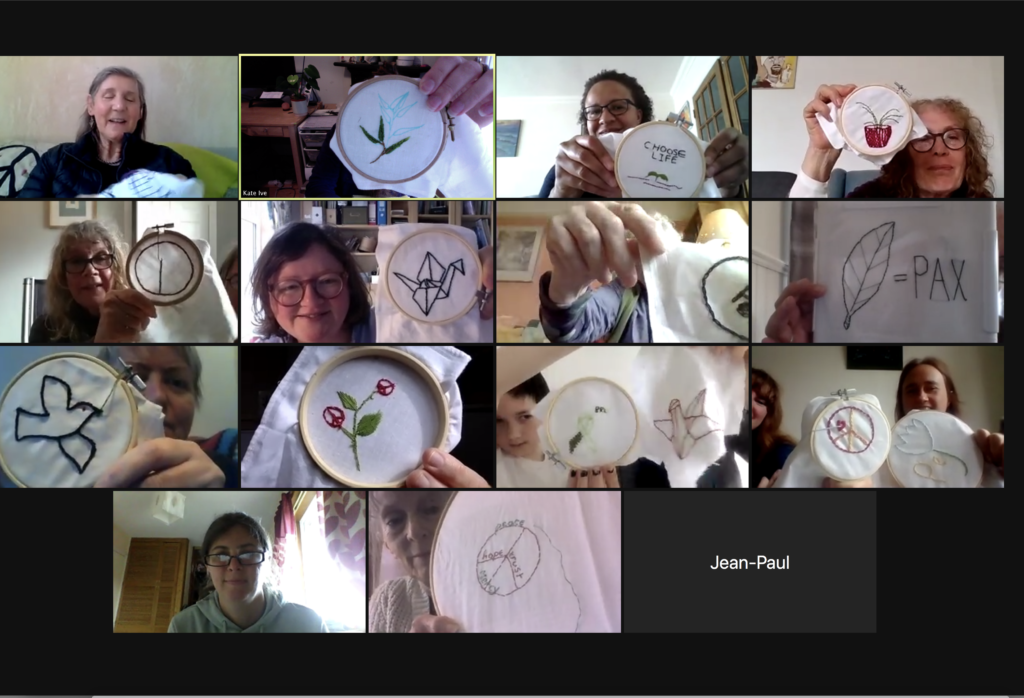 Edinburgh Council approves Opposing War Memorial fund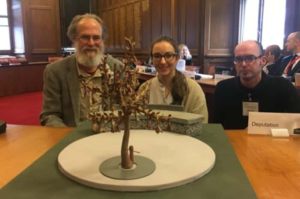 Our proposal for a Memorial in Princes St Gardens to Conscientious Objectors and all who oppose war has been enthusiastically approved by the Transport and Environment Committee of the City of Edinburgh and a motion by Alison Johnstone MSP supporting our proposal for an Opposing War Memorial received support from all parties and from Scottish government. The Memorial, which will be dedicated to conscientious objectors and all who oppose war will be situated amidst eight war memorials in a World Heritage sit that is visited by millions of people annually.
Donate to the Opposing War Memorial fund
We have raised £67,441 so far in donations (including in-kind donations) and grants towards a project budget of £167,773 for casting, fabrication and installation of the peace tree sculpture and granite bench. Of funds raised so far all but £600 is from private donations. We are now focussing on seeking grant funding, but of course we still welcome any and all private donations!
Click here to Donate to the Memorial.
Anyone who wants to donate can do here.
Councillors unanimously supported the proposals to be confirmed by the Planning Committee early next year. decided by officers. Green Cllr Chas Booth said: "I think it's fantastic. It's clearly beautiful and it encourages thought, it encourages respect for those who showed the bravery to stand up in the past to war."
Over 400 people signed a petition calling for the Memorial which is supported by Green Party Co-Convenor Patrick Harive MSP, Edinburgh East MP Tommy Sheppard, Lothians MSP Alison Johnstone and John Finnie MSP.
Transport and environment convener, Cllr Lesley Macinnes who formerly worked for a landmine and cluster munition non-governmental organisation said: "I was tasked with dealing with the impact of those weapons both during conflict and post-conflict. I've witnessed and understood very clearly the impact of war on human lives – the practical, the social, the very human cost attached to war. I think it's very important that the voices that represent opposition to that can be heard in Scotland's capital city."
The Memorial Design
Edinburgh based artist Kate Ive's design has been selected and a maquette was unveiled at a launch event in May. The sculpture will be notably different from the numerous war memorials in Princes St Gardens which place an heroic figure on a plinth.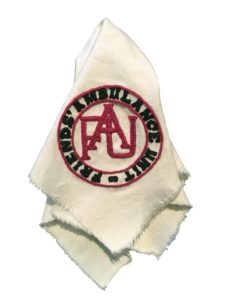 Instead it is an inclusive and intriguing sculpture that encourages exploration and further enquiry. It offers a space for reflection on alternatives to war like peacebuilding and conflict resolution. The creation process will include opportunities to participate in workshops and create embroidered handkerchiefs some of which will be turned into bronzed "Bracts" or flowers that will decorate the bronze tree and represent COs and individuals and organisations that oppose war.
Visit the Memorial website to read a full description of this engaging and interesting design and view more images.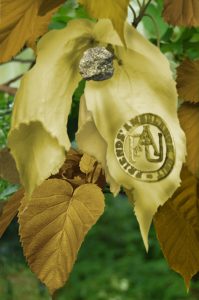 Click here to Donate to the Memorial.
Background
Following approval of our petition for a memorial to conscientious objectors Parks and Green Space officials of the City of Edinburgh have worked with the Opposing War Memorial Steering Group to find a suitable location for the memorial.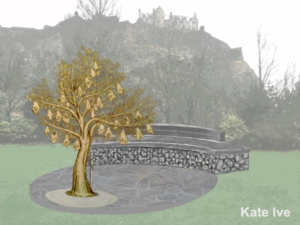 Our proposal for a site in Edinburgh's Princes St Gardens is expected to be approved by the Planning Committee early in 2019. Princes St Gardens, a World Heritage site which is visited by millions of people annually, is home to numerous war memorials and adjacent to Edinburgh Castle and the National War Memorial.
Those who died in wars are well represented in public space across Britain but the significant history of opposition and resistance to war is not represented there. The presence of a memorial to conscientious objectors in this location will be a respectful counterpoint to the assumption of the necessity of war inherent in these many memorials to those who have lost their lives. It will raise awareness of the fact that Britain was the first country in the world to establish in law a right to conscientious objection, a right which has come to be recognised by all European countries but one and will recall the significant history of resistance to the First World War and all wars in Scotland. And the Memorial will be a highly visible space for reflection, not only on peacebuiding and conflict resolution as alternatives to war, but on the values of dissent and diversity of opinion inherent in conscientious objection and fundamental to democracy.
Conscientious Objection in the UK
Scotland and Edinburgh have many war memorials but we also have a rich history of conscientious objection and resistance to war and militarism which deserves to be recognised publicly.
Nearly 20,000 men refused conscription in the First World War and 60,000 did so in the Second World War. Most paid a price for following the dictates of their consciences. First World War COs were vilified in their communities. 6000 went to prison and were subjected to harsh treatment, poor diet, often stripped naked, put in solitary for months on a diet of bread and water. Many went on hunger strike in protest at conditions and were force fed. 73 died.
237 men from the Edinburgh area refused conscription including Arthur Woodburn, who served a long term in Calton Jail and like many other COs later became an MP. He was Secretary of State for Scotland from 1947 until 1950.
Women supported COs and actively opposed the war too. Edinburgh's Crystal Macmillan took part in a women's peace conference at the Hague during the war. Our vision is for a memorial that will recognise all who have opposed wars in the past and those who continue to do so.
The Legacy of Conscientious Objection
The sacrifices of COs laid the foundation for later peace and human rights work and for recognition of conscientious objection elsewhere. The UN and the European Court of Human Rights and most countries have now recognised conscientious objection as a human right. But over 750 COs are still imprisoned around the world today. A CO memorial will not only pay tribute to those who refused conscription in Scotland and the UK during the First World War, it will honour those who are refusing to participate in wars in our own time.
CO and First World War Remembrance Events so Far
As part of the ongoing activities surrounding the centenary of the First World War the Peace and Justice Centre and the Quaker Meeting House organised an event at the Scottish Parliament in January to make the Centenary of the Military Service Act. Speakers included the renowned historian of the First World War and Scotland Trevor Royle, who expressed is support for a CO Memorial and and Dr. Lesley Orr (Edinburgh University). The event, hosted by Patrick Harvie MSP, was attended by about 50 invited guests including Brigadier David Allfrey, Director of the Royal Edinbubrgh Military Tatoo. An account of that event can be found here.
The Peace and Justice Centre organised an exhibition entitled The World Is My Country to coincide with the centenary of conscription, that celebrates the people and movements that opposed the First World War.
We also created and produced Divergent Voices, a performance of readings that, taken as a whole tells the story of the First World War, with an emphasis on the voices of those who opposed or came to question the war as a result of their experience. Divergent Voices was performed at the Scottish Storytelling Centre and at the Scottish International Storytelling Festival in November 2014. A review of Divergent Voices can be found here.
The Opposing War Memorial Committee consists of the following organisations:
Edinburgh Peace & Justice Centre
Iona Community
Religious Society of Friends (Quakers) Scotland
Scottish Campaign for Nuclear Disarmament
Womens International League for Peace and Freedom Scottish Branch
Pax Christi UK
Edinburgh Central Quaker Meeting
Edinburgh Stop the War
Edinburgh Campaign for Nuclear Disarmament
Muslim Women's Association of Edinburgh
Edinburgh and Forth Methodist Circuit
St Thomas Aquins RC High School, Edinburgh
Peace Pledge Union
School of Social and Political Sciences, University of Edinburgh
War Resisters International
Individual Members of the Committee
Professor Toby Kelly, Department of Anthropology, University of Edinburgh.
Dr. Billy Kenefick, Honorary Senior Research Fellow, University of Dundee and co-founder of the Great War Dundee project.
Dr. Lesley Orr, Lecturer in History, New College, University of Edinburgh
Project Partners
School of Social and Political Science, University of Edinburgh
School of Art, University of Edinburgh