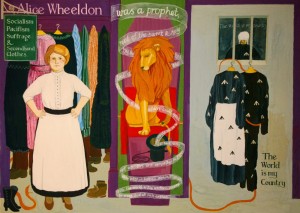 World Is My Country Exhibition
The Peace and Justice Centre organised an exhibition of the posters, by Emily Johns that celebrated, in stories and pictures, the people and movements that opposed the First World War. The exhibition, held at the Scottish Storytelling Centre featured disobedient soldiers, feminist peace initiatives, a Maori princess, a famous Cambridge philosopher, and the striking graphic art of Emily Johns. Emily and Peace News writer Gabriel Carlyle gave an inspired and inspiring, interactive talk at the launch event, which was attended by about 50 people. Special thanks to Margaret Ferguson Burns who organised setting up the exhibition and to Chris Booth and Rebecca Willmott who helped, and to the Real Junk Food Project for great food, diverted from the mountain of waste, and to Henderson's Wines.
If you missed the exhibition, or attended and want to remember it, you can still purchase posters and Emily's book that tells the stories, from the Peace and Justice Centre. We can post them out to you or pop in to pick one up.
Conflict Resolution Skills for Primary Schools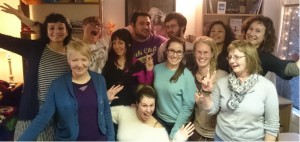 A highly successful and packed out facilitator training workshop for our Conflict Resolution Skills for Primary Schools Programme was held at Edinburgh Peace and Justice Centre and covered essential components for working in Conflict Management adapted for work with children in Primary Schools. This is a practical approach through team building activities, cooperative games, and group dynamics.
We are now calling the programme Cooperative Games and Circus Skills to better reflect what takes place in these fun sessions that really help the children. Sessions have been held with three groups of pupils at Dalry Primary School and will continue with another group next term. These sessions address key points in the Curriculum for Excellence:
Understanding me and others
Managing my anger
Improving my communication
Understanding my skills to manage conflict
We are now looking for other schools interested in hosting the programme. Please get in touch with Brian Larkin, c/o EP&JC. Tel: 0131 629 1058 or email coordinator@peaceandjustice.org.uk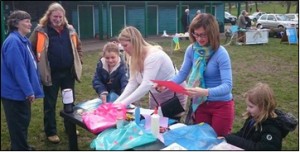 Fly Kites Not Drones Day
The beautiful blue skies of Afghanistan are now a fearful sight to children who no longer want to fly kites, due to fear of a drone strike. Drones are now extensively used in Afghanistan, Pakistan, Iraq, Gaza, Yemen, Mali and Somalia.
In solidarity with all people living under threat of drones we organised a fun day being the change we want to see and brought our ideas of a culture of peace to life. There was Kite making, kite decorating, and lots of kite flying as well as badge making and face painting. Lots of families turned up and it was great to see so many people, young and old alike out flying kites.
Plus Paul Carline demonstrated his big display kites, and two brave teddy bears parachuted from a very big kite. There was a bit of drama when the parachuting bears were carried by the breeze into the tangled upper branches of one of the trees on Middle Meadow Walk. Thank goodness though, one of the Dads heroically climbed the tree and rescued the bears, who were wearing "Ground the Drones" badges. The bears said, "Parachuting and kite flying can be great fun, but military drones are yucky." A great little video of the rescue of the parachuting bears is available on our website. 
Marking the Centenary of Conscription
On Thursday, 28 January 2016, Patrick Harvie MSP, Quakers in Scotland, and the Edinburgh Peace and Justice Centre, hosted a reception to mark the centenary of the Military Service Act at the Scottish Parliament.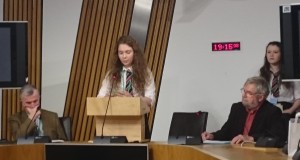 Trevor Royle, author of 'The Flowers of the Forest' the definitive history of Scotland in the First World War, and a member of the Scottish Commemorations panel praised the "16,000 brave men who refused to be conscripted in the First World War" saying it would be right to honour them with a memorial. Historian Lesley Orr told stories of several Edinburgh conscientious objectors and of people who supported them, notably within St Mark's Unitarian congregation.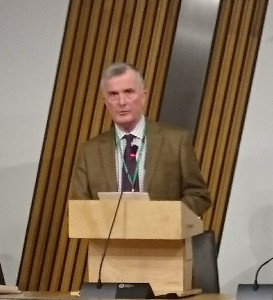 Second World War conscientious objector David Turner recalled that it was his mother's opposition to war, as a result of the experience of the First World War that first led him to refuse to take part in the Second World War. All were moved by his simple assertion that we must keep refusing to support wars throughout our lives. A faithful Campaign Against the Arms Trade activist David has practised what he preaches. Elisabeth Allen remembered her grandfather John Searson, a First World War CO and Joyce Taylor-Richards, spoke about her grandfather John Taylor, a trade unionist and councillor for the Independent Labour Party in Glasgow. In addition, three students from St Thomas Aquin's High School in Edinburgh, Kristy, Rose and India, presented their work on conscientious objectors. EP&JC Coordinator Brian Larkin told the assembly about plans to develop a memorial to Conscientious Objectors in Edinburgh's Princes St Gardens.
Conscientious Objectors Day Recognition by Scottish Parliament?
The Peace and Justice Centre worked with the office of Alison Johnstone MSP who lodged a motion calling on Scottish Parliament to recognise International Conscientious Objectors' Day 15 May. The motion was signed by MSPs John Finnie, Drew Smith, Patrick Harvie, Jean Urquhart, Neil Findlay, John Wilson, Claudia Beamish, Alison McInnes, Malcolm Chisholm, Sarah Boyack, John Mason, Iain Gray and Fiona McLeod. While the number of MSPs signing the motion was comparatively small the fact of it being lodged and signed by Labour, SNP, Liberal Democrat and Green MSPs is worth noting, and helps to raise awareness and respect for those who refuse to take part in war.  We will be exploring the possibility of a fresh motion in the new Parliament around the time of international CO Day itself.