Fifth Annual Conscientious Objectors Day Vigil Wednesday, 15 May. 5 – 6pm outside West Register House, East End of Princes St.
Descendants of prominent Edinburgh Conscientious Objectors will recall the sacrifice made by their grandfathers marking the centenary of the end of imprisonment for most First World War COs.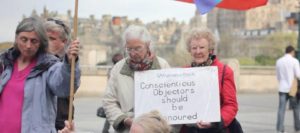 Descendants of First World War COs who will speak include Ken Duffy, the grandson of Arthur Woodburn, who was imprisoned longer than any other CO and who later became and MP and Secretary of State for Scotland, and Ewan Mathieson, the grandson Dr John MacCallum, who was imprisoned with hard labour for two years and became a Church of Scotland Minister.
Edinburgh based street choir Protest in Harmony will be on hand at the colourful vigil to sing a series of peace songs including "tell me the Names" which celebrates the courage of nearly 20,000 First World War COs and which was written for the occasion by choir song leader Jane Lewis.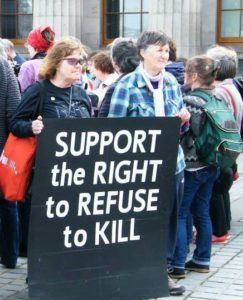 Edinburgh Peace & Justice Centre Coordinator Brian Larkin said "Conscientious Objection was first recognised as a right in Britain during the First World War and has been recognised by most European countries. This year's vigil will mark the centenary of the end of imprisonment for most First World War COs in Britain. We owe them a debt of gratitude. Yet in many countries around the world COs are still required to fight or face prison. This year's vigil will also be solidarity with conscientious objectors in Colombia, who refuse to be conscripted and bear arms despite various obstacles they face."
Other speakers will include Arianna Andreangelini, convenor of the local Catholic Peace group Pax Christi. Andrew Farrar from the Edinburgh Quaker Meeting will recall three Edinburgh Quaker COs, Andrew White, Donald Grey and Jack Hamilton each of whom went on to make significant contributions to society.
Following the vigil all are invited to proceed to the site of the future Opposing War Memorial in West Princes St Gardens to lay flowers in memory of First World War COs at approximately 6:20pm.
Edinburgh Peace & Justice Centre leads a consortium of local groups who are working to create a Memorial to conscientious objectors in Princes St Gardens. A fundraising campaign has attracted approximately £40,000 in private donations to cover costs of an artists' competition, design, and technical drawings and planned workshops for community involvement. Further grant funding is being sought to pay for fabrication and installation of the bronze peace tree sculpture and granite bench in the West Gardens.
The proposal has been supported by two City of Edinburgh Council Committees and many MSPs and welcomed by Scottish Government. Planning approval is now being sought for the design. Details of the distinctive and engaging design proposal are available at: https://opposingwar.scot
More information on First World War COs is available at: http://archive.ppu.org.uk/nomorewar/
A statement by conscientious objectors in Colombia, giving a background of their struggle and urging their government to act on a number of issues along with links to more about the situation of conscientious objectors in Colombia can be found at: https://www.wri-irg.org/en/story/2019/statement-conscientious-objectors-colombia
ENDS