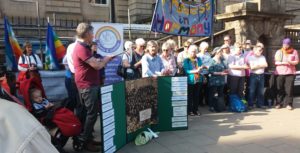 About 40 people attended the Conscientious Objectors Day at on Princes St in Edinburgh on the 15th of May 2019  where we were seen by many passers by.
Protest in Harmony choir graced us with 5 songs including Tell me the Names, written by Jane Lewis. The song was interspersed with the reading of names of COs from the First World War, women anti-war and peace activists and contemporary COs.
Accounts of Edinburgh area First World War COs
Ewan Mathieson spoke about his Grandfather, First World War CO, Dr John Cameron MacCallum.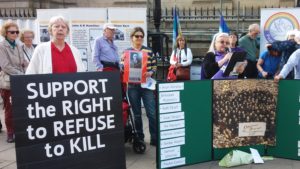 Andrew Farrar spoke about 3 Edinburgh Quaker First World War COs whose stories he researched for a WEA Scotland / P&J Legacies of Resistance to the First World War project.
First of these was Andrew White, an Absolutist who refused to obey any orders. On arrival at any military barracks he refused to wear uniform or to do any work which he considered advantageous to the war and was court-martialled. He served 4 sentences of Hard Labour, in Wormwood Scrubs London, Ayr civil prison, and in Glasgow both Duke St. and Barlinnie. He was released after 41/2 years on medical grounds in March 1919. After the war, he returned to J & R Howie Ltd. where he became the Company Secretary and to quote the local newspaper "amongst his peers gained a reputation for meticulous and conscientious administration".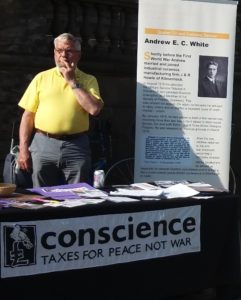 Donald Grey volunteered to join the Friends Ambulance Unit which ran ambulance convoys and ambulance trains. Donald went with the first draft to Dunkirk in October 1914. He started by building a typhoid hospital but time was also spent in providing the civilian population with general medical treatment. He frequently went with the ambulances to an exposed aid-post near Ypres. They covered the whole front from the Canadians to the British and Belgian and French. In 1915 Donald left the FAU to help set up an ambulance unit in Italy to work on the Italy/ Austrian border. In August 1917, Donald Gray joined the Royal Navy Volunteer Reserve and became an intelligence officer at Malta on the staff of the Commander-in-Chief in the Mediterranean maintaining the records of enemy submarines. After the war Donald returned to Oxford to read Geography taking the Diploma with distinction before becoming a teacher and later Head Master at his old school.
The youngest of these 3 COs is John (Jack) Hamilton, the son of an Edinburgh medical practitioner, who was barely 18 before appearing at his Military Service Tribunal. He was granted Exemption on condition he joined the Friends Ambulance Unit, (FAU). He was sent to France where he served until the end of January 1919. After the war, Jack qualified as a civil engineer. His penultimate job was as the resident engineer building the Forth Road Bridge (1958-64).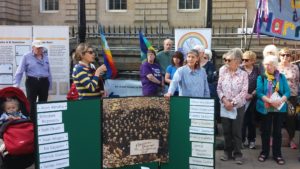 Catholic COs
Arianna Andreangelini spoke for the Catholic Peace group Pax Christi. She carried an effigy of St Franz Jaegerstatter, who was put to death for his refusal to join the German army in Nazi Germany. Arianna told the story of Franz and his wife and of Franz's sacrifice. She also spoke about Josef Mayr-Nusserl, who was also beatified for having died as a prisoner on the ground that he had objected to becoming a member of the SS and of the former Secretary General of Pax Christie, Owen Hardwicke, who was a CO in WWII and was an ambulance worker in France.
Arianna commented that conscientious objectors speak to us today about what it really is to be Christians.  Jesus said, if 'someone hits you, turn the other cheek' (Mt 5:39); Jesus spoke of the peace makers as blessed, as happy people who will inherit the earth.  As Pope Francis said, objecting to be part of an army is a human right and a fundamental component to a peaceful world. Franz and Josef were not particularly educated, but they were profound men of faith; they knew where they stood and they stood there.  They knew that to be Christian is to be bearers of good news and peace, not of war, violence or strife.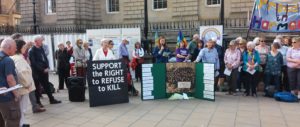 Conscience: Peace Tax
Anne McCullogh from Conscience the Peace Tax campaign gave a powerful speach saying we should not have to pay for war.  And P&J intern Elizabeth Mitchell spoke about contemporary Conscientious Objectors in prison around the world today at the CO Day Vigil Edinburhg 2019 and Pete Cannell from Edinburgh Stop the War read out the statement of Columbian conscientious objectors.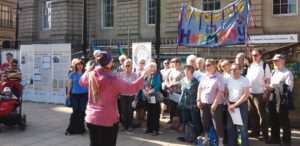 Protest in Harmony choir closed the event by leading us all in a rendition of Down by the Riverside. After the vigil some of us laid flowers in Princes St Gardens at site where the Opposing War Memorial will be. This tree is not the actual Memorial. It's near the site where the Bronze Peace Tree and bench will be.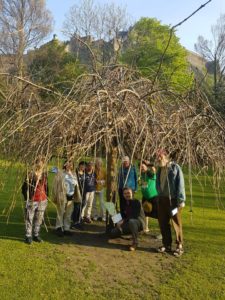 We're still raising funds for the fabrication and installation of the Memorial. Anyone wanting to donate can do so at: https://opposingwarmemorial.wordpress.com/about