The 'Fly Kites Not Drones' event on Saturday 22nd March proved to be a massive success for raising awareness about those living under the threat of drones. It was a fun-fill
ed day that included: crafting and flying kites, face painting, storytelling, a live samba band and a dazzling fire display.  About a hundred and fifty people including many families with children gathered in the Meadows to take part in 'The Day of Action' that was called for by Afghan Peace Volunteers and Voices for Creative Nonviolence UK.  About fifty kites were made. It was one of several events around the UK that was campaigning for the abolition of drones. Significantly, this included a demonstration at RAF Waddington – the UK base from which Drones in Afghanistan are operated.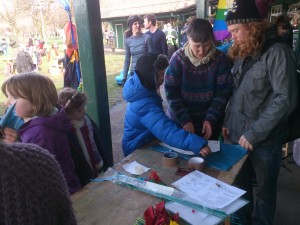 Fantastic events like this are not be possible without the help of volunteers.  A big thank you goes to Kiera Zammit, for arranging the venue and to Amanda, the owner of the Meadows Pavilion Café and to storyteller Ken Musso, Jane Tallents for Kite Crafting, Angus Doyle for doing graphics for the flyers and badges, Michael Elm for badge making, the Rhythms of Resistance Samba Band for drumming and the members from Pyro Celtica for their fire poi. Also, thanks to Cameron and Zack for helping set up, Michael Dunne, Sofia Hafeji, Arthur Chapman, Phil Lucas for staffing the P&J stall, Gandolf for help taking down the dome and Sheila Mackay for transporting the dome from Portobello.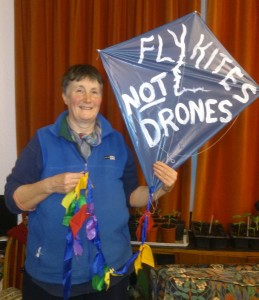 Donations from the day are going to benefit the Afghan Peace Volunteers Duvet Project which enables Afghan women to earn a wage while the duvets are given to people living in the Kabul refugee camp. Visit the VCNVUK and APV blogs to learn more about the  project: http://vcnvuk.wordpress.com/ and http://ourjourneytosmile.com/blog/.
To learn more about drones and what we can do to stop them, come hear Chris Coles, Coordinator of Drone Wars UK, speak on Grounding the Drones. 16 May. St John's Church Hall, 7 – 9pm.  You can also visit the following websites: dronewars.net and http://dronecampaignnetwork.wordpress.com/ .
Lots more photos at on our Facebook page here.