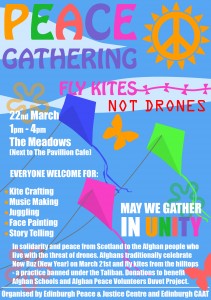 At least a hundred people are expected to be flying kites on the Meadow Saturday as part of the biggest Edinburgh and UK anti drone action yet showing solidarity with Afghan peace makers who urge everyone to Fly Kites Not Drones for Afghan New Year.
There will be a kite making workshop at the Meadows Pavilion Cafe from 1 -4pm Saturday amidst a festive atmosphere with juggling, facepainting, the Rhythms of Resistance Samba Band, music making and Storytelling by Ken Musso in a temporary dome.  The Edinburgh activity is in conjunction with similar events in about a dozen locations around the UK, including a  vigil at UK drone base RAF Waddington and a London event at Speakers Corner.
Brian Larkin, Coordinator of the Edinburgh Peace and Justice Centre, said "The Afghan tradition of flying kites at Nao Roz (Afghan New Year) was banned under the Taliban. By flying kites not drones we are expressing our solidarity with the people of war torn Afghanistan and their hopes for a peaceful time when they can both fly kites and be free from the threat of US and UK Drones, which have killed many civilians."
"The idea has captured people's imagination. People are coming out of the woodwork with offers of help, showing that people are uneasy with pilots operating drones in Afghanistan from a base in the UK and in some cases killing civilians, including children.
Maya Evans, Coordinator of Voices for Creative Nonviolence UK, who spoke at St John's Church last year said: "I've just returned from living in Afghanistan for 3 months where I personally witnessed the destruction and havoc caused by drones, not only are they killing innocent civilians but they're also degrading the fabric of Afghan society as they cause mistrust and enmity. These robot killers are fuelling resentment towards foreign occupation as well as making security worse for the ordinary Afghan. The message I heard over and over again was that Afghans do not want drones, they want an end to foreign interference which has brought endless violence, moreover, they want peace."
The action was inspired by the Afghan Peace Volunteers who want an end to war and the use of drones which currently plague their skies. The Edinburgh gathering is organised by the Edinburgh Peace and Justice Centre and supported by Edinburgh CND, Stop the War Coalition and Scottish Women's International League for Peace and Freedom.
JOIN the Event on Facebook: https://www.facebook.com/events/1426855790891352/
Contact Brian Larkin: 07584492257
Photos will be available at: https://www.facebook.com/edinpeaceandjusticecentre