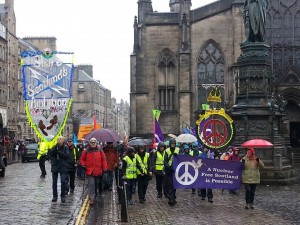 The Spring Walk for Peace set off on Tuesday April 1st from the Scottish Parliament.  More than 100 people attended the set off and listened to the words of encouragement and commitment from Public Health Minister Michael Matheson (SNP) Patrick Harvie MSP (Green Party Leader) and Jean Urquhart MSP (Independent).  Other MSPs including Bill Kidd, Marco Biagi, Fiona McLeod, Alison Johnstone, Mary Fee, Graeme Dey and Maureen Watt joined the first steps of the spring walk for peace. Edinburgh Peace and Justice Centre volunteers Pat Bryden and Douglas Shaw and Coordinator Brian Larkin took part in the first leg of the walk.
Public Health Minister Michael Matheson (SNP) said: "…Our priority as a country is not spending 100 billion on a new set of nuclear weapons. Our priority is to make sure that we invest our money in our children's future, providing good quality education, combating poverty and providing people with the best form of healthcare…"
Patrick Harvie MSP said: "…This dedication and commitment is capable of achieving this great goal, making Scotland free of nuclear weapons not just now, but written in a constitution that will determine who we are as a country. This is achievable…"
Jean Urquhart MSP said: "…Let the message go from here today that there is NO negotiation on getting rid of Trident. It is a priority for Scotland. However you might feel about being Better Together let this one single issue finally convince the people of Scotland that they will be safer and better off without Trident.
And when you get to Faslane, let the naval workers know that they do have a future without these weapons trough diversification."
First Minister Alex Salmond, in his letter of support to the walkers said: "Despite the clear democratic and popular opposition in Scotland, from ordinary people and their elected representatives, we face a new generation of weapons of mass destruction being housed on our shores. (…) In truth, the walk you start today is a continuation of a journey started a generation ago. It is a journey that, on 18 September, people in Scotland will have the opportunity to complete. Friends, a nuclear free Scotland is possible. "
This is part of a series of events taking place on the route of Spring Walk for Peace April 1 – 7. The walk will culminate with a Rally and March on Sat 5 April in Glasgow George Square, 10.30 assemble, where Deputy First Minister Nicola Sturgeon, Lesley Riddoch (Broadcaster and journalist), Rev Sally Foster Fulton (Church of Scotland), Dave Moxham (STUC), Sadie Docherty (Glasgow Lord Provost) and Martha Wardrop (Vice-Convenor, Scottish Green Party) will be speaking.