Probably everyone in the world knows that more people attended the Women's March on Washington against Donald Trump than attended his inauguration. It was the biggest demonstration against a US President ever, with about 500,000 people taking part, confirmed in photographs and the numbers of people using the DC Metro. Only about 160,000 people attended Trump's inauguration. But the new President didn't like those figures, insisting that a million to a million and a half people were there. He also claimed "God looked down and, and he said we're not going to let it rain on your speech." In fact there was light rain throughout the speech. But maybe he really believed that, about God. Many  instances of Trump's dishonesty have been cited. But his statements about the inauguration, and those of his Press Secretary, were so obviously untrue, that we must ask ourselves, if the President of the United States can tell blatant lies, how can we believe anything he tells us?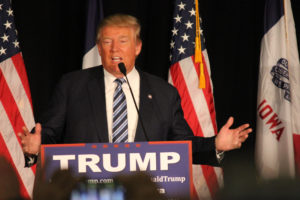 Photo Credit: Matt Johnson CC BY 2.0
But then, of course, politicians often lie. Indeed, Theresa May refused to acknowledge that a Trident missile test firing failed – and that this fact was concealed – just a month before she asked Parliament to approve renewing the system. Defense Minister Michael Fallon refused to answer MPs' questions about when she knew, and insisted that the government does not release information about such tests even as MOD video footage of a previous test circulated on the internet. Remarkably, a US official acknowledged the test had failed while Fallon was denying it.
It seems that Trump's plans to be the reality TV president, creating fake situations and claiming they are real. A few days before the inauguration Trump attacked a journalist at a news conference saying "You're Fake News". But of course his adviser Steve Bannon, former Director of Breitbart News is the expert at that. Trump's experience as a reality TV star taught him what Goebbels knew: "Tell a lie enough times and the people will believe it." Trump has not only asserted that millions of people voted – against him – illegally but argued: "You know what's important? Millions of people agree with me when I say that." He may have a point there. According to the New York Times Editorial Board Trump even has his own term for it: "truthful hyperbole," citing his assertions that his 58-story skyscraper was actually 68 stories, or claiming that his reality show, "The Apprentice," was the "No. 1 show on television," when it was in fact 67th. The Times editorial points out that Trump's aversion to the truth leads to his attacks on the media. His top adviser Steve Bannon, former Director of the alt right media outlet Breitbart News told the Times elite media should "keep their mouths shut". Representative Lamar Smith of Texas, said it was "better to get your news directly from the president. In fact it might be the only way to get the unvarnished truth."
We can only hope that we will wake up and find that this was some strange gothic fiction all along.But the truth is more terrifying. When video of Trump boasting about sexually assaulting women, and numerous credible allegations by women of actual assaults came out it seemed certain people would not vote for him. But, the fact is, millions and millions of people, including a majority of white women, voted for him, perhaps mesmerized by his anti – establishment rhetoric and promises to make America Great again.
So how do citizens engage in a time when elected representatives blatantly distort the truth and deceive us? We need to be alert to untruths emanating from the halls of power. We must work hard to find out and publicize the truth, and confront those in power with it.
The good news is the revolution has begun. After Trump ordered the National Park Service Twitter account shut down because they were tweeting information on the effects of climate change, someone there in the Parks Service has set up an @AltUSNatParkService account. And NASA staffers have followed suit. God forbid, the country may become ungovernable. Don't mourn, organise.