An exhibition of graphic posters telling stories of people and movements that opposed the First World War opens Thursday 25 February with a participatory, storytelling launch event at the Scottish Storytelling Centre.
The original, colourful posters in The World is My Country exhibtion echo some of the graphic styles of the First World War era and feature disobedient soldiers, feminist peace activists, a Maori princess, a famous Cambridge philosopher, and the striking graphic art of Emily Johns.
A co-editor of the national Peace News the highly political Johns' previous exhibitions include Conscious Oil: myth and mind in the age of petroleum, Remember Saro-Wiwa, and Drawing Paradise on the 'Axis of Evil', a show dealing with Britain's relationship with Iran. She is teaming up with writer and researcher, Gabriel Carlyle for a participatory and celebratory launch event that includes a short performance of original songs about conscientious objectors by the local choir Protest in Harmony.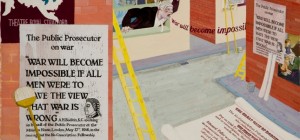 Organised by the Edinburgh Peace and Justice Centre, the exhibition coincides with the centenary of the Military Service Act which instituted conscription in the First World War. A dozen design sketches for a memorial to conscientious objectors by pupils from a St Thomas Aquins Secondary School History are included in the exhibition.  We hope the the Conscientious Objectors Memorial will be installed in Princes St Gardens, in Edinburgh by November 2018.  Find out more about the Memorial project here.
The World Is My Country Exhibition runs from Thurs 25 February through Saturday 12 March at the Scottish Storytelling Centre, 43-45 High St
The World Is My Country Exhibition Launch Event  Thursday 25 Feb 6 – 8pm. Includes wine and food. Free. All Welcome. 
The World is My Country exhibtion is travelling around the UK. This is the only opportunity to see the exhibition in Scotland. The posters that comprise the exhibition can be viewed on The World is My Country exhibtion website here.
The exhibition concludes with Songs of the Unsung Heroes, a singing workshop, celebrating the movements and people who opposed the First World War, led by Jane Lewis and Penny Stone from Protest in Harmony choir on Saturday 12 March from 2 – 4:30pm at the Storytelling Centre. Cost for the workshop is £12 / £10.