A petition for a memorial to conscientious objectors and opponents of war has been unanimoursly and enthusiastically recommended for approval by he Petitions Committee of the City of Edinburgh Council.
On Thursday 10 June the Petitions Committee heard what Committee Chair Maggie Chapman and other Councillors described as a "moving" presentation from Edinburgh Peace and Justice Centre Coordinator Brian Larkin and Andrew Farrar of Edinburgh Quakers. The two appeared before the Petitions Committee on behalf of the Conscientious Objectors Memorial Committee.[1] They were joined by Councillor Nick Gardner (Leith Walk) who is a member of the Petitions Committee and declared an interest in the proceedings as a member of the Memorial Committee.
The petition was signed by 450 people. The CO Memorial Committee is made up of eleven organisations and the idea has support from prominent people including Rt Rev John Armes, Scottish Episcopal Bishop of Edinburgh, Rev Peter Macdonald, Leader of the Iona Community, Sally Fulton, Convenor Church & Society Council, Church of Scotland, and Ewan Aitken (former Councillor), Director of Cyrenians.
In his submission Brian Larkin said "Scotland and Edinburgh have many war memorials but we also have a rich history of conscientious objection and resistance to war and militarism which deserves to be recognised publicly. 2016 will mark the centenary of conscription during the First World War."
"Our hope is for a memorial, probably in the form of a tree and a plaque to be in place by February or March of 2016, the anniversary of conscription. We are exploring the possibility of a statue of some kind to be added at a later date."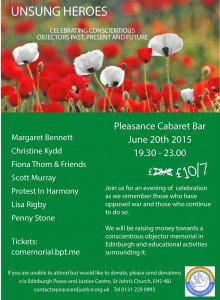 Nearly 20,000 men refused conscription in the First World War. Most paid a price for following the dictates of their consciences. They were vilified in their communities. 6000 went to prison and were subjected to harsh treatment, poor diet, often stripped naked, put in solitary for months on a diet of bread and water. Many went on hunger strike in protest at conditions and were force fed. 73 died."
"235 men from the Edinburgh refused conscription including Arthur Woodburn, who served a long term in Calton Jail and like many other COs later became an MP. He was Secretary of State for Scotland from 1947 until 1950. Dyce Camp in Aberdeenshire, where COs were forced to do hard labour and endured harsh winter conditions in tents, was shut down after Walter Roberts died.
"Women supported COs and actively opposed the war too. No Conscription Fellowship staff Violet Tillard and Jean Beauchamp were imprisoned for refusing to reveal the location of the NCF printing press. Edinburgh's Crystal Macmillan took part in a women's peace conference at the Hague during the war. Our vision is for a memorial that will recognise all who have opposed wars."
"Just as we remember those who died in the wars it is important that we remember those who suffered for opposing wars. Their sacrifices laid the foundation for later peace and human rights work and for recognition of conscientious objection elsewhere. The UN and the European Court of Human Rights and most countries have now recognised conscientious objection as a human right. But over 750 COs are still imprisoned around the world today."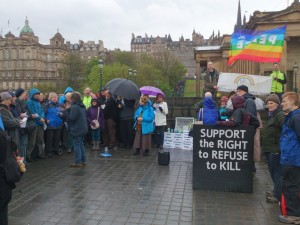 Concern was expressed by one Councillor that the memorial not involve financial costs to the city but it was accepted that fundraising efforts are underway and the Edinburgh Peace and Justice Centre has undertaken to underwrite any costs not otherwise covered by fundraising efforts.
Council Parks and Greenspace Manager David Jamieson will work with the Conscientious Objectors Memorial Committee to determine a suitable site in the city centre for a memorial. The recommendation from the Petitions Committee was for an accessible site that will meet the petitioners' criteria of proximity to the Mound where demonstrations took place against the First World War, and which will be appropriate for future annual vigils to mark Conscientious Objectors Day.
There will be a concert to raise funds for the memorial 7:30pm June 20th at the Pleasance. Tickets are available from the Peace and Justice Centre at St John's Church or online at: comemorial.bpt.me
The Conscientious Objectors Memorial Committee consists of the following organisations and individuals:
Edinburgh Peace and Justice Centre
Iona Community
Edinburgh Quakers
Quakers Scotland
Edinburgh Campaign for Nuclear Disarmament
Edinburgh Campaign for Nuclear Disarmament
Womens International League for Peace and Freedom Scottish Branch
Justice & Peace Group St Mary's Cathedral
Edinburgh Stop the War
Muslim Women's Association of Edinburgh
Edinburgh and Forth Methodist Circuit
Nick Gardner, Councillor for Leith Walk, personal capacity
Simon Barrow, Ekklessia
Professor Toby Kelly, Head of Department of Anthropology, University of Edinburgh. Personal capacity.