A total of £700 has been raised through Edinburgh Peace and Justice Centre and the Quaker House. The donations have been sent to two local groups in Kathmandu who have been working arduously in many remote areas affected by the earthquake.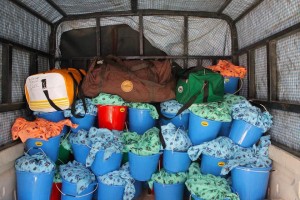 Himalayan Human Rights Monitors (HimRights) is a non-profit organization which has been operational since mid-1990s and working towards defending the rights of the poor and marginalized communities in Nepal. When the earthquake struck Nepal, HimRight's chairperson, Anjana Shakya's family house was severely damaged but that did not deter her and her family to immediately initiate relief efforts and reach out to those who needed help.
Since April 25, their relief team has reached 7 of the most affected and remote districts hit by the earthquake including Sindhupalchowk, Dolakha, Nuwakot and Rasuwa. The immediate focus was to distribute essentials like food, water, tarpaulins, blankets and medical supplies. They also set up child friendly spaces to prevent trafficking and offer psychosocial counselling to women and children. So far they have managed to reach more than thousand families. They now want to lend support in building temporary shelters and schools around Lubhu, Badhikhel and Makwanpur by providing corrugated sheets and other building supplies and additionally, promote the use of local materials in the building process. For more information on their work, please visit their website: www.himrights.org.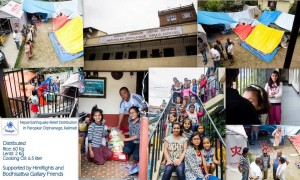 LOOM Nepal is a non-profit organisation established in 2010, led by young women to create connections across the generations, 'weaving stories, threading dreams', and building young female leadership. Mothers and young children are among the most vulnerable groups during disaster. LOOM Nepal has been distributing relief packets for pregnant and lactating mothers and young children in some of the most severely affected districts of Nepal. Its team of dedicated volunteers has been active in 7 districts, including Kavre, Lalitpur, Nuwakot, Kathmandu, Gorkha, Dhading and Dolakha. LOOM Nepal has now launched it's '10,000 mothers' campaign, and is raising money for longer term rebuilding work for affected families over the next two years. For more information on their work, please visit their website: www.loomnepal.org or connect with them on facebook for regular updates.
100% of the money donated will go towards meeting the needs of the survivors of the earthquake. We still have a long journey ahead of us but really appreciate your encouragement and donations which has helped make this work possible. Donations can still be made in person at the Peace and Justice Centre or on our website www.peaceandjustice.org.uk . Be sure to put Nepal Appeal in the Purpose field.