Archbishop Atallah Hanna of Jerusalem was arrested on Saturday 27 June whilst taking part in a protest against the illegal seizure of church property just north of Hebron in occupied Palestine.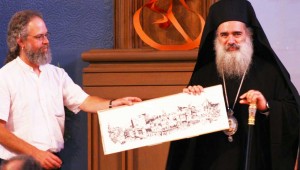 Archbishop Hanna's visit to Scotland last year was jointly sponsored by the Peace and Justice Centre with Scottish Palestine Solidarity Campaign, the Church of Scotland and the Iona Community. During his visit the Archbishop spoke of the reality of life under occupation for Palestinians and of the importance of supporting the campaign of Boycott, Divestment and Sanctions against Israel.
Soldiers from the Israeli Occupation Force arrested the Archbishop during a peaceful protest against the illegal seizure and sale of the Beit al-Baraka hospital which forms part of al-Baraka church north of Hebron.
Israeli and international activists joined a delegation from the Presbyterian church to march in protest against the sale of the hospital which provides medical services to Palestinians. As the hospital forms part of the church its sale is illegal under international and canonical law.
Archbishop Hanna is a long term critic of Israel's illegal occupation of Palestine and is one of the authors of the Kairos document, the call from Palestinian Christians to the world for support in bringing to an end the occupation.
The arrest of Archbishop Hanna is a clear sign of Israel's continuing contempt for the rights of Palestinians, with land and homes being illegally seized. Access to places of worship is restricted, and the buildings themselves face regular attack by Israeli settlers. The arrest of the Archbishop during a peaceful protest exposes the treatment of Palestinians and cannot be allow to go unchallenged.
We are urging the people of Scotland to protest to their elected representatives over this latest episode and would ask that you send us a message of support which we can relay to the Archbishop. You can also do so directly by contacting him by email.
We would ask that you raise this matter with the UK Foreign Secretary and also with the Israeli Embassy.
The denial of the democratic rights of Palestinians should never be allowed to go unchallenged. In arresting Archbishop Atallah Hanna the Israeli government is acting in defiance of international standards of morality and decency and freedom of expression.
Thanks to Scottish Palestine Solidarity Campaign for this report.