Local residents and campaigners have expressed outrage at today's vote in Dalkeith that saw Midlothian Councillors vote 5 to 9 in favour of Hargreaves Services' application to mine 10 million tonnes of coal from the Cauldhall Moor site near Rosewell. This application is the first to go through the planning system since the collapse of the Scottish coal industry earlier this year.
Local resident and member of action group Stop Cauldhall Opencast Malcolm Spaven said: "I'm devastated – it's a travesty of the planning process that an application like this has been approved despite everything that's wrong with it. What's the point in Scottish and Local Planning Policy if it can all be torn to shreds at the whim of a Planning Committee?"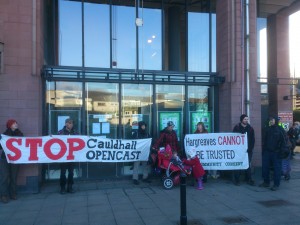 Councillors and planners acknowledged that the application went against the current Local Plan, and reference was made to the fact that the destruction of a family home is surely an "unacceptable impact on a single dwelling", as stated in Scottish Planning Policy. It was also acknowledged that there was no certainty over the destination of the coal or whether a market for it even exists, and that no alternative restoration guarantee to the system that left tens of unrestored opencasts across Scotland has been proposed. Despite all this though, a majority of Councillors saw fit to vote for the application.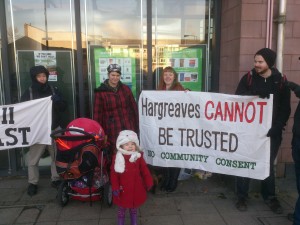 Howgate resident Jane Talents said: "The planning system is heavily biased in favour of the developers, and on top of that this was a political decision. The SNP can't be seen to be supporting the coal industry on a national level and rejecting mines on a local one. But the campaign won't end here – we'll continue to fight for the wishes of local residents and get this mine stopped."

Shouts of "shame on you Midlothian Council" erupted in the chamber after the final vote was cast, with members of the public expressing their outrage at what they'd heard. A demonstration also took place outside the Council offices ahead of the meeting where local residents and campaigners held banners reading "Stop Cauldhall Opencast", "Hargreaves Cannot be Trusted" and "Stop the Opencast Plans!".