We received letters at the Peace and Justice Centre today from Greg Boertje-Obed, Michael Walli and Megan Rice, better know as the Transform Now Plowshares, who are currently in a Georgia prison awaiting sentencing for their nonviolent witness against nuclear weapons at the factory where the Hiroshima bomb was built and where the US is now building new nuclear weapons.  The three were found guilty of  interfering with or obstructing the national defense (sabotage) and depredation of government property. Both counts are considered violent acts and fall under the definition of "federal crimes of terrorism" though what they did was to enter the facility by cutting through fences, unfurl banners and spray paint messages of disarmament.
The maximum sentence that each of the three can receive is 30 years. Likely not to happen, however their sentencing guidelines which is often what judges use, can vary up to about 10 years.
The 3 have asked for their supporters and friends to write to the judge asking for justice to be brought back into their case in this sentencing phase. They are asking for downward departures fr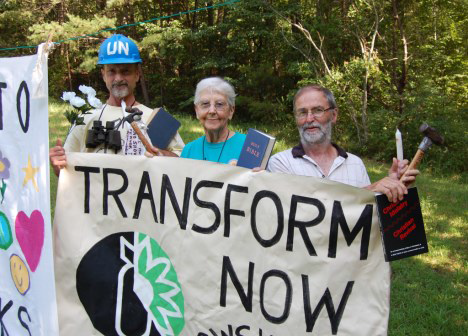 om the high guidelines based on recognition that theirs was an act of nonviolence, hope, and love and NOT terrorism.
Please take a few minutes to write the Judge and then send each of the three a card.  (If you need suitable cards you might want to stop into the Peace and Justice Centre where we have a great selection!)  Guidelines for letters to the Judge and addresses for Greg, Michael and Megan can can be found on the Transform Now Plowshares website:  https://transformnowplowshares.wordpress.com/2013/05/24/support-for-transform-now-plowshares-resisters/
Greg Boertje-Obed says "Thanks for your card of support. Someone sent me a Trident on Trial by Angie Zelter and I used some of it for a sentencing brief I wrote. Sheriff Gimlett took some courageous step, as well as all the people (in Scotland ) organizing against Trident."
"We hear some ot the plans for "modernizing our nuclear abominations may be crumbling, due to skyrocketing costs. Een the new planned factory at Oak Ridge, Tennessee, may not go forward.  We continue to pray ffor the collapse of our empire."
"With hope and persistent holding onto truth,  Greg….."