Peace & Justice publishes briefings and booklets for campaigners and decision makers on a variety of issues relating to nonviolence, peacebuilidng, conflict resolution, human rights, advocating for refugee rights, disarmament and ecological sustainability.
We've joined partners, Scottish CND, CAAT Scotland and others and co-signed the Scottish Manifesto for Peace. With the upcoming Scottish Parliament elections in May, we must demand that candidates will work towards making Scotland a true leader in peace and disarmament, from training and diversifying our workforce towards a green economy, to halting all support for arms companies who profit from death and destruction around the world. 
Read more about the Manifesto and easily write to your candidates and urge them to support the Manifesto for Peace, together we can build a Scotland that will be known for its contribution to peace and justice rather than for waging war.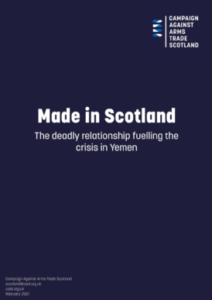 Made in Scotland: The deadly relationship fuelling the crisis in Yemen is the first in a Campaign Against Arms Trade research series uncovering the role that Scotland plays within the UK's arms trade.
Peace & Justice (Scotland) contributed substantial research to this briefing.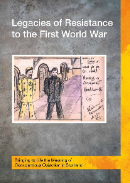 Legacies of Resistance to the First World War. WEA Scotland and Edinburgh Peace & Justice Centre. January 2019.
Full colour booklet telling the stories of Conscientious Objectors to the First World War from Edinburgh, Glasgow and Dundee.  Researched by WEA adult learners. Edited by Brian Larkin and Archie Campbell. Read full desription and downoad here.
Addresssing the Needs of Unaccompanied Asylum Seeking Children in Scotland. 28 November 2012.
This briefing paper looks specifically at what can be done in Scotland to better support unaccompanied children who arrive in Scotland as asylum seekers or refugees and makes recomendations for Scottish Government and key stakeholders. Read more here.
Legal Issues Surrounding the EU Turkey Migration 'Deal'. June, 2017.
On 18 March 2016 the European Union (EU) and Turkey signed an agreement to end the irregular migration flows from Turkey to islands off the coast of Greece. This paper aims to reveal the legality of this agreement under the current EU and international legislative frameworks. Read full precis and download briefing here.
'A Better Way than War' a booklet by Geoffrey Carnall. 2015.
Peace & Justice is committed to the quest for alternatives to war, a quest that is vital to the creation of a sustainable world order. In theory it is widely recognised that preparations for nuclear and 'conventional' warfare devour resources that are badly needed to meet the many challenges that confront the human race today but the military mode is so well established, that it is difficult to pay attention to experience which might actually indicate the practical steps needed to enable nations to stop investing scarce resources in armaments.  This booklet is an attempt to explain the kind of attention that needs to be paid. Read the full precis and download the booklet here.