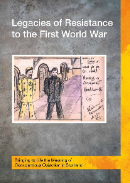 We are pleased to announce the publication with WEA Scotland of Legacies of Resistance to the First World War a new booklet telling the stories of Conscientious Objectors to the First World War from Edinburgh, Glasgow and Dundee.  Read and Download as a pdf here.
Opposition to the First World War in Scotland was significant, with more than 1,300 Scots claiming exemption from military service as conscientious objectors (COs). WEA Scotland adult learners in Glasgow, Dundee and Edinburgh explored the histories of some of these COs.
Some were granted conditional exemption and served in the Non Combatant Corps or with the Friends Ambulance Unit in France. Most were denied CO status, arrested and imprisoned. Many were sent to work camps on the Home Office Scheme. A few died, in or soon after imprisonment.
They held diverse views, from Quakers to internationalist socialists to members of the United Free Church and Roman Catholics.
Beyond tracing the wartime experience of COs, learners also investigated their role in their communities. Amongst the COs presented here are a bootmaker, a coal miner, a University lecturer and the Chief Engineer on the Forth Road Bridge.  Some travelled far and met remarkable people while others stayed close to home.
Uncovered letters, drawings of their prison cells and pages from autograph books illustrate the stories of these men who were united in refusing to take part in a war that claimed the lives of some 135,000 of their Scottish contemporaries. Here are their tribunal statements, accounts of their loves, prison experiences, even death.
Peace & Justice Centre gave input to adult learner workshops, curated the final exhibition and edited this booklet.
The print version of the booklet will be availabe from the Peace & Justice Centre. Contact us to have copies sent to you.  Read and  download as a pdf here.