Peace building for Primary Schools
Our team of trained Facilitators have been running our innovative Cooperative Games Programme in Primary Schools since 2015.
We're now developing the programme to incorporate better training for Facilitators, to improve our methods and effectiveness and to incorporate tools for school communities to introduce a sustainable practice of a Restorative approach to conflict resolution.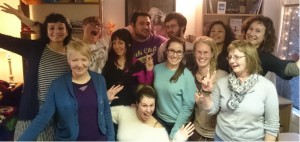 The programme is  available for schools at no cost  though we ask schools that can do so to help  in a small way with fundraising to strengthen the programme. We can offer the programme to run for 8 weeks per term with each of two class groups.
A full Evaluation Report on the programme is available here.
More about peace building in schools
Dalry Primary Head Teacher and Depute Head Teacher reported 100% significant improvement. Head Teacher Grant Gillies commented "Specific individuals gained considerably and there was an impact on both behaviour and confidence.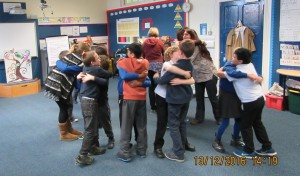 The PSA included in the workshops also noted a difference in the behaviour of the pupils." "I would recommend it to any school as the difference is tangible. Our school has 75 percent EAL and 1 in 3 of our pupils are in child poverty. This is not an easy place to start but it's testament to Fiona and the team that it more than succeeded." Deputy Head Teacher Vanessa Kelly commented "Pupils really enjoyed the sessions. They all loved learning new skills which they also used in the playground with other children."
Our conflict resolution skills programme has been carefully designed in line with the Scottish Curriculum for Excellence to particularly support the following outcomes in the area of Health and Wellbeing:
Understanding me and others
Managing my anger
Improving my communication
Understanding my skills to manage conflict
A comprehensive outline of the programme is available here.
Facilitator Training: To register to receive notification of future Facilitator trainings click here.
Donate to help develop the peace building for schools project 
Donations offline can be made by Bank or Credit Card, by Bank Transfers or by cheques made out to Edinburgh Peace & Justice Centre and designated 'peacebuilding for schools'. For details of how to donate offline click here.
The Peacebuilding for Schools Programme is funded by grants from Network for Socccial Change, Pumphouse Trust, Fellowship of Reconciliation, Anglican Pacifist Fellowship, Edinburgh Peace & Justice Centre legacies and individual donations.