PAST PEACE CRANES EXHIBITIONS AND EVENTS
Explore our past Peace Cranes project exhibitions and events – all free and available to download, read and watch again here – including a film about Atsuko Betchaku by Iliyana Nedkova, public talks with Pam Skelton, Shatha Altowi, Saber Bamatraf, Peter Kennard, Kate Hudson, Damon Bridge and Hywel Maggs, a dance with Sara Lockwood, and a blog by Brian Larkin.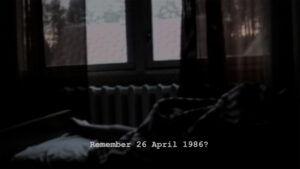 Chernobyl Mon Amour
Watch our Peace Cranes 35 min exhibition event (access here at about 3:10:00) held on 7 October 2021 as part of Day 2 of CHRNBL international forum. It featured artist Pam Skelton in a conversation with Peace Cranes co-curator Iliyana Nedkova alongside presentations by other artists, scientists, liquidators, representatives of state and cultural organizations from 15 countries over 5 days 6-10 October 2021 about the impact of Chernobyl on humanity and the role of culture, art and new technologies in uncovering historical events.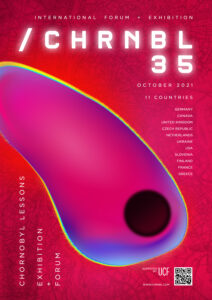 It was the first opportunity to show an excerpt of Chernobyl Mon Amour (2021) – Pam's new artist's film commissioned by Peace & Justice (Scotland) as part of the Peace Cranes exhibition events series. This short artist's film explores the two nuclear disasters of Chernobyl 1986 and Hiroshima 1945 through the artist's own personal, multidirectional memory. It draws on newly unearthed footage from her visits to Ukraine, including at Chernobyl Nuclear Power Plant and the Institute of Clinical Radiology in 1993 and 1995, as well as on her interest in Marguerite Duras' screenplay of the film Hiroshima Mon Amour (1959) directed by Alain Resnais.
---
Yemen: Pathways to Peace. Promoting Peace Through Art
Watch our Peace Cranes exhibition event (90 min) held online on International Day of Peace 21 September 2021 – an evening of music, film and debate with Yemeni artists and human rights defenders exploring how art and culture contributes to peacebuilding.
It featured Radhya Al-mutawakel, Yemeni human rights defender and chairperson of Mwatana Organisation For Human Rights – the recipient of the first Geoffrey and Elisabeth Carnall Peace Award; Shatha Altowai, Yemeni visual artist and Saber Bamatraf, Yemeni self-taught pianist and composer who introduced their documentary film Voice of the Rainbow and recent solo exhibition The White Canvas (2 min watch above); Kate Nevens who talked about the report she co-authored Broken People Can't Heal a Nation (long read) which is about the importance of the arts in peace building in Yemen. It was chaired by Jolyon Mitchell, Professor of Communications, Arts and Religion at the University of Edinburgh and editor of Peacebuilding & the Arts (2020)

---
Never Again. Louder Than Bombs
Watch our Peace Cranes exhibition opening online event held on 6 August 2021 (58 min) in partnership with Just Festival 2021 and hosted by Helen Trew. It featured Peter Kennard, Britain's most influential political artist and Kate Hudson, historian and General Secretary of the Campaign for Nuclear Disarmament discussing how art changes minds.

---
Tackling climate change with the Eurasian Crane
Watch our Peace Cranes exhibition event in partnership with Just Festival 2021 held on 27 August 2021 (61 min) hosted by Mark Hoskyns-Abrahall. It featured Damon Bridge of UK Crane Working Group in conversation with Stephen Magee and Hywel Maggs of RSPB Scotland. What is the impact of climate change on Scotland's Eurasian crane population? Could the majestic crane become Scotland's wetland icon for restoring our peatlands and sequestering carbon?
---
140,000 Peace Cranes
Watch our short documentary (3 min) about Atsuko Betchaku – the Peace & Justice volunteer who sparked the international wave of folding 140,000 peace cranes. Written and directed by Iliyana Nedkova this short film features contributions by Margaret Ferguson Burns, Niloo-Far Khan, Misao Betchaku, Jeff Brown and many more.
---
Impromptu Movement
Watch an improvised movement (5 min) performed live amongst the Peace Cranes exhibition by Sara Lockwood of the dance collective Les Impromptues on 27 August 2021 as part of their Impromptu Movements series of 'pandemic solos' 2020-21. Recorded live and published online, each Impromptu Movement responds to a new location and is inspired by the repertoire of the modern dance pioneer Margaret Morris (1891-1980). Yet each impromptue inserts her own variations, improvisations, and costumes extending Margaret Morris signature style movement even further. Camerawork by Paparazzi Pup.
---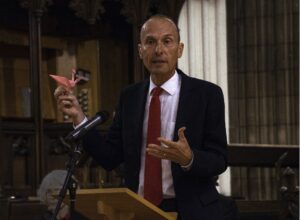 Prof Jolyon Mitchell at Peace Cranes exhibition. Image by Laleh Sherkat. Courtesy of Just Festival
Peace Cranes Exhibition Launch
Read our blog post by Brian Larkin (an illustrated long read) reflecting on our exhibition opening event held on 6 August 2021 as part of Just Festival, including extracts from the presentations of our guests Lord Provost of Edinburgh, Consul General of Japan and Professor Jolyon Mitchell READ HERE
CHECK HERE FOR ALL OTHER CURRENT, UPCOMING AND PAST EXHIBITIONS AND EVENTS AS PART OF THE PEACE CRANES PROJECT