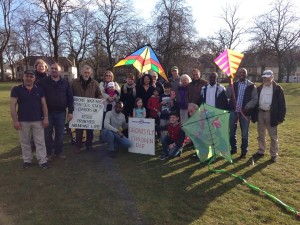 Taking to the Skies to Protest  Armed Drones
This Saturday, the 25th of March, from 1 to 4pm students, families and local citizens will be making and flying kites in the Meadows as part of a Fly Kites Not Drones protest against the increasing use of armed drones and the danger they pose to civilians in conflicts from Somalia to Afghanistan.
This family friendly event will include kite making, kite decorating, free soup and facepainting, with live traditional music and even a demonstration of Tribal Belly Dancing and will be raising funds to support Refugee Community Kitchen, to feed refugees who so often are fleeing from these same wars.
There's also a competition for best kite flying photo, best kite design and best short film (3 mins) posted to YouTube DEADLINE 31st March! email entries: kitesnotdrones[at]gmail.com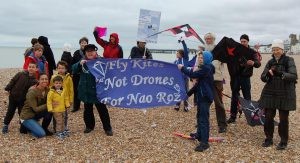 Event organiser Lochlann Atack, a volunteer working with the Edinburgh Peace and Justice Centre said "Fly Kites Not Drones is a global project to raise awareness of the harms of militarised drones. It was initiated in Afghanistan by the Afghan Youth Peace Volunteers, where young people fly kites every year on the 21st of March to celebrate the Nao Ruz, the New Year. Flying Kites at this time of year has become a symbol of resistance to the gross injustice of the mere presence of drones to innocent people. Where once blue skies presented the best conditions for the liberating, joyful activity of kite-flying, now they are feared, because they present the best conditions for militarised drones to identify targets."
The annual Fly Kites Not Drones event organised in Edinburgh by Edinburgh Peace and Justice Centre and now in its third year, is one of dozens of similar events taking place across the UK and globally, and aims to show solidarity with innocent people whose lives have been affected by them.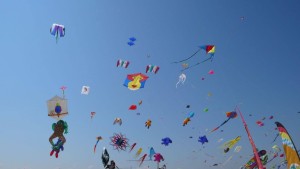 It is a well-documented fact that drones routinely kill innocent people, and that drones have killed thousands of civilians. As of January 2017, drones operate in Afghanistan, Yemen, Pakistan and Somalia. At least one in 8 people killed by drone strikes are civilians. Nearly 90% of people killed in recent drone strikes were not the target and in the space of little over a decade, at least 242 children have been killed by drone strikes. 

Killer drones have fast become the preferred weapon of choice for politicians who use them daily to conduct assassinations, execution without trial. A drone pilot is thousands of miles away, at the touch of a button and without judge or jury: people are executed. No right to a fair trial, no opportunity for legal defence or a chance to present evidence.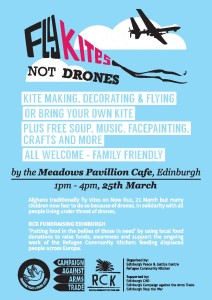 With the use of drones increasing exponentially with every new US administration, showing solidarity with their victims and voicing opposition has never been more apt.
All are invited to come along to the Meadows Saturday 25 March from 1 – 4pm and make and fly a kite, or bring your own. What better way to spend your Saturday afternoon?.
Follow  @EdinPandJ #FlyKitesNotDrones on Twitter for photos on the day. 
Please SHARE the Event on Facebook: https://www.facebook.com/events/279873405766068/
For info on the Fly Kites Not Drones Demonstrations taking place across the UK and golbally see http://vcnv.org.uk/fly-kites-not-drones/fly-kites-not-drones-2017/ and http://www.flykitesnotdrones.org/
And for more info including a Fact sheet on armed drones see: http://www.flykitesnotdrones.org/drones
For More technical information on Drones see: https://dronewars.net/
For More info on Afghan Peace Volunteers see: http://ourjourneytosmile.com/blog/
For more info on the Fly Kites event in Edinburgh call the EP&JC on 0131 629 1058 or 07584492257