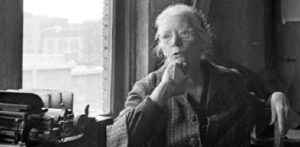 Film screening: Biopic of radical pacifist founder of Catholic Worker newspaper & houses of hospitatliy.
Q&A with Kate Hennessy, author of Dorothy Day: The World Will Be Saved by Beauty: An Intimate Portrait of My Grandmother. 
6:30pm. Snack & Refreshments. 7 – 8pm. Free Film. 8 – 9pm. Q& A / Discussion. 
University of Edinburgh, Quad Teaching Rm G158, Law School, Old College, South Bridge EH8 9YL
The life and work of Dorothy Day–the controversial, radical, pacifist Catholic who Pope Francis called a "great American". Dorothy Day founded houses of hospitality for the homeless in the 30s, published a radical pacifist newspaper and resisted US wars for decades. She is being considered for sainthood.
REVOLUTION OF THE HEART includes rare archival photographs and film footage plus interviews with actor/activist Martin Sheen, public theologian Cornel West, popular author Joan Chittister, Jim Wallis of Sojourners and many others.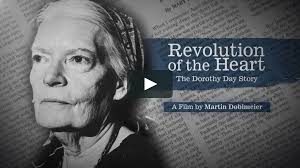 Dorothy Day's life has been revealed through her own writings and by historians, theologians, and academics. The World Will Be Saved by Beauty is a frank and reflective, heartfelt and humorous portrait. Before her conversion, she lived what she called a "disorderly life," had an abortion and gave birth to a child out of wedlock. The World Will Be Saved by Beauty challenges ideas of plaster saints and of saintly women.
Organised jointly by Edinburgh Peace & Justice Centre and University of Edinburgh Chaplaincy.
Free. Book at:  https://dorothy-day-film.eventbrite.com/