International Conscientious Objectors Day Vigil
Sunday 15 May. 4 – 5pm.
Foot of the Mound, Edinburgh.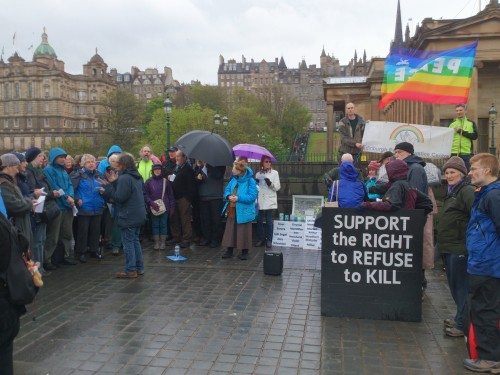 Reading the names of COs from the First World War. Remembering all conscientious objectors including contemporary COs from Eritrea, Sudan, Turkey, Israel, South Korea and elsewhere.
Descendants of First World War COs accounts of their grandparents resistance to war.
At least one Second World War Conscientious Objector will speak.
with Protest in Harmony.
All welcome to bring a poem, reflection or story to share.
Please contact Brian at the Peace and Justice Centre if you want to contribute.
A Tribute to Harry Patch
This event follows a screening of the new film A Tribute to Harry Patch by local activist Simon
Grassmarket Commnity Centre. 2 -3:30pm.
All welcome. Free.