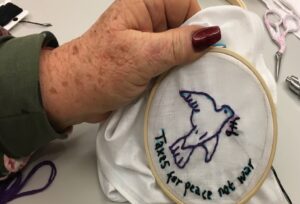 Create your own embroidery peace handkerchief (online workshop)
Saturday 15 May, 2pm – 4pm.  Book tickets: https://peacehandkerchief.eventbrite.co.uk
On Conscientious Objectors' memorial day, create your own embroidery peace handkerchief with Opposing War Memorial artist, Kate Ive. She will give some background to the upcoming memorial to be installed in Princes Street Gardens and help you design your handkerchief.
 This is one of a number of embroidery workshops running as part of the memorial's creation process, Some of the handkerchiefs created in these community workshops will inspire designs for the bronzed 'bracts' or flowers that will decorate the bronze handkerchief tree and represent Conscientious Objectors and individuals and organisations that oppose war.
We will provide a basic embroidery kit with all you need to take part in the workshop.
If you are on social media, please also share this event with others: https://www.facebook.com/events/125504902880158