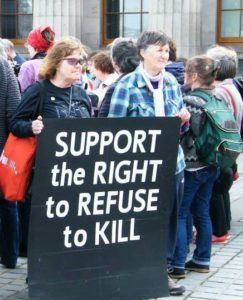 Singing with Protest in Harmony
Speakers:  Descendants of First World War COs
Silence
Reading the Names of COs  from the WW1 to the present.
Collecting post card signatures to support contemporary COs in prison.
Our fourth annual International CO Day vigil.
Immediately following the vigil at 6:30pm (Doors open 6:30pm) at the Quaker Meeting House, 7 Victoria Terracce,  will be the Design Launch for the Opposing War Memorial to Conscientious Objectors and all who oppose wars.