Disarming Trident: Nonviolent Direct Action in the US and Scotland.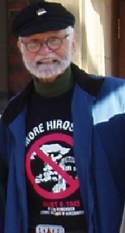 As one of the  Disarm Now Ploughshares group 83 year old Jesuit priest Bill 'Bix' Bichsel was imprisoned for 6 months for fullfilling  Isaish's prophecy to "beat swords into plowshares". He and four other Catholic activists attempted to disarm US Trident nuclear weapons with ordinary household hammers. 
Founder of the Tacoma Catholic Worker House Bix has devoted his life to nonviolent campaigning for peace and nuclear disarmament and to serving the poor. His remarkable spirit was strengthened when he was held in solitary confinement in cold conditions even though his medical condition makes him suffer greatly from the cold.
Bix will be travelling to Norway to accept an alternative Peace Prize. Come hear about the witness of this remarkable, joyful peacemaker and the ongoing nonviolent campaigns of the Ground Zero and Pacific Life Communities for nuclear disarmament in the United States.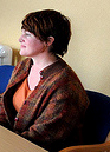 Leonna O'Neil has been living at Faslane Peace Camp for two years. She has organised numerous nonviolent direct actions resisting Trident here in Scotland. Last June she entered Coulport nuclear weapons depot, reaching the high security explosive handling jetty. Leonna will speak about the UK's plans to upgrade Trident and plans for a Big Blockade of Faslane in late April 2013 as part of the Scrap Trident: Let Scotland Lead the Way to a Nuclear Free World weekend of protest and action.