Facilitators on our innovative and successful Cooperative Games and Conflict Resolution Programme work with class groups in Primary Schools to promote a culture of peace and respect. Working through cooperative activities the programme aims to help primary school pupils enhance their skills to understand themselves and others, manage anger, improve communication and prevent and transform conflicts.
The training provides the foundation for 8 weeks volunteer in-service training (3 hours per week) to become a paid Facilitator on this programme. An Edinburgh Peace and Justice Centre Certification is awarded upon successful completion of the training.
Open to teachers and youth workers in a variety of contexts interested in Nonviolence Education & Cooperative Games & Activities
Content:  Theory, skills and practical approaches – team building activities, cooperative games and group dynamics, based on the Peace and Justice Centre facilitators' experience of delivering Conflict Resolution Workshops at schools in Edinburgh. Supports Curriculum for Excellence Health and Wellbeing outcomes.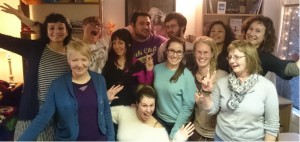 Participants on a previous workshop commented:
"Fun, playful, nice choice of activities with good timing."
Great variety…..Will use a lot of these now in the classroom. Thank you."
Workshop participants may have the opportunity to participate in co-delivering the Conflict Resolution Skills for Primary Schools Project with a professional in Conflict Resolution / Nonviolence Education in primary schools, to practise the skills acquired in the workshop and lead activities with children. Particpants who complete the training can apply to become faciltators on our primary schools project.
Further infromation on the programme is available here.
To express an interest, find out more or register for the programme contact the Centre by email at: coordinator[at]peaceandjustice.org.uk or ring 0131 629 1058 Tuesday – Friday 10am – 4pm.