On 15 May, International  Conscientious Objectors' Day the Peace and Justice Centre and Fellowship of Reconciliation held a Vigil on the Mound in Edinburgh to honour the memory of conscientious objectors to all wars, past and present, but in this centenary year especially those of the First World War. The vigil paid special tribute to COs from Edinburgh and Scotland, with the reading of the names of 235 Edinburgh area COs, accounts of the experiences of Scottish COs and recollections of COs by a number of descendants of COs. There was also testimony from a World War 2 CO, and solidarity was expressed with current COs in Israel, Palestine, Turkey, Sudan, Eritrea, Azerbaijan, Turkey, China, Turkmenistan and South Korea. Between these readings the gathering paused for silence and intermittent singing by Protest in Harmony, including the new song 'Tell me the Names', written for the occasion by Jane Lewis. The Edinburgh vigil, believed to be the first in Edinburgh, coincided with a CO Day vigil in London and concluded with the announcement of the formation of a committee for an official memorial to Conscientious Objectors in Edinburgh by February 2015, the centenary of the Conscription Act.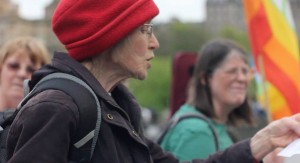 The event opened with local peace activist Penny Stone leading singing of "Down by the Riverside" and was followed by recollections from CO descendants.  Andrew Farrar (Edinburgh) told of his grandfather Stanley Farrar who was a WW1 and 2 CO. Stanley had had to give up his job as a teacher but became Secretary of the Northern Friends Peace Board from 1942.  Joyce Taylor-Richards from St Andrews remembered two generations of her family who were conscientious objectors. Her grandfather John Taylor was a trade unionist but refused to work in a munitions factory. He became a councillor for the Independent Labour Party in Glasgow and travelled the country speaking at anti-war rallies including the rally in Trafalgar Square at the outbreak of fighting in 1914. Worn out by the strain he was under for his stance against conscription, he died of an infection at the age of 31.
John's son Tom, Joyce's father Tom also became an Independent Labour Party councillor in Glasgow and refused to fight in the Second World War. Joyce said: "I think it's an important part of my family history to have these very principled people and wonderful examples of the way we should live our lives, holding fast to principles despite really quite difficult times.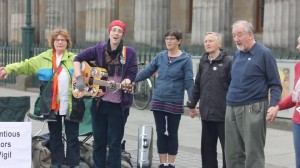 Joyce's story and that of David Turner were covered in depth in the Edinburgh Evening News, 16 May. "During the Second World War" Joyce said, it wasn't just unpopular, it was very, very difficult. The propaganda was that other people were giving their lives, but you weren't prepared to do that. The imprisonment of people and the divides it caused in families were enormous."
David Turner, a Quaker and anti war activist from Portobello was 15 when the Second World War broke out. He was sheltered by a friend in Glen Nevis for two months, then returned to Glasgow and worked for another objector doing decorating work until the end of the war. David said: "My moral and humanitarian views were formed in my home. My mother always said, 'Follow your conscience in everything that you do. If your conscience tells you something, you must do it, otherwise you'll regret it all your life.'" He mentioned also that he was influenced by Gandhi's ideas of nonviolence.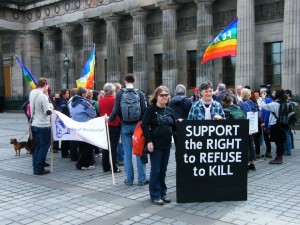 Elisabeth Allen  of North Berwick also spoke of her grandfather and David Mumford, Chair of Fellowship of Reconciliation Scotland, spoke about faith based conscientious objection. Rev Mumford, Rector of Brechin Episcopal Church said that members of the Fellowship of Reconciliation insisted that the refusal to kill was central to their Christian faith even though mainstream Christian churches did not generally accept this. He also reflected on Martin Luther King's insistence that peace could not be attained without justice.
Lesley Orr of Fellowship of Reconciliation reminded us of the tragedy of Dyce Camp which opened in late 1916 where 250 conscientious objectors were sent as an alternative to prison. Their punishment was to break rocks in a granite quarry and suffer the indignity of being branded as "degenerates" by the local press (although local ministers and some others were more supportive). The objectors were in the main well educated and articulate – and even set up their own camp newspaper, The Granite Echo. Living conditions at the camp were basic and many of the men were unused to hard labour. But when one of the objectors, Walter Roberts died of pneumonia, Dyce Camp came to wider attention. The other men stepped up a letter writing campaign complaining about the conditions. There were visits to the camp by a Home Office committee and by future Labour prime minister Ramsay McDonald. On the 19th of October, following a debate in Parliament, it was announced that Dyce camp would close. Barely two months after their arrival, the conscientious objectors were dispersed to prisons across Britain to complete their sentences.  Walter Roberts (Welsh), was the first CO to die a prisoner – in the terrible conditions at Dyce Quarry near Aberdeen. We read the names of 5 other Scots who died in prison or following imprisonment.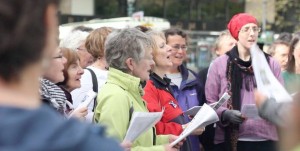 Shereen Benjamin called our attention to the courage of the Shimitzim, high school seniors who refused to serve in the Israeli military and who are jailed repeatedly. Omar Saad, a palestinian Druze is currently in prison in Israel, having served more than 100 days, for refusing to do military service.
The names of scores of men and women currently imprisoned were lifted up. Especially poignant is the plight of Jehovah's Witnesses Paulos Eyassu, Negede Teklemariam and Isaac Mogos all currently imprisoned at Sawa Camp in Eritrea since 1994. Anyone wishing to write to them can find details at: http://wri-irg.org/node/4718
There were nearly 20,000 conscientious objectors in the First World War. They took a variety of stands, some accepted conscription but refused to take up arms and were assigned duty in the Non Combatant Corps, some joined the Friends Ambulance Unit, some who joined the FAU as volunteers but refused to continue as conscripts, some went underground and tried to get out of the country. 6,000 went to prison as absolutists or because they refused to fight even after being exempted. They were subjected to harsh treatment in prison and 73 died.
 Brian Larkin