DESKS
We are located at the City of Edinburgh Methodist Church, 25 Nicolson Square, Edinburgh EH8 9BX.
Desks available for organisations or individuals to rent at just £130 per month. Includes Broadband, utilities and small quanties of printing. The desks are in a shared office space with other organisations.
Hot Desking on half day basis also be available. Just £6 per half day. Includes wifi. Coffee and Tea included. Printing available.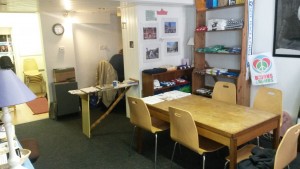 MEETING SPACE
The Centre is available for meetings:
Up to 8 people round a table.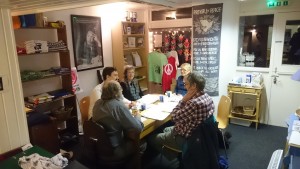 The rental fee is £10 for up to 2 hours for organisational meeting space.
If your group resources are limited don't hesitate to ask. We want to be a space for grassroots groups.
MAILBOXES
We handle post for Centre Users who can come in to pick it up from the Centre during our opening hours. Mailboxes are just £15 per year.
Centre users agree to our Values of Nonviolence, Human Rights, Alternatives to War, Conflict Resolution and Ecological Sustainability.
For more info or to book a Mailbox, Desk or Meeting Space Contact us by emailing: contact[at]peaceandjustice.org.uk or ring us on 07541 023022.