Our shared premises is available to hire out for meetings and for small exhibitions.
We have a large smart TV on the wall which can be used for showing films, or for hybrid meetings.
We have space and chairs for a maximum of 30 people in the main space.
We have a small kitchen for teas and coffees as well as microwave and toaster. And a toilet.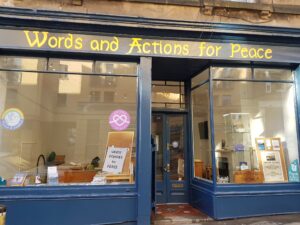 Availability to hire
We are available to centre users to hire Monday – Friday 9am till 5pm. Evenings 6pm – 9pm.
Weekends 9am – 9pm
We prioritise bookings from local campaign and community groups/P&J and Secure Scotland members. We take bookings from others – but we'll need to get back to you with a final decision about that!
Cost
We don't want to stop anyone using this space but we have a suggested charge of £15 per hour. However, it costs about £40 for us to be open and warm and lit for an evening event so if you could give more that would help us provide the space to users that are unable to afford much.
If the suggested price is more than you can afford, please talk to us. The centre is intended for community group use and we don't want lack of funds to stop you using our space.
Interested in hiring the space ? You can:
Pop in and visit the centre. We are open every Monday from 10am – 4pm, and usually open Monday – Friday, but phone ahead if you want to guarantee the centre is open on days other than Monday.
Call Janet on: 07795594573