Please note that due to Covid-19 our premises are now closed for the foreseeable future. It will also be difficult for us to provide mailbox facilities at this present time.
Desk & Meeting Space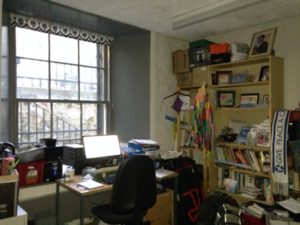 DESK RENTAL
Desk space is available* at £100 per month for 5 days per week 9am – 9pm. Limited access on Saturdays. No access on Sundays.
Includes:
WIFI and Broadband included.
Printing: up to 40 pages A4 per month. Additional printing 10p per page for Black & white and 15p per page for colour.
Coffee and Tea.
The office space is shared with one or two P&J part time staff.
Bookable meetings of up to 6 people. No charge for 2 meetings per week. Bookings for additional meetings subject to charge of £10 per 2 hours.
*Organisations using desk space must share our values and affiliate to the P&J.
HOT DESKING. £4 per half day / £7 per day.
MEETING SPACE.  £10 for up to 2 hours.
Up to 6 people round a table. 8 people without the table.
If your group resources are limited don't hesitate to ask. We are a space for grassroots groups.
MAILBOXES
We handle post for Centre Users who can come in to pick it up from the Centre during our opening hours. Mailboxes are just £18 per year.
Centre users agree to support our Values of Nonviolence, Human Rights, Alternatives to War, Conflict Resolution and Ecological Sustainability.
For more info or to book a Mailbox, Desk or Meeting Space Contact us by emailing: admin@peaceandjustice.org.uk or ring us on 07512 868687.