Our third Mission point is "Protecting mother earth in the face of the climate and ecological crises."  We aim to do so as a member of the Stop Climate Chaols Scotland coalition and especially by advocating on the neglected area of military sector GHG emissions. 
Stop Climate Chaos Scotland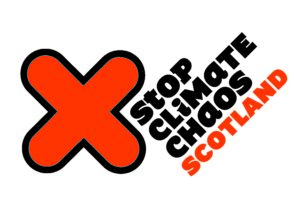 Peace & Justice is a member of the Stop Climate Chaos Scotland coalition. We support its calls for a transformational Climate Change Plan update. With only nine years left to meet the 2030 target of 75% emission reductions, it is crucial that urgent action is taken to put Scotland rapidly on course to a low carbon future. The plan must set out the concrete actions that will be taken to reduce emissions such as phasing out high carbon heating systems in homes, creating more native woodlands, preventing the use of peat in horticulture and stopping building new trunk roads and motorways. Currently there is a risk that the Climate Change Plan update will not include the detail and action we need to meet the targets. 
Take Action
You can do your part. Please take a few minutes to send an email to Roseanna Cunningham, Cabinet Secretary for Environment, Climate Change and Land Reform. 
Advocating Military sector GHG emissions.
According to a recent report by Scientists for Global Responsibility the UK military and weapons industries are responsible for 11 MillionTonnes CO2e emissions, equivalent to that of the annual emissions from 6 million average cars, yet, under the terms of the Paris accords, these are are not now counted. Tackling the global climate crisis requires transformational action by all sectors, including the military. 
The MoD boasts that it is taking action to reduce its GHG emissions. But overseas deployments with vast troop movements and war games involving jet fighters that consume huge quantities of fuel are intrinsically carbon intensive. Government must consider changes to policies on military force structures as a way of reducing emissions.
Pressure to raise military spending to hit NATO targets and a policy of favouring arms sales, undermine any efforts to reduce military sector carbon emissions. The opportunity is being missed to help address climate change by reducing the purchase, deployment, and use of military equipment. An urgent review should be carried out of national security strategies to examine the potential to reduce the deployment of armed force – and hence reduce GHG emissions. 
Global Campaign on Military Spending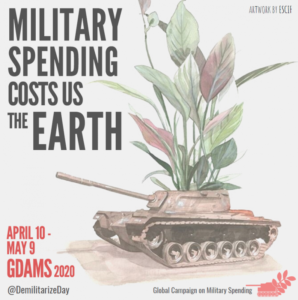 Our work on the issue of military sector carbon emissions is closely linked ot our advocacy on cutting military spending which we are doing as a member of the Steering Group of the Global Campaign on Military Spending – UK. 
For more information on UK military spending see this Briefing Note put together by Dr Stuart Parkinson of Scientists for Global Responsibility or watch the webinar in which Stuart, Kate Hudson (CND) and Debra Burton (Tipping Point North South).
 Bringing peace groups together
Peace & Justice is also working with Trident Ploughshares and Scottish CND to coordinate efforts of peace partners in Scotland to address the intersection of militarism, nuclear weapons and the climate emergency.