Peacebuilding > Conflict Resolution > Disarmament > Nonviolence > Human Rights > Ecological Sustainability

PEACE CRANES
6 August – 13 November 2021
Exhibition opening times
30 August – 14 October Monday – Friday 1 – 3pm
15 October – 13 November Monday – Saturday 10:30am – 4pm excluding service times
Please note that St John's Church is normally open during these hours. As the church relies on volunteers it might sometimes be closed due to unforeseen circumstances. There will also usually be a Peace Cranes exhibition guide to welcome you and guide you in folding your own peace crane. To arrange a free curator's guided tour or a group visit, please contact us here at least a week in advance.
Peace Cranes is our monumental contemporary art exhibition by Scottish artist Janis Hart about peace, people and planet curated by Iliyana Nedkova and Heather Kiernan. It spans the heritage space of St John's Church, Edinburgh. The exhibition features 140,000 origami paper cranes folded by people from across the UK, France, Canada, New Zealand and Japan over the last six years and an accompanying programme of in-person and online events with artists and activists.
The Peace Cranes exhibiton is a project of Peace & Justice delivered in partnership with Just Festival and a range of partners, volunteers and supporters. The exhibition and the accompanying public programme continue in the run up to COP26 – UN's Climate Summit and 2021 – UN's International Year of Peace and Trust.
Plan your in-person visit and explore our public programme here
TEACHING PEACE
Our Peacebuilding in Primary Schools project facilitators have run Cooperative Games and Conflict Resolution courses in more than 50 primary school classes across Edinburgh and Glasgow. The programme is now available as a video series for teachers across Scotland to use with support from our Facilitators.
Find out more about the video series and how you can arrange to use them at your school here.
JUSTICE FOR REFUGEES
We're advocating for justice for Asylum Seekers and Refugees. Check out our new Briefings: Lack of Access to Justice for Asylum Seekers in Dungavel Detention Centre sets out the serious injustices for asylum seekers held by the Home Office in Scotland and find out how you can get involved as a volunteer advocate. Refugees on the Move looks at the difficulties faced by refugees on their journeys to and after they arrive in Britain.
A MEMORIAL FOR CONSCIENTIOUS OBJECTORS
There are 37 war memorials in Edinburgh. Isn't it time peacemakers are recognised in public space too?
Find out about our plans to build a Memorial to Conscientious Objectors and all who oppose war in Edinburgh's Princes Street Gardens and how you can support the project.
We also organise Conscientous Objectors Day Vigils in Edinburgh annually. And, check out the stories of First World War COs in our Legacies of Resistance booklet here.
ADVOCATING DISARMAMENT
Peace & Justice is one of the civil society groups that campaigned successfully for an international treaty banning nuclear weapons. The International Campaign to Abolish Nuclear Weapons – of which we are a partner – won the 2017 Nobel Peace Prize for this work.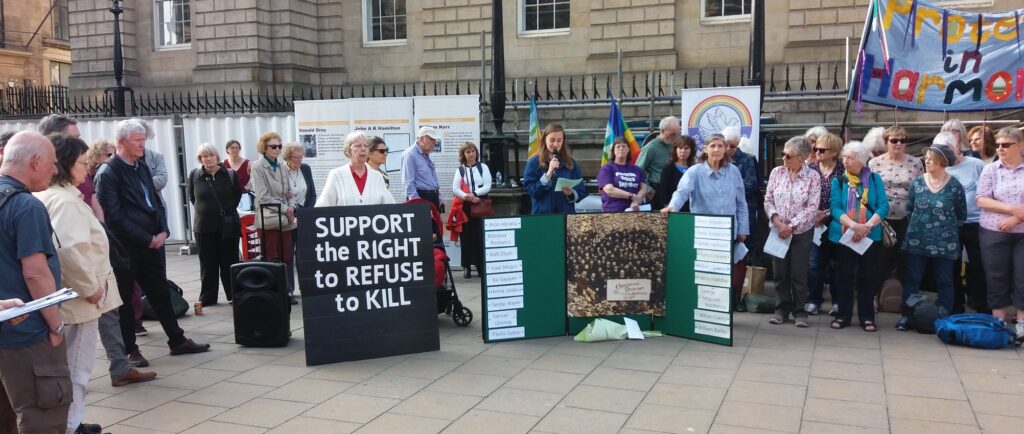 Our Peace Cranes project engages people in their communities to remember all those killed by the Hiroshima bomb and raise awareness of the Nuclear Weapons Ban Treaty. An exhibition featuring a catherdal-size installation of 140,000 peace cranes folded by volunteers at our workshops in Scotland, and sent from around the UK and beyond will launch at Edinburgh's Just Festival in 2021. Find out more…
We're active in the Don't Bank on the Bomb Scotland campaign. Check out the new report Nuclear Weapons, the Climate and our Environment report and the Stop Funding the End of World: A guide to nuclear weapons divestment in Scotland and and find out how you can take action to promote divestment.
CHALLENGING MILITARISM
We organise events like Fly Kites not Drones and collaborate with a number of groups to challenge militarism and promote alternatives to war. This year our Edinburgh Alternative Remembrance event will be part of an online UK-wide remembrance event organised by Peace Pledge Union. We regularly organise public talks by prominent speakers on peace and justice issues .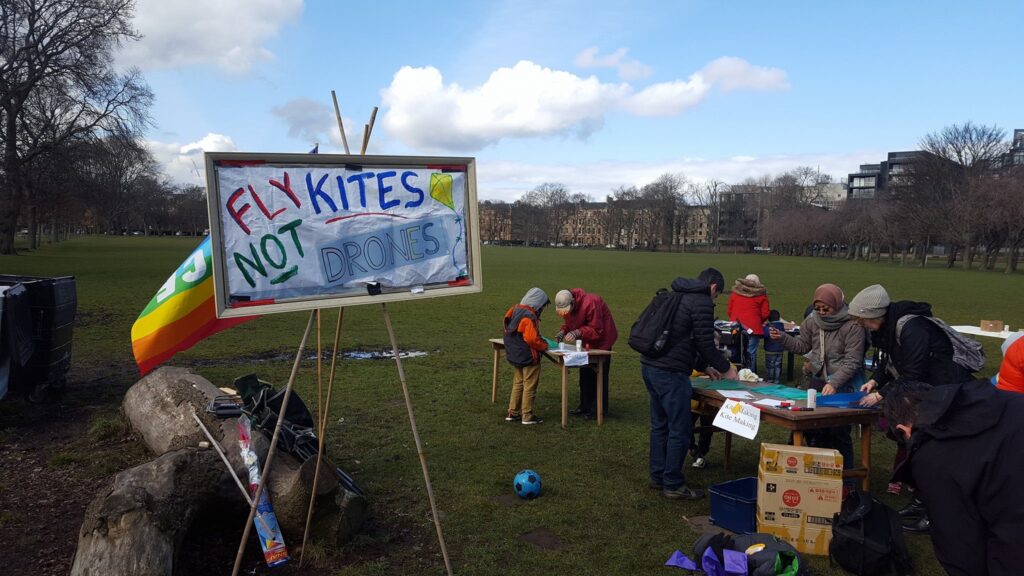 We're part of the Global Campaign on Mililtary Spending and we're working with Campaign Against the Arms Trade in Scotland to advocate divestment from arms. Check out our joint publication Made in Scotland that details the companies that are producing arms here and selling them to Saudi Arabia and other human rights abusers.
Find out about these and other projects we are involved in here