Upcoming Events
140,000 Origami Peace Cranes Workshops:Remembering Hiroshima
Most Saturdays – Check Calendar or ring the centre to confirm. 
Edinburgh Peace and Justice Centre, 5 Upper Bow EH1 2JN
Past Events
Cooperative Games in Primary Schools: Building Foundations for Conflict Resolution and a Culture of Peace     
Saturday 1st October 11am – 1pm. David Hume Tower Rm LG.09
University of Edinburgh. George Sq EH8 9JX
Free Workshop.
An interactive taster of skills and practice based on Cooperative games and activities used in our schools programme.
Who is it for? Parents, teachers and people who work with children who may later do full day training and become facilitators on our programme. Anyone wanting to explore cooperation and a culture of peace.
Workshop Leaders
 Kate Wilkinson is a Group Facilitator, with one and a half years experience, at Green Shoots, the social inclusion project of The Green Team that        delivers customised, practical, environmental and outdoor learning        experiences to groups of young people from Edinburgh and the Lothians.
Brian Larkin, Edinburgh Peace and Justice Centre Coordinator. Brian was a Class Teacher and Games Teacher for eight years at Edinburgh and Glasgow Steiner Schools.
Participants interested in becoming Facilitators on our Programme are invited to register separately for one day Facilitator Training Workshop in October.
Meeting the Needs of Refugees and Unaccompanied Refugee Children  in Scotland and the EU: From Turkey to Scotland
A Panel Discussion followed by Q&A
Tuesday 4th October. 7:00 – 9:00pm. 
Rm G.06, 50 George Sq EH8 9LH, 
University of Edinburgh 
Free Event
Speakers
Gary Christie, Scottish Refugee Council
Matthew Naumann, Edinburgh Peace and Justice Centre. Author of our report on Meeting the Needs of Unaccompanied Asylum Seeking Children in Scotland
Speaker from Citizens UK
Speaker from the refugee community in Scotland
Kate Nevens, Head of Middle East and North Africa at SaferWorld. Kate has recently returned from visiting refugee camps in Greece or Turkey
Chair: Brian Larkin, Coordinator, Edinburgh Peace and Justice Centre
Post Brexit major questions exist about UK policy on refugees, especially refugee and asylum seeking children. The fate of thousands of children in Europe remains uncertain. The workshop will bring together people working in the field to suggest how we can best advocate for the UK to admit its fair share of refugees, especially unaccompanied children and how best to carry that out.
Nonviolent Resistance to the Nazis
Book Talk and Discussion with author George Paxton
7 – 9pm. Tuesday 25 October
Edinburgh Peace and Justice Centre
5 Upper Bow, Edinburgh EH1 2JN
George Paxton is a Trustee of The Gandhi Foundation whose aim is to spread knowledge of Gandhi and his ideas mainly in the UK.  He edits their quarterly journal, The Gandhi Way, and is the author of 'Sonja Schlesin: Gandhi's South African Secretary'.
War is an extremely costly means of responding to conflict and yet nonviolent defence of a country is normally considered unrealistic because it is considered ineffectual against a ruthless opponent. This book tries to demonstrate otherwise by looking at historical facts focussing on the Nazi tyranny as a specific case. In reality, nonviolent resistance to the Third Reich took place in the occupied countries as well as in Germany itself. While not on a scale to bring down the regime its potential to do so is clearly demonstrated in in this well-argued account. More speculatively, the author looks at principled Gandhian nonviolence and asks if this approach would have affected the nature of the resistance.
Read a Review of the book on the Satyagraha Foundation website at http://www.satyagrahafoundation.org/book-review-nonviolent-resistance-to-the-nazis/
and another on the Pace e Bene website at:  http://www.paceebene.org/2016/06/07/nonviolent-resistance-to-the-nazis/
Free event. Retiring Donations requested.
The book is available to buy from the Peace and Justice Centre shop or to borrow from our library.
The Hammer Blow:  How Ten Women Disarmed a Warplane
A Book Talk by author and activist Andrea Needham
16 November. 7 -9pm.
Edinburgh Peace and Justice Centre
5 Upper Bow, Edinburgh EH1 2JN
Andrea Needham's gripping inside account of how ten women disarmed a Hawk jet bound for genocide in East Timor – and were acquitted. Marking the 20th anniversary of the historic Seeds of Hope Ploughshares action. Published by Peace News.
'The heroic actions of this small, but determined, group of women is told brilliantly in Andrea Needham's fascinating account…. You can sense just how much human life matters to each and every one of these women. They spent six months in jail for acting upon their consciences – but were eventually, and rightly, found to be innocent. Anyone interested in social change, or campaigning for peace, should read this book and take inspiration from the brave actions of these amazing women.' 
– Caroline Lucas, Green MP for Brighton Pavilion

'The Seeds of Hope East Timor Ploughshares action was one of the most imaginative and successful direct actions in modern-day Britain. It demonstrated that principle and courage are natural, crucial allies. Andrea Needham was part of that action, and her eagerly awaited book is now here. Read it and learn how to change the world.'
– John Pilger 
Andrea writes:
'There were ten women in the Seeds of Hope group, some of us taking part in the action and others forming the support group. All of us were crucially important to the whole, and each of us could tell a different story about that momentous year. This is simply my story.
'I disarmed the Hawk because I had done everything else in my power to stop these weapons being delivered to Indonesia. Together with thousands of others, I had written letters, signed petitions, handed out leaflets, marched, attended rallies, organised peace camps, taken part in nonviolent direct action.
'Nothing had worked, and the planes were about to be delivered to Indonesia for use in East Timor, a tiny country where one third of the population had been killed in a campaign which Noam Chomsky has described as "the worst slaughter relative to population since the Holocaust".
'In that situation, with our government aiding and abetting genocide, what else could we do but disarm the weapons ourselves?'
Britain Brexit and World Peace
20 September 7 – 9pm. 
Quaker Meeting House, 7 Victoria Terrace, Edinburgh EH1 2JN
Vijay Mehta, Author, Peace Beyond Borders
Brian Cooper, Coordinator, Uniting for Peace
Brian Larkin, Coordinator, Edinburgh Peace and Justice Centre 
Plus Peace Beyond Borders
Booktalk by Vijay Mehta, Author, Peace Beyond Borders
The Brexit vote has left the future integrity of UK itself uncertain, with concerns over possible Scottish Independence, the delicate position of Northern Ireland and Republic of Ireland, Gibraltar and Spain problem. VJ Mehta will discuss the UK need to save the union and stabalise its relation with other parts of UK and continental Europe. Brian Cooper will discuss the historical and philosophical roots of the ideal of European Unity, and asks if Euro- Idealism can be relevant today and in future.
The EU may maintain peace within Europe but it exports weapons that fuel conflict in the Middle East and elsewhere, with the UK the 6th biggest exporter of weapons globally. But what will Brexit mean for the UK – and EU – Arms Trade? Nearly half of UK arms exports go to Saudi Arabia which is bombing Yemen and causing a disastrous humanitarian crisis. Post Brexit these exports will no longer be subject to EU restrictions. Peace and Justice Centre Coordinator Brian Larkin will ask whether, post Brexit, the UK may seek to increase arms exports in order to benefit industries and strengthen influence and if, in turn, EU states may seek to boost their arms exports in order to offset the impact of post 2008 national defence cuts.
Edinbrugh Peace & Justice Centre Open House, AGM
Cooperative Games & Circus Skills for Primary Schools Taster
Tuesday 24 May. 6 – 9pm.
Fiona Oliver – Larkin and Michael Ritchie gave a talk and taster on our Conflict Resolution Skills for Primary Schools Project. The Project has been running throughout this school year at Dalry Primary. It incorporates cooperative games, circus skills and nonviolence education and is fun for all ages. All welcome.
 Ditch Coal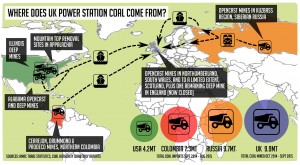 Film, speakers and discussion
Monday 6th June
We know burning coal causes climate change, but what do we know of its human and ecological impacts?
The World is My Country: Exhibition
The Exhibition
The World is My Country is an event organised by The Scottish Storytelling Centre in collaboration with the Edinburgh Peace and Justice Centre. It aims to celebrate, in stories and pictures, the people and movements that opposed the First World War. Featuring disobedient soldiers, feminist peace initiatives, a Maori princess, a famous Cambridge philosopher, and the striking graphic art of Emily Johns.
Songs of the Unsung Heroes
Jane Lewis and Penny Stone from Protest in Harmony lead a fun and inspirational afternoon of songs celebrating the movements and people who opposed the First World War.
Conflict Resolution Skills Training Workshop:
for working wi
th groups of young people, 5 – 12 years old.
Saturday 13 February.
Participants:  teachers and youth workers in a variety of contexts interested in Nonviolence Education & Cooperative Games & Activities
Content:  theory, skills and practical approaches – team building activities, cooperative games and group dynamics, based on the Peace and Justice Centre facilitators' experience of delivering Conflict Resolution Workshops at an Edinburgh Primary School in 2015-16. Supports Curriculum for Excellence Health and Wellbeing outcomes.
Love the Planet – Scrap Trident
Groups and individuals demonstrated oppostion to nuclear weapons on Valentine's Day 2016 in towns and cities across Scotland.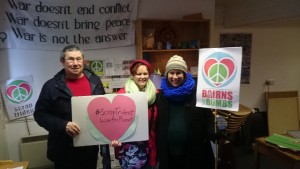 People created their  own events linked to the theme Love the Planet – Scrap Trident. Activities ranged from  stalls in public squares where passersby had their photo taken with a Love the Planet Scrap Trident message on a big Heart. to a day out for Big Sandy and Cindy the Scottish CND giant puppets. #LovethePlanet & #ScrapTrident.
Forgiveness Workshops
27–31 July 10:00am–12:00noon inclusive.
Salisbury Centre, 2 Salisbury Rd., Edinburgh, EH16 5AB.
Suggested Donation for 5 mornings: £30 waged/ £15 unwaged. All welcome regardless of ability to pay.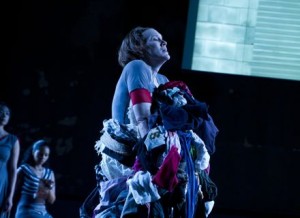 An opportunity to share their stories with each other. We all have stories, histories, and experiences that are valuable resources for our communities. Emily will also present forgiveness practices.
Emily and B3W Performance Group will be drawing from many community workshops around the world as inspiration for a performance piece. Participants can join in the workshops without having their stories referenced in the performance piece.
Book your place online at http://forgivenessworkshops.bpt.me/
For more info or to book in person and pay by cheque or cash call in to the EP&JC or tel. 
0131 229 0993 or email contact@peaceandjustice.org.uk
Edinburgh Peace and Justice Centre Talks, Workshops & other Past Events 2014 & 2013
Cooperative Games Workshop 25 May 2014 at the Art Complex, Edinburgh. The workshop was a a fun-filled introduction to our Nonviolence Education Programme.  It was led by Maria Elena Ramos and attended by six participants.  Read a full acount of the day here. 
 Participants Feedback: 
Good development, really good fun, learned a lot.
Fun, playful, nice choice of activities with good timing.
Great variety…..Will use a lot of these now in the classroom. Thank you.
Felt very safe, you exuded confidence, professionalism.
Very professional, good balance between games, speak [sic] and breaks.
The laughing really put us all at ease. I felt very confortable.
Easy and open, enjoyed the easiness you created….The laughter so therapeutic.
Conscientious Objectors Day Vigil. 15 May
On 15 May, International  Conscientious Objectors' Day the Peace and Justice Centre and Fellowship of Reconciliation held a Vigil on the Mound in Edinburgh to honour the memory of conscientious objectors to all wars, past and present, but in this centenary year especially those of the First World War. The vigil paid special tribute to COs from Edinburgh and Scotland, with the reading of the names of 235 Edinburgh area WW1 COs, accounts of the experiences of Scottish COs and recollections of COs by a number of descendants of WW1 COs.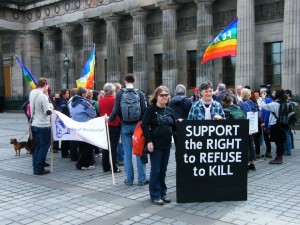 There was also testimony from a World War 2 CO, and solidarity was expressed with current COs around the world. Between readings there was silence and intermittent singing by Protest in Harmony, including  'Tell me the Names', written for the occasion by Jane Lewis. The vigil concluded with the announcement of the formation of a committee for an official memorial to Conscientious Objectors in Edinburgh by February 2015, the centenary of the Conscription Act.  Read the full account here.. 
Drone Wars: Today, Tomorrow, Forever? Chris Cole Coordinator of DroneWarsUK 16 May 
Chris Cole, Coordinator of Drone Wars UK and Convenor of the Drones Campaign Network outlined the first decade of Drones, outlined the legal and ethical arguments against their use and gave us a glimpse of the future.  A few days later Amnesty International and Human Rights Watch  called for those responsible for the killings of civilians in Drone attacks in Pakistan and Yemen to be tried for war crimes.
'Fly Kites Not Drones' 22 March on the Meadows  outside the Pavilion Cafe 
The 'Fly Kites Not Drones' Day was a fun filled day that raised awareness about those living under the threat of drones. There was Kite crafting and flying kites, face painting, storytelling, a live samba band and a dazzling fire display.  About a hundred and fifty people including many families with children gathered in the Meadows to take part in 'The Day of Action' that was called for by Afghan Peace Volunteers and Voices for Creative Nonviolence UK.  About fifty kites were made. Read the full report here.
Edinburgh Peace and Justice Centre Speakers Series & other Events 2013 & 2012
White Poppy Remembrance: Poetry and Reflections  11 November  2013
A candlelit ceremony with poems from Edna St Vincent Millay, Wilfred Owen, Siefgried Sassoon and Edinburgh poet Tessa Ransford around the peace pole at the Peace and Justice Centre remembering all victims of war, military and civilians.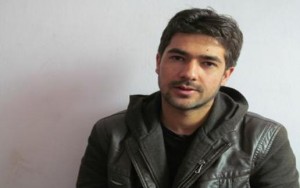 Economic & Human Cost of Drone Wars: Chris Cole Coordinator of DroneWarsUK:  October 2013 
Chris Cole, Coordinator of Drone Wars UK and Convenor of the Drones Campaign Network, spoke on the operational use of drones for remote warfare, the costs, and the legal and ethical issues surrounding their use. A few days later Amnesty International and Human Rights Watch  called for those responsible for the killings of civilians in Drone attacks in Pakistan and Yemen to be tried for war crimes. Cole's talk incorporated a video from the US Air Force defending the use of drones and a video of Afghan Peace Volunteer Raz Mohammed who spoke about the impact of drones on his village in Afghanistan.  The talk was part of the Edinburgh World Justice Festival.  Read the Full Report Here.
Drones Quilt Exhibition: A Tribute to the Victims of Drones: August 2013  
The Centre exhibited the 40 foot long Drones Quilt throughout the August Festival. It was seen by thousands of people.  Each square was made by a different person, the Drones Quilt reminds us that those killed by drones are human beings, whose lives are sacred.  The Quilt will be taken to Parliament.  Read the Full Report Here.
George Lakey: a Living Revolution: July 2013      
George spoke about his book Toward a Living Revolution, (1987) re-published by Peace News this year. He offered an analysis of 5 stages in social change movements, and a range of practical tools for creating change. Lakey was a trainer for Mississippi Summer and co-founder of the Movement for a New Society and Training for Change. Read the Full Report Here.
Peace Pilgrimage Events: Ceilidh, City Chambers & Holyrood
The Centre organised a number of events in support of the Iona Pilgrimage for Peace and Economic Justice, including a ceilidh with Hud yer Wheesht, receptions at Hoyrood, with Marco Biagi MSP and Alison Johnstone MSP and at City Chambers with Councillors Maureen Child (on behalf of the Lord Provost) and others, and a send off from St John's by Bishop John Armes. 
Prospects for Peace with Iran: June 2013               
Peace News Editors Mil Rai and Emily Johns reported on their trip to Iran with an FOR Peace Delegation. Emily exhibited her wonderful line drawings, which will form the basis of  a new edition of her book Drawing on the Axis of Evil.  Mil spoke on Iran's nuclear programme. Read the Full Report Here.
Guantanamo Solidarity Fast : May 2013                                 
The Centre held a public Guantanamo Solidarity Fast in conjunction with solidarity fasts which took place globally as the hunger strike reached 100 days, with more than 100 of the 166 inmates on hunger strike and many being force fed in what many consider amounts to torture. Read the Full Report Here.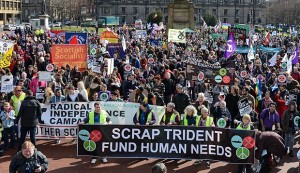 Scrap Trident & Abolition 2000: March 2013      
The Centre had a central organising role in the Scrap Trident coalition organising a demonstration and blockade of Faslane, gaining the support of Alec Salmond and 27 MSPs as well as national media attention.  We also took part in the  Abolition 2000 conference. Read the Full Report Here.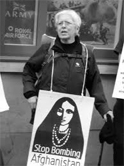 Susan Clarkson on the UK Peace Delegation to Afghanistan.                                                          February 2012                                        
Though legally blind Susan provides shelter to destitute asylum seekers and went to prison for cutting a fence at Aldermaston – where UK nuclear weapons are built.  Susan travelled to Afghanistan in December 2012 and met with the Afghan Youth Peace Volunteers (AYPV). Read the Full Report Here.
Disarming Trident in the US and Scotland: Nobel Peace Prize Nominee Bill Bichsel & Leonna O'Neill of Faslane Peace Camp. December 2012                             
83 year old Jesuit priest Bill 'Bix' Bichsel was imprisoned for 6 months for seeking to live out  Isaiah's prophecy to "beat swords into plowshares". He and four others attempted to disarm US Trident nuclear weapons with hammers. LeonnaO'Neill lived at Faslane Peace Camp for two years.  She has organised numerous nonviolent direct actions resisting Trident here in Scotland.  Read the Full Report Here.
 The Spirituality and Practice of Peace in a World of War:  Fr John Dear and Rev Kathy Galloway.  August 2012 
Nominated for the Nobel Peace Prize by Archbishop Desmond Tutu Jesuit  Fr John Dear is an internationally known voice for peace and nonviolence. Rev Kathy Galloway is  head of Christian Aid Scotland and former leader of the Iona Community, a dispersed community of Christians who work for justice and peace throughout the world.  John and Kathy have stood against nuclear weapons and gone to jail. Kathy blockaded Faslane, where Trident, the UKs nuclear weapons are based. John was hammered on an F15 nuclear fighter bomber in an effort to "beat swords in plowshares".   Both are grounded in the gospel of the nonviolent Jesus.
Dr Omar Shaban of Pal-Think Institute: May 2012 
In the May talk in our Series, Dr Omar Shaban, Director of Pal-Think Institute in Gaza , argued that international aid has 'deepened the divide' and prevents reconciliation between Hamas and the Palestinian Authority.
Ecumenical Accompaniment in Palestine and Israel (EAPPI).  April 2012
Ros Robertson served as a human rights observer in South Hebron with EAPPI.
Cooperation in Israel – Palestine: Hamed Qawasmeh  & Erella Dun of  The Villages Group.                    
The Villages Group is a remarkable group of Palestinians and Israelis working  together to support Palestinian communites in the West Bank.
South Sudan: Building for Peace: March 2012
Sheila Dhariwal and Sylvia De Nygos spoke of their work with Gua-Africa and Scotland and South Sudan Initiative (SASSI) one year after independence. South Sudan has experienced nearly continuous wars since achieving independence in 1956. More than 2 million people have died, and more than 4 million are internally displaced persons or refugees. Sheila focused on Gua Africa's work with former child soldiers and the 'lost boys' of South Sudan. Silvia De Nygos was born in Torit and educated in Khartoum. She is founding SASSI to support women starting up their own small businesses to feed their families.
Report from First UK Peace Delegation to Afghanistan: Maya Evans.  February 2012
Founder of Voices for Creative Nonviolence Maya Evans visited the Afghan Peace Volunteers in Kabul. Maya is the author of Naming the Dead an account of being the first person to be arrested under the Serious Organised Crime and Police Act (SOCPA) for reading the names of the dead in Afghanistan outside Downing St.
Centre Workshops
Centre Coordinator Brian Larkin led workshops on Consensus Decision Making and Pacifists & Realism in the 21st Centurty at the Edinburgh Peace Initiative international conference Voices in Conflict: Rights, Realism and Moral Outrage, and on Nonviolent Action for University of Wisconsin Summer in Scotland programme.