Peace Building Workshop.With Scilla Elworthy, founder Peace Direct & Oxford Research Group.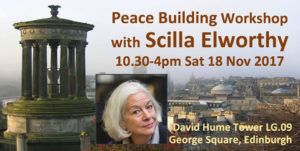 A special opportunity to hear Scilla on a  rare visit to Scotland to launch her new book at the Radical Book Fair [7pm on Saturday] Scilla. Scilla has worked tirelessly for decades to de-escalate tensions between peoples and nations. A chance to step out of helplessness and apply your own personal skills do something about challenges now facing us.
For more info email: contact@peaceandjustice.org.uk.
By Donation. Register at: https:peacebuilding18nov.eventbrite.co.uk
Share the Event on Facebook:
https://www.facebook.com/events/2115176641841396/