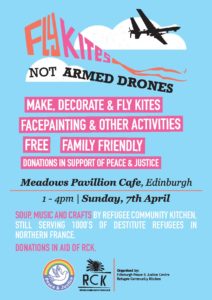 Fly Kites Not Armed Drones
Sunday 7 April 1 – 4pm. Meadows Pavilion Café.
We've organised these popular family friendly Kites Not Drones events annually since 2014. The events were inspired by the Afghan Peace Volunteers, an interethnic peace community of young people. Afghans fly kites at the Nao Ruz, or New Year.
This year the event takes on special significance as President Trump has said the US will withdraw from Afghanistan and the US is in peace talks with the Taliban. Peace is good, but after years of war the Taliban control half the country and with civil society, and especially women, not represented in peace talks, there are fears of what will happen when the US leaves.
As in past years the event will be a joint one with Refugee Community Kitchen who will offer soup, chutney, crafts & activities. Plus music and other entertainment. Meadows Pavilion Café will be open for teas, coffees and cakes. Spread the word by posting the flyer from back page in local venues.
We need help with event preparation – assembling kite kits – and on the day to help children make and decorate kites and with face painting and other activities. To volunteer for this or other P&J roles email contact[at]peaceandjustice.org.uk or ring us on 07584492257.